5 Back-to-School Beauty Appointments to Schedule Now
Before fashion week kicks into high gear, invest in one of these treatments.
---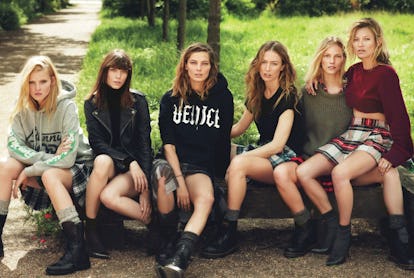 Mert Alas and Marcus Piggott, styled by Edward Enninful.
September Fashion week means long days and hectic schedules that leave little time for a blowout, or polish change. If you do however manage to duck out of that B-list show that you can't deal with, we suggest you invest your time into something that will last you well into Milan and Paris (unlike that cocktail at Pietro's). Because in the land of labels, what else really says luxury more than being the best in show?
Microcurrent Face & Body Treatments with Shamara Bondaroff at SB Skin. New Yorkers like Emily Weiss and Hannah Bronfman trust the Union Square-based Shamara Bondaroff to make them look 5-7 years younger after just one visit. Bondaroff sees many women who quit using Botox when they commit to regular treatments. "You see that lift and natural contour in the face stay longer and longer," she explains. An appointment with Bondaroff easily doubles as a therapy session—she's upbeat, direct, and hilarious. She'll even work her on your backside, which is great news for fans of all of high waisted trousers on the Fall 2016 runways.
Lash Extensions and Biologique Recherche Facial Treatments with Karina Freedman at Karina Freedman. Applying mascara in the back a of cab is the quickest way to achieve the spider lashes that are so popular for fall. For those who would rather opt for a more long-lasting approach, Karina Freedman's Madison avenue space (conveniently located across the street from Barneys) offers expertly-applied silk and synthetic mink lashes and Biologique Recherche facials. Aside from the cult product offering, the French lymphobiology machine that works is in combination with manual drainage to expels toxins, erases puffiness, and oxygenate your post-party complexion. And to make sure your lashes last through the finale at Paris Fashion Week, Freedman instructs, "Do not touch, very little water and no sleeping with the face in the pillow. Treat your lashes as if you were wearing mascara and don't want to smear it."
A Haircut with Amanda Scott at Serge Normant at John Frieda. It's likely that you've seen many Instagrams of the Donald Robertson-created mural at celebrity hairstylist Serge Normant's ultra-chic Chelsea townhouse salon. But if you haven't checked it out for yourself yet, here's the perfect excuse: a cut with stylist Amanda Scott, who swears that good hair changes with the seasons and "what works for your hair in the summer may not work well at all in the fall." She'll snip dry summer locks into perfection, and then create a custom haircare plan using her favorite products and treatments. Her current obsession? Snob Girls. "The products are very good. They really work, and they're not expensive!" she says.
Brow Grooming and Makeup with Gina Daddona at Serge Normant at John Frieda. In between working with backstage with Dick Page at shows like Narciso Rodriguez, makeup artist Gina Daddona can be found at the Normant townhouse in Chelsea. The brow guru doesn't wax or thread, and sticks with classic tweezers for ultimate control. "The brows are the first thing I look at," says Daddona, who prefers to preserve the natural shape so that they're slightly groomed and polished.
Teeth Whitening with Dr. Brian Kantor at Lowenberg, Lituchy & Kantor. With clients like Penelope Cruz, it's no surprise that cosmetic dentist Dr. Brian Kantor is a go-to for New Yorkers who desire perfect teeth. In a visit to his Columbus Circle office, he'll advise on Invisalign, teeth filing, or New York elite's best-kept secret, veneers. To maintain your pearly whites, Dr. Kantor recommends: "Do not eat or drink anything that would stain a white blouse, but if you can't resist coffee or tea, drink it through a straw."
Watch W's most popular videos here: