Jane Fonda and Diane Keaton Sign On To a 50 Shades of Grey-Themed Movie
Jane Fonda, Diane Keaton and Candice Bergen will star as the true heroes of the 50 Shades books: the readers.
---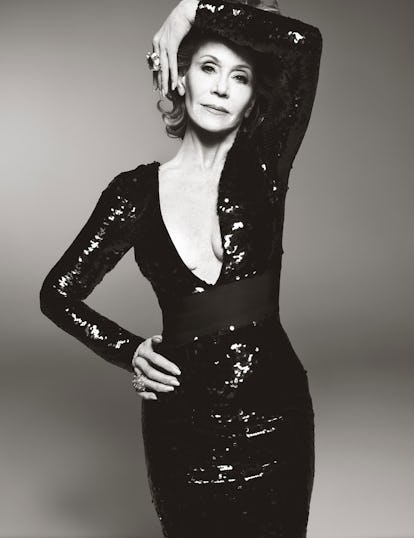 Jane Fonda, Diane Keaton and Candice Bergen have all signed on to a movie about the 50 Shades of Grey books. Unfortunately, the movie will not co-star chains, whips or a shirtless Jamie Dornan. Nor is it based on any 50 Shades book. Rather, the threesome will co-headline a movie about the real heroes of the 50 Shades phenomenon: the women who read the book at home.
Yes, the three will appear in an indie comedy called Book Club. They'll star as successful, intelligent life-long friends in California who meet up every month to discuss whatever high-minded novel they've just read. We'd like to imagine those gatherings usually involve exactly two glasses of white wine each and very heated discussions of Jonathan Franzen's latest (Fonda was probably very disappointed by Purity).
According to the plot synopsis from Deadline, one month they decide to get a little dirty and decide to find out what all that 50 Shades fuss is about.
Apparently, the books change their lives forever and the movies proves that "inspiration can come in the most unlikely of places."
Alright! We're going to guess it doesn't mean that the ladies decide to start producing organic lubricant and sex toys for the elderly, as that's the plot for Fonda's current Netflix sitcom with Lily Tomlin Grace & Frankie. Other than that, the possibilities seem limitless.
As do future casting opportunities. The script actually calls for four main women, so there's another spot at the book club open. Imagine the possibilities: Barbra Streisand, Blythe Danner, Ellen Burstyn, or Whoopi Goldberg? Or maybe just Isabelle Huppert as their French friend who stifles laughter about how prudish American are while smoking a cigarette in the corner.
We should mention that, yes, this is indeed intended as a comedy.
The script was co-written by Bill Holderman and Jane Simms. Holder, best known for writing 2015's A Walk in the Woods, will direct. Like who will hold the fourth seat at the book club, a timeframe for shooting or eventual release date have not yet been announced.
Of course, all three principal cast members have busy schedules otherwise.
Diane Keaton is busy keeping up one of Instagram's best accounts, is still attached to the Netflix project Divanation that would reunite her with First Wives Club co-star Bette Midler and Goldie Hawn.
Fonda has a fourth season of Grace & Frankie on the way as well as Our Souls at Night with Robert Redford.
Bergen will appear in Noah Baumbach's The Meyerowitz Stories (set to premiere later this month at Cannes) and in upcoming rom-com Home Again alongside her Sweet Home Alabama co-star Reese Witherspoon.
Related: Inside Jane Fonda's Newly-Listed $13 Million Beverly Hills Mansion
Jane Fonda Loved Turning 75—Thanks to Her Ex Husbands:
An Appreciation of Diane Keaton's Kooky, Suit-Friendly Style, from Annie Hall to The Young Pope
Diane Keaton and Woody Allen after filming Annie Hall on Madison Avenue, ca. 1977.

Getty Images
Diane Keaton at the 50th Annual Academy Awards in 1978.

WireImage/Getty Images
Warren Beatty and Diane Keaton at the opening night of Richard Avedon's exhibition "Avedon: Photographs, 1974-1977" at the Metropolitan Museum of Art in 1978.

WireImage/Getty Images
Diane Keaton in New York, ca. 1980.

Getty Images
Diane Keaton at the opening of A Mom's Life in Hollywood in 1992.

WireImage/Getty Images
Diane Keaton at a Los Angeles screening of Fallen Champ: The Untold Story of Mike Tyson in 1992.

WireImage/Getty Images
Diane Keaton at the "Cool Comedy—Hot Cuisine" Scleroderma Research Foundation Benefit in 1993.

FilmMagic, Inc/Getty Images
Diane Keaton at the 51st Annual Golden Globe Awards in 1994.

WireImage/Getty Images
Diane Keaton at a Los Angeles screening of Amelia Earhart: The Final Flight in 1994.

WireImage/Getty Images
Diane Keaton at the 52nd Annual Golden Globe Awards in 1995.

WireImage/Getty Images
Diane Keaton at New York screening of Unstrung Heroes in 1995.

WireImage/Getty Images
Diane Keaton at the Los Angeles premieres of What Women Want in 2000.

WireImage/Getty Images
Diane Keaton at the Los Angeles premiere of The Score in 2001.

WireImage/Getty Images
Diane Keaton at the 61st Annual Golden Globe Awards, where she won Best Performance by an Actress in a Motion Picture—Musical or Comedy for Something's Gotta Give, in 2004.

WireImage/Getty Images
Diane Keaton at the 54th annual Berlinale International Film Festival screening of Something's Gotta Give in 2004.

Getty Images
Diane Keaton at the Los Angeles premiere of The Family Stone in 2005.

WireImage/Getty Images
Diane Keaton at the L'Oréal Legends Gala benefiting the Ovarian Cancer Research Fund in New York in 2006.

FilmMagic/Getty Images
Diane Keaton on the street in Soho, New York in 2013.

FilmMagic/Getty Images
Diane Keaton at the L'Oréal Paris' Women of Worth Awards in 2013.

WireImage/Getty Images
Diane Keaton at the Carousel of Hope Ball in Beverly Hills in 2014.

Getty Images
Diane Keaton at the New York premiere of And So It Goes in 2014.

WireImage/Getty Images
Diane Keaton at the L'Oréal Paris' Ninth Annual Women of Worth Awards in 2014.

FilmMagic/Getty Images
Diane Keaton at the Hammer Museum Gala in Garden sponsored by Bottega Veneta in 2015.

Getty Images for Hammer Museum
Diane Keaton at the L'Oréal Paris Women of Worth Celebration in 2016.

Getty Images for L'Oréal