7 Supplements to Clear Stressed-Out Skin
The probiotics, adaptogens, supplements, and other ingestibles to try when sleep, hydration, and workouts just aren't cutting it.
---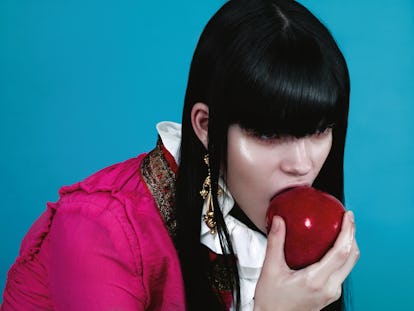 Mert Alas and Marcus Piggott
If you've found high stress levels are affecting your mood and manifesting physically, particularly affecting your skin, you aren't alone—especially this year. While a proper balance of sleep, hydration, and exercise can minimize anxiety, it may not always be the optimal solution to easing a stressed-out complexion.
Since the early months of the coronavirus pandemic, the skin supplements world has grown exponentially to address beauty and well-being concerns in tandem, providing ingredients to boost skin health as well as stress management. Probiotics, adaptogens, and other healing minerals all can clear out systems of toxins while providing elements to control acne, irritation, and dullness. As fall traditionally denotes the turning of a new leaf, we thought it only right to do a roundup of the products we deemed most effective to guide you in feeling and looking better.
The Nue Co.'s Skin Hydrator
Protecting and balancing the skin's lipid barrier has been a hot topic in skincare of late. These phytoceramide capsules assist in repairing that barrier with a proprietary blend of ingredients, including astaxanthin, grape seed extract and aloe vera. Together, they reduce age spots, increase hydration, and provide antioxidants.
Why It's Different: The results are quick. The capsule's patented phytoceramide formulation has been proven to roll back wrinkles, increase elasticity, and provide glow within 15 days of use, with further improvements after two months of use.
Whimsy Official's Glow Getter Collagen Blend
This plant-based elixir uses blue pea flower and prickly pear to stimulate collagen and create overall glow and skin health.
Why It's Different: It's not your mother's collagen—it's better. The vegan powder is not based on rice bran solubles, therefore, rather than being quickly digested (thus not allowing the body to properly absorb nutrients, this collagen is formulated to maximize nutrient absorption of the herbs through the bloodstream. Blue pea flower is high in vitamins A, C, and D to aid in skin regeneration. Prickly pear reduces inflammation from acne as well as protecting against sun damage. Rhodiola provides brain-boosting and energy-inducing properties—as does Maca, which increases libido, mood, and hormone balancing. Goji berry fights against free radicals due to its high composition of antioxidants.
LYMA's Nutritional Supplements
This is a supplement specifically designed to nourish skin that's sensitive to hormonal, emotional, and environmental stresses. With the help of Oxford scientists, Lyma Life was created initially to help with preventative, reversible aging, and to balance mind and body.
Why It's Different: The holistic supplement balances stress and skin health with key ingredients: cynatine (a bioavailable keratin); lycored lycopenes, which fights against pollution and sun damage, and Wellmune, a powerful beta-glucan that bolsters immune support.
Goop's G.Tox Detoxifying Superpowder
A perfect morning detox that aids skin in fighting the effects of stress, poor diet, and the environmental factors responsible for dulling and irritating skin. Launched earlier this year, the botanical supplement is best taken as a shot before smoothies.
Why It's Different: not only do you feel the benefits right away, it clears the liver of toxins and support skin health with the power of milk thistle. The detox powder also contains resveratrol, magnesium, and zinc to promote vibrant skin as well as renewed energy. Added plus: it's a great pick-me-up the morning after a night of pandemic drinking.
MARA's Vitamin C Glow Powder
An easily absorbed vitamin C powder to be taken with water or smoothies. The formulation contains a high dose of easily digestible vitamin C—blended with a mix of skin-boosting sea plants.
Why It's Different: To be taken in tandem with MARA's vitamin C serum, the powder's superfoods moringa, chlorella, spirulina, and reishi work double-time to promote vital, bright skin that wards off free radicals and pigmentation, while decreasing internal and external inflammation, irritation and keeping oxidative stress at bay.
Dr. Julia T. Hunter's Organic Sulfur Drink Mix
A specially formulated powder to improve skin from the inside out.
Why It's Different: Sulfur is a game-changer. It's the naturally occurring element in every cell of the body that cleanses us of heavy metals. This, in turn, rids the body of skin ailments like acne while brightening lackluster complexions. While sulfur is usually absorbed through foods, we're often depleted of this mineral because of the chemical fertilizers in food and our inability to properly absorb that food from our stomachs (because of a lack of hydrochloric acid in the stomach as we age). To be taken with hot water, the mineral drink empowers the immune system, increases collagen production in joints, skin, and hair, while restoring and preserving skin's complexion and health.
Well Told Health's Skin Nourisher
One of the highest-grade clean beauty capsules on the market right now, Skin Nourisher has an all organic plant-based formulation of berries and fruits, free of any fillers or synthetics.
Why It's Different: You're essentially feeding the skin through concentrated, high-quality plants and nothing else. One of the key ingredients, Sicilian blood orange, has been proven in clinical trials to protect and prevent skin from sun damage and exposure. The two other main ingredients, Broken Cell Chlorella, (a potent green algae antioxidant) and cranberry work together to fight off skin-damaging free radicals. The company mission is to offer high-quality beauty ingredients at an accessible price; one jar of capsules is $34.
Related: Edible Beauty—9 Vitamin Supplements For Better Skin