A Body Pillow Fit for Jean Pigozzi, the Man Who Has (Almost) Everything
"It can be used for watching TV, reading your iPad, having a little nap, for sex, or eating Chinese food," says the art collector Jean Pigozzi. "But it cannot be used as a Yoga mat."
---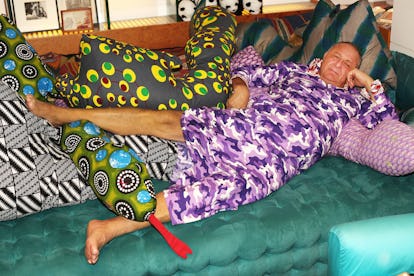 Jean Pigozzi is a prominent art collector and a successful business man. At this point, he has just about everything he could possibly desire.
But the former American Apparel creatives Iris Alonzo and Carolina Crespo, who recently launched the startup lifestyle brand Everybody, told Pigozzi they would design whatever he felt was missing in his life — all he had to do was describe it. His answer, however, was not what they expected. At the top of his list was a body pillow that actually fits his body. And not just any body pillow. He wanted his to be shaped like a snake eating a house, natch.
"I want to become known as the Pillow King," Pigozzi told W magazine. "Usually pillows are ridiculous; they're only big enough for a little part of your head. I'm a larger man (6'4") and I wanted to have something that suited my figure. Also, I'm not very talented at designing little black dresses."
Alonzo and Crespo specifically didn't seek out trained designers for their new start-up brand, which will manufacture approximately 25 different collaborations throughout the course of a year, instead preferring a range of creative types. Pigozzi's pillow was the first product to debut on their site, Everybody.world last Thursday, and will be followed by items dreamed up by writers, artists, editors, and photographers including Adwoa Aboah, and even a chess player Alonzo met in the park walking her dog. As an added bonus to owning the missing pieces in their lives, the contributors will also receive 10 percent of each sale.
Unlike with Pigozzi's pillow though, most of the items Everybody has to offer are clothing, like a unisex workman's jacket requested by artists Mae Elvis and Kalen Hollomon to go from days in the studio to a gallery opening. Whenever possible, the pieces are also made from organically grown or recycled fibers. And in addition to these collaborations, Alonzo and Crespo developed the first ever t-shirts made from 100 percent recycled cotton, which are also now available on the site.
It was their experiences working at American Apparel that fostered Alonzo and Crespo's strong bonds with local, sustainable factories in Los Angeles. Alonzo worked at the company for 11 years and Crespo for 15. Both had worked their way up to creative director positions when they left last year and had a hand in the brand's now-signature mom jeans and Helvetica font.
And it was at the American Apparel factory in Los Angeles where Alonzo first met Pigozzi when he toured back in 2012. They've been friends ever since, and she had a feeling he would be full of unique ideas for the brand when they approached him this year. "95 percent of what we make is practical and designed for everyday use," said Alonzo. "We knew Jean would come up with something for that 5 percent."
To make the pillow, which is inspired by an illustration in Le Petit Prince, Pigozzi sent the design duo a "very crude" sketch from his iPad. And after three tries, they somehow all agreed on a design. Retailing for $250, the pillows are each made-to-order with hand-embroidered West African textiles and weigh approximately ten pounds.
"The snake pillow is very versatile," Pigozzi vouches. "It can be used for watching TV, reading your iPad, having a little nap, for sex, or eating Chinese food."
But here's the catch: "It cannot be used as a Yoga mat."
Watch W's most popular videos here: