A Complete Timeline of the Curious Case of Tanya Roberts
Tanya Roberts, the actress known as an '80s Bond girl and for her role on That '70s Show, has died a day after her bizarre premature death announcement.
---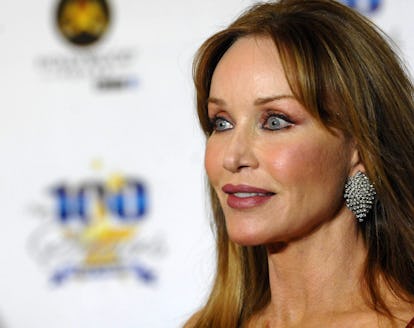 Photo courtesy of Getty Images.
What exactly happened with Tanya Roberts, the actress from one of the Bond films and more recently a star of That '70s Show? Well, that's precisely what everyone is trying to figure out.
On January 3rd, her partner Lance O'Brien had informed Roberts's publicist Mike Pingel of her alleged passing. The next day, January 4, it was reported that the 65-year-old actress had passed away after she had been hospitalized Cedars-Sinai Hospital in Los Angeles, since she collapsed in her home on Christmas Eve.
Many celebrities who know Roberts from her stint as Midge Pinciotti on That '70s Show, as well as her castmates from the popular series, chimed in on social media with their condolences. Many also noted that Roberts starred as Bond girl Stacey Sutton in the 1985 film A View to a Kill (with Roger Moore's James Bond and Grace Jones as villain May Day) and in a season of Charlie's Angels; they expressed sadness over her passing as they knew her from those particular roles. Roberts was also a popular model in the '70s and '80s, appearing in ads for numerous consumer products.
But later on January 4, O'Brien realized he had made a mistake. In the middle of giving an interview to Inside Edition, he received a phone call informing him that Roberts was alive, after all. "Now you're telling me that she's alive?" he asked the person on the other line. "Oh, thank the lord, thank god," he continued, then informed the reporter that Roberts was still in the ICU, but that she was breathing.
Many would wonder how this could happen, but apparently Pingel had received a "distraught" phone call from O'Brien about Roberts and her doctor informing him of her imminent passing, which is why O'Brien released the premature statement that she had died.
O'Brien later told TMZ that when he visited Roberts at the hospital on the evening of January 3, after receiving a call from her doctor that her death might be imminent, he witnessed her close her eyes, and assumed she had died.
On Monday afternoon, there was so much chatter online about Roberts and the news that she had not died, that Ashton Kutcher, a That '70s Show co-star had to step in on Twitter to inform his cast mates that it was actually reported that Roberts had not passed away. Reports that Roberts was still alive also poured in.
However, as of the morning of January 5, it is now being reported by multiple outlets that Roberts did indeed pass away on January 4 just after 9 P.M. Sources at The Daily News say that she had been fighting an infection, but that she was not diagnosed with Covid-19.
Related: Pierre Cardin, Space Age Fashion Pioneer, Dies at 98