A Deep Dive Into Comme des Garçons' Most Unexpected Scents
In conversation with the creative director of Comme des Garçons Parfum, Christian Astuguevieille.
---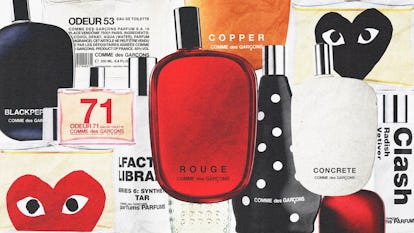 Photos courtesy of Comme des Garçons. Collage by Tilden Bissell for W Magazine.
Christian Astuguevieille is a furniture designer, artist, and among other things, one of the most elusive minds working across fashion and fragrance. As the creative director of Comme des Garçons Parfums, he's worked with Rei Kawakubo for decades on some of the most unconventional fragrances—which have garnered a cult following. The fashion house has a history of creating some of the world's most striking, unexpected scents, such as Odeur 53, described as an "abstract anti perfume," with notes of oxygen, flaming rock, freshly mowed grass, "wash drying in the wind," sand dunes, "pure air of the high mountains," "flash of metal," and nail polish. Or Tar—whose notes include "town gas," "vapours of bitumen," bergamot, earth notes, opoponax, styrax, "grilled cigarettes," and pyrogenic notes.
The latest creative collaboration from Astuguevieille is Rouge, which comes in a deep red, translucent, glossy bottle and combines incenses from India and Japan with a heavy splash of beetroot, almost so strong it smells like a juice, which counters the warm and spicy notes. It lingers and dries down to a smoky, slightly sweet scent. "I had been smelling some beetroot as part of a lot of other molecules and I thought, "Oh, why not? Let's try. This could be fun," he says of the scent, which is, true to form, unusual and interesting. "This could be different." W caught up with Astuguevieille from Paris to hear what it's like to work with Kawakubo, what inspired the new scent, and what's next.
How did Rouge begin as a concept?
The concept was born from a search for an incense, and the idea was to look for an incense that would be very beautiful. I was looking to do something different, a different type of incense. That's why the idea of red, or rouge, came along. It's a different type of particular incense. I selected different types of incense: Japanese, Indian incenses, but we wanted to mix all these different raw materials and find something really different to punctuate it.
What is your favorite part of the new scent?
My favorite part of the new scent is really the red, and how we managed to get there. The idea I got was to mix the incense with red beetroot, which has a really earthy feel to it. This is what makes it so special. So the idea with the beetroot, which is basically a root vegetable, [and therefore] linked to the earth, was to mix these root elements with the idea of incense, which is linked to elements of religious, magical elements. The idea was to link the roots and these more spiritual moments, not just of the earth, but also of the spirit.
What did you want people to feel when they smell Rouge for the first time?
First of all, I want them to feel pleasure, to feel joyful. Second, I really wanted to spark a curiosity—to create this special moment, because as you know, beetroot is really not common in perfumery today. The idea was to bring a question, an actual discovery, so that the joy that emanates from the scent also comes from this, this discovery and the fact that it's so different.
Why is it so important to have fragrances that aren't really conventional?
As a brand, Comme des Garçons' womenswear and menswear is anything but conventional. So we're true to our DNA and following the footsteps.
Where do you get inspiration for these kinds of unconventional materials? Does it just come to you, or is it about doing a lot of research?
First of all, I always do research when I'm working on a new project or even when I'm not working on a new project, I'm always trying to discover and to smell raw materials and new molecules that exist, that are being created all the time. Commonly, I often go to the different labs that I work with and I ask to smell the different molecules that they're working on.
I was smelling the scents and these raw materials, which coincided with the beginning of the work that we were doing on Rouge. I was actually smelling beetroot at the time. And so when we were working on Rouge, I decided more as a game to ask the perfumers who were working on the scent, "Why not? Let's try to add, be true to the mix." We did some research, but it was more like a spontaneous mix of what I had been smelling in these different scents. It's a mix of research that I'm always doing. And also a more spontaneous idea on the go.
How do you take what you're researching and distill the brand into scent?
Comme des Garçons is a very different type of brand. [One] thing that's really spectacular is that everything is possible. Every type of innovation, everything that's unconventional, and that others would not want to do and would stop me from doing because of fear, they don't only let me do it, but they're really happy for me to go further and that I break the mold.
What does the rest of your creative process consist of?
The process is quite easy. I try to write a concept that is as straightforward as possible—very short and simple—and I explain it to a pool of perfumers. Most of the time, I always try to work with perfumers that I know, because I know that, even in just a few words, they're gonna understand exactly what I mean because we have a way of understanding each other, because we've worked together so long.
Once we've talked with the perfumers and I've pitched them, then we start working on raw materials. We go to our first olfactory senses and little by little, the scent is created. This is basically the way that all the other houses work as well. But what is very important to me is that there is an easy dialogue between myself and the perfumers and that we really understand each other, that if I say, "red," they're going to understand exactly what type of "red" I mean, and [in this case,] that's beetroot.
What's been your favorite scent from the entire range that you've worked on?:
All of them, but more specifically it may be the Odeur 53 or the Odeur 71, the first Black Ink. I think actually, I mean all of them.
How did you first meet Rei Kawakubo?
I met her for the first time in Tokyo in 1991. We were discussing the idea of having an exhibit of some of my sculptures, because I also am a sculptor and a painter. She wanted to invite me to have an exhibit in our Aoyama store in Tokyo.
What's been your favorite moment of working with her so far?
The moment I prefer is when we work on smelling different oppositions, because she has a very deadlocked and very sharp sense of smell; all the observations that come from these reunions are really on point. They really help me to go forward in the creation of the scent.
Is there something really unconventional that you wanted to do for a scent that you haven't been able to yet?
I think that everything is possible, [but] I don't have anything that I really want to try, which hasn't been done. Nothing really comes to mind because everything is still possible. There's an anecdote… one project that I brought to Rei that was really, really peculiar. Her comment was, "Uh, wow, you are really crazy," But it was in a kind of positive way.
And did that project happen yet?
The project did get created. It was Odeur 53, which was our first Odeur; it was really groundbreaking at the time, because it was one of the first scents where we used unnatural molecules. Nobody was doing that at the time. The concept was really not what we call perfume. That's why we didn't call it a perfume, but an odor, which means that it was a smell, not even a scent, which was really disruptive at the time, because nobody was doing something that was not classic perfumery.
Who do you think is the customer base for some of these crazier scents, such as Odeur 53 or Tar?
I think everybody can wear them. There's not a specific target that we're looking to have for these scents, but it's really people that want to wear something different, but it comes from who they are and who they want to be. It's more about being someone different, standing out, just like people who are going to buy Comme des Garçons clothes. They are pretty peculiar and they're different, so it goes hand-in-hand with the whole DNA.
What scent do you wear most often?
Odeur 53 and Radish Vetiver.
What scent does Rei wear?
You know, she loves all of our scents, but I have never specifically asked her the question. And since we haven't seen her in a while now, because of the [Covid] situation, we're not able to actually smell what she's wearing right now. Usually we would see her every couple of months. So, it would be easier to tell.
What's next for the brand and fragrance?
We have many new projects coming and even some for the first quarter of 2021. I think you're going to be very excited to discover all the things and new projects.