A Guide to Everything Inside Kanye West's Pablo Pop-Ups
Kanye West's temporary retail empire has already kicked off across the globe. Here's what you can expect.
---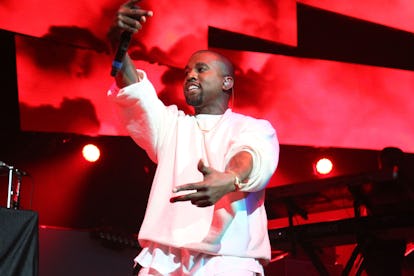 WireImage
American Kanye West fans are just now getting the chance to cop some exclusive merch at the rapper's temporary empire of 21 pop-up stores, but thanks to a phenomenon known as time zones, shoppers on other continents have already gotten their fill. Naturally, shoppers around the world have been documenting their sprees on Instagram.
While there are a few things that make each location slightly unique, the new pop-up stores aren't quite as tricked out and expansively stocked as West's first Pablo pop-up in New York City's SoHo in March 2016. At that store, fans could buy everything from satin jackets in multiple color ways to faux-airbrushed shirts featuring the likeness of Kanye's late mother Donda and Kim Kardashian's late father Robert.
Here, a break down of the nuances at Pablo's new pop-ups.
1. Each City Gets Its Own Exclusive Colors Ways In addition to some items featuring the city's name spelled out Cali Thornhill DeWitt's now ubiquitous gothic script, each city also gets there own signature color way. Hopefully it's within your own personal color profile.
Boston for example gets an orange.
While Sydney has tennis ball yellow.
And Melbourne got to claim a very Yeezy Season 2 taupe.
2. The only real decorations meant to mark the space as an ephemeral St. Pablo emporium is the city's name spelled out on a white wall.
3. There are long lines and they're ticketed.
Because everything Kanye West does seems to cause a scene.
It would have been more on brand to have these printed out in gothic script, but oh well.
4. The prices aren't cheap, but aren't outrageous.
Hats start at $45, at least in America. T-shirts are $55, long sleeves are $75, sweatshirts will cost you a bit more than a $100, and jackets are over $200.
So if you've got a couple hundred and a few free hours this weekend, well, happy St. Pablo shopping! Most stores will be open until Sunday afternoon.
Watch Kanye's wife Kim Kardashian take W's Screen Test: