A New Handbag Brand Appeals to the Woman Who Does It All
Coral Chung and Wendy Wen Out of San Francisco comes a chic new handbag brand vowing to change the way you think about your luxe bag.
---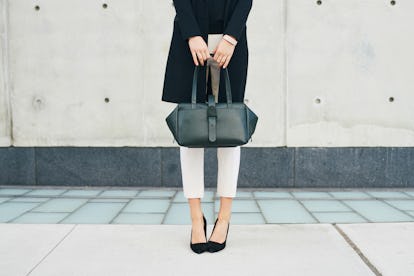 Coral Chung and Wendy Wen never planned to launch an accessories label. Until recently, they held high-powered positions in tech and finance, respectively. It was in those roles that they learned first-hand how difficult it is to lug around laptops and other necessities in a luxury bag. Either the handbag couldn't contain everything and it would burst at the seems, or it did and it was impossible to hold.
With that experience in mind, Chung and Wen launched Senreve, a new handbag brand that debuts this month that looks slouchy and chic when relatively empty, and not over-stuffed when the laptop is inside. While Silicon Valley types getting into fashion is not new, very few manage to harmoniously marry artistry with data. "I've been based in Silicon Valley, New York, Paris, Hong Kong, all over China," Chung said, "These experiences have helped me understand the luxury shopper, her lifestyle, her wants and needs." And it's true – the brand may have been dreamed up in tech haven San Francisco, but it's easy to imagine a model-slash-DJ-slash-It girl commuting across Manhattan with one of these bags in hand.
The initial collection includes two key styles, the Maestra and the Doctor bag. Wen always knew she wanted a bag that developed into their Doctor style. "It's my favorite because I love the unique shape and how it can change from relaxed to boxy." Their other style, the Maestra, lives up to the spirit of the brand as well. "It converts from satchel, to shoulder bag, to cross-body, to backpack, to fully hands-free," says Chung. But, she couldn't choose favorites. "This is a hard question because it's forcing me to pick a favorite child," she laughed.
Here, the design duo shares their style secrets, favorite stores, and more.
Occupation Coral Chung: CEO and co-founder of Senreve, mom to Aria, 4. Wendy Wen: COO and co-founder of Senreve.
Describe your style Coral: Refined, graceful, diverse. Wendy: Feminine, bohemian, casual.
Daily uniform Coral: Black or white dress, 5-inch heels, and, of course, a Senreve Marine Maestra bag. Wendy: A blouse tucked into jeans with booties.
Favorite shop in San Francisco Both: Hero Shop.
Favorite Vintage Shops in San Francisco Coral: Covet. Wendy: Wallflower.
Style icons Coral: Audrey Hepburn. Wendy: Amal Clooney and Alicia Vikander.
Best recent discovery Coral: While traveling to Italy for work, I got lost on a walk in the Giardino di Boboli in Florence and accidentally discovered the beautiful Grotto del Buontalenti, the location of Michelangelo's Four Slaves sculptures, before they were moved to the Galleria Accademia, where they stand today. Wendy: Kayla Itsines workout.
Last Purchase Coral: Van Clef & Arpels Deux Papillon ring. Wendy: An iPhone in rose gold.
Lusting after Coral: Ferrari California. Wendy: Tesla.
Travel essential Coral: Hydrating face masks and Tatcha cleansing oil. Wendy: Black tank top and my Senreve noir Doctor bag, both are super versatile.
Something you'd never wear Coral: Never say never . . . but I'm unlikely to ever wear a nose ring. Wendy: Super high heels.
Favorite accessory you own Coral: My collection of hats. Wendy: All my Senreve bags – I have every color. The perks of starting a handbag brand!
Cozy winter read Coral: Anna Karenina by Leo Tolstoy , and Fire by Anais Nin. Wendy: House of Mirth by Edith Wharton, and Steve Jobs' biography by Walter Isaacson.
Favorite film or TV show Coral: Coming to America – every immigrant can relate to this one! Wendy: I'm obsessed with Westworld!
Favorite Museums Coral: Uffizi in Florence, Belvedere in Vienna, Hermitage in St. Petersburg and The Hess Collection, in Napa. Wendy: SF MoMA, the De Young Museum, and the California Academy of Sciences.