"A Quiet Place" Is Officially Getting a Sequel
John Krasinski's nearly-silent horror film will get a sequel thanks to its rabid fan response.
---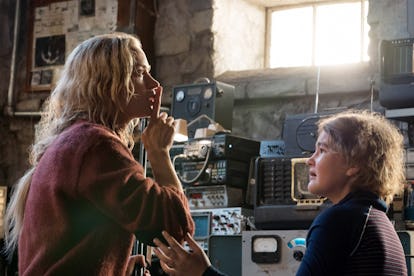 Photo Credit: Jonny Cournoyer
A Quiet Place, the dystopian drama that made every last audience member question how we'd actually survive an apocalypse, is set to return to theaters sometime in the next couple of years. The Hollywood Reporter revealed that Paramount already has a sequel to the John Krasinski-directed film in the works — and it's sure to be just as disconcertingly creepy as the first.
On Wednesday at CinemaCon, studio chairman and CEO Jim Gianopulos reportedly shared that fans's enthusiastic response to the horror film inspired the sequel. A Quiet Place earned $50 million in its opening weekend, beating expectations and becoming no. 1 at the box office. "If you told me five years ago that an almost silent film starring the very funny guy Jim from The Office would have been a hit at Paramount, I would have said, 'Well, I should go work at Paramount,'" he reportedly told the crowd.
A Quiet Place tells the story of a family forced to live in virtual silence so as to avoid being hunted by Earth-invading predators that are attracted to sound. The film starred Krasinski and his real-life and on-screen wife Emily Blunt, as well as Noah Jupe and Millicent Simmonds.
Millicent's role especially was significant; she played Regan, whose deafness drives a crucial storyline in the film. In an op-ed Millicent wrote for Teen Vogue, she shared: "When I read the script for A Quiet Place, I immediately wanted to be a part of the film. It is such a unique story and I love my character, Regan. She is very complex, and has so many emotions. I didn't know if anyone would be able to relate to my character because I felt like a lot of people don't really understand what it's like to be deaf." Millicent is deaf herself, and her casting has been lauded as a major win for the deaf community.
As of now, there are no further details about a potential release date, or who will be returning for the second movie. What we do know for sure is that given how the movie ends, how Krasinski and the screenwriters decide to bring the story back is anyone's guess.
Related: What Is A Quiet Place Even About?