Let Abbey Lee Eat Cake
The actress on the Oscar-nominated Mad Max: Fury Road, her short film for Kenzo, and how she ate so much birthday cake that she was sick for days.
---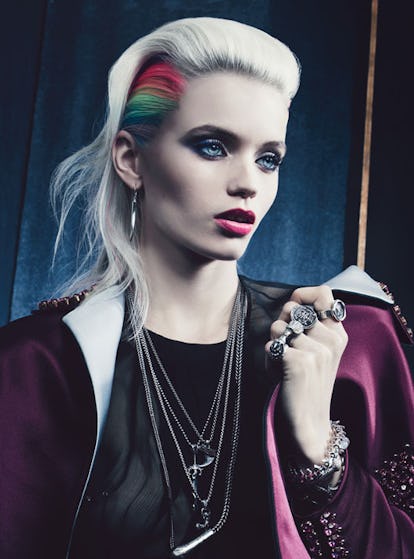 Abbey Lee, the 28-year old former Australian model who starred as one of the kept brides in the Oscar-nominated Mad Max: Fury Road, returns to the desert in Snowbird, a short film – and quasi-commercial – written and directed by Sean Baker for Kenzo. Like Baker's acclaimed 2015 film Tangerine, the short was also shot quickly on an iPhone, this time over the course of four days in Slab City, an eccentric California desert community constructed out of repurposed materials. It follows a Kenzo-clad Lee as she bakes herself a birthday cake and visits the eclectic dwellings of her people, offering each resident a slice throughout the day without revealing it's actually her birthday. "I remember walking around the trailers, just chatting with people," says Lee. "They were all such characters. Being surrounded by people from Slab City was an experience in itself."
How did you end up working with Sean? I hadn't been blown away by a film like the way I was by Tangerine for a very long time. I liked it so much that I made a bunch of friends see it twice with me. I asked my management to beg him to meet with me. A few months later he was offered this Kenzo job, and he came to my team with the offer.
What was first reaction when you found out he wanted to work with you? I was stoked. I nearly fell off my chair.
What kind of advice or direction did he give you? Sean makes you feel so comfortable, like he's your friend. And when someone makes you feel like that, it creates a very comfortable, easy environment. He mostly chose to work with non-actors so he really needed to be friendly and for the cast members to be comfortable with and to trust him. You'd think that he'd known them for years.
You're eating cake in every single scene. On a scale from one to 10, how sick were you afterwards? Like a 9. For a couple of days there I was so sick. I just skipped lunch and ate a bunch of cake. It was pretty sickening.
Was it worth it? Not for the cake, but definitely for the shoot.
In the film, you baked the cake yourself – it looked incredible. Do you pride yourself as a confectioner in real life as well? The gas doesn't even turn on in my apartment.
Is it a books-in-the-oven kind of situation? To spend so much time organizing and preparing food that takes five minutes to eat is not my idea of a good time.
One of the characters in the film says, "Sometimes it's good to have cake for no reason at all." When is the last time you did that? Yesterday I had a cronut – a gluten-free donut. I got it from a friend who was on a photo shoot. I like having dessert in the middle of the day. There's this one restaurant in LA where I don't even like the food, I literally just go to for dessert. Why wait for a birthday?
The film has undercurrents of magical realism. For instance, in the final scene, you visit an old man at his home. You light a candle, blow it out, and you immediately age as he gets younger. I'm not even sure what Sean's intention was with that. However you see it, it strikes a chord. I certainly get anxious about time, I think most people do. But I'm not sure that was supposed to be a direct interpretation of time, I think it was supposed to be hypothetical. There's not always something real or concrete in what Sean does.
A bit about Mad Max: Fury Road. What was it like working with George Miller, who was nominated for Best Director? It was amazing. He has a wild mind, which was fun to pick at. It's hard to put into words how I feel about George. He's a very special human.
Did you become close with the other desert brides? Riley [Keough] is one of my best friends, and I'm still close with most of them. When you work with the same girls for 6 months, you're bound to end up with some sort of close connection.
You just finished shooting Gods of Egypt starring Gerard Butler. What is your role? It was an interesting one for me to do. It was a green screen-heavy movie, so a lot of it was working with things that didn't exist. I play an assassin so I have one big fight scene. The fight training was the most interesting part. All the scenes I had to do, I did on a mechanical bucking bull that was elevated about six feet into the air. For me, that was the coolest part.
Photos: Let Abbey Lee Eat Cake
"Oh, You Pretty Things" photographed by Emma Summerton, styled by Giovanna Battaglia; W magazine March 2012.
"Oh, You Pretty Things" photographed by Emma Summerton, styled by Giovanna Battaglia; W magazine March 2012.
"Oh, You Pretty Things" photographed by Emma Summerton, styled by Giovanna Battaglia; W magazine March 2012.