Aces Wild
With a novel concept and hipster cachet, hotelier Alex Calderwood brings the Ace Hotel to midtown Manhattan.
---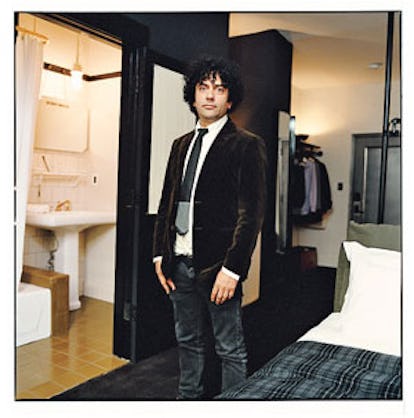 Hotelier Alex Calderwood, who bills himself as a "cultural engineer" on his business card (which bears his name in English, Chinese and Japanese), is unfazed by the prospect of opening a branch of his hipster Ace Hotel chain on a less-than-fashionable corner of Manhattan: the intersection of West 29th Street and Broadway, which teems with bootleg fragrance shops and vendors hawking pleather belts for two bucks a pop.
"You'd be surprised," says the spry, swarthy Calderwood, 38, who sports a gravity-defying mop of curls ("The look is Spanish, but the hair is Scottish," he deadpans). "These buildings are being filled up with creative services, graphic designers. Paper magazine just moved near here."
The alterna-rag is a fitting neighbor for the Ace, which opens in February. Years ago, the Seattle native and friends Wade Weigel, Doug Herrick and Jack Barron decided to create a chic, minimalist hotel priced on a sliding scale (the low end meant shared bathrooms). In 1999 the Ace Hotel Seattle opened; in 2007 another one followed in Portland, Oregon.
Calderwood already had a name in Seattle: During grunge's heyday, he threw warehouse parties to which the flannel-clad set, including members of Pearl Jam, flocked. Soon he was organizing over-the-top events for Microsoft, among others; next he and Weigel started Rudy's, an old-school barbershop, which expanded to 14 West Coast locations. A Rudy's and a Stumptown coffee shop, a Portland favorite, will make their East Coast debuts on the new hotel's first floor.
A commissioned artwork on raw canvas hangs behind a Roman and Williams–designed coffee table.
Yet Calderwood insists that each Ace reflects its location, not a Northwest sensibility (for example, Ace Hotel and Swim Club Palm Springs, California, opening in January, has a desert feel). "The design captures the industrial heritage of Manhattan, the grittiness," he says.
Calderwood achieved the look by tapping celebrity-darling design firm Roman and Williams (Kate Hudson and Gwyneth Paltrow are clients), run by married duo Stephen Alesch and Robin Standefer, to create the hotel's 247 rooms, with nightly rates ranging from $179 for bunk beds (with en suite bathrooms) to $1,499 for a palatial loft. The rooms riff on a rock star's pad, with deskside turntables, old records, blank sheet music and—of course—custom-made Gibson guitars propped in corners (guitar strings are sold at the front desk); cheaper rooms have fewer details. In a nod to the nearby Garment District, guests hang clothes on pipes meant to suggest rolling dress racks and stash shoes in antique sewing bins bought at Paris's Clignancourt flea market. The lobby is outfitted with vintage furniture and inherited its coffered ceiling and mosaic floor from the spot's former occupant, the Hotel Breslin; three wood-paneled walls, salvaged from a Park Avenue apartment's library, enclose a bar.
A turntable and vintage records.
Rockers also need to eat, and the Ace's trump card is the team from the West Village's wildly popular eatery the Spotted Pig: chef-owner April Bloomfield and restaurateur Ken Friedman. Their ground-floor restaurant will have a turn-of-the-century New York vibe, with curtained booths and a vintage, charred-oak floor—"like a place you have a brawl [in]," chirps Standefer—and will serve what Friedman cheerfully refers to as "nose-to-tail cooking," adding, "eat the trotters, eat the ears, eat the head—it's definitely not a place vegetarians are going to feel great in."
Ultimately the Ace is betting that its downtown dream team can transcend a démodé enclave. "To us, it's like we can be pioneers right in the middle of Manhattan," says Friedman. "[But] I don't want the area to become more chichi. God forbid it becomes like the Meatpacking District." Calder­wood, who lives a few blocks from the hotel, agrees. "I think we're going to be the heart of the neighborhood. This will be a living room for all the people around it."