A Real-Life Priest Was Told He Was the "Best Dressed Dude" at the 2018 Met Gala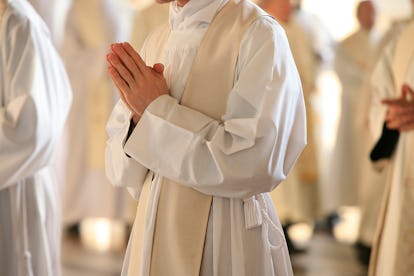 P Deliss/Getty Creative
At Monday night's Catholicism-themed Met Gala, Pope Rihanna was the only one to really take on the clergy—except, of course, for the actual clergy, who drew plenty of compliments from some unsuspecting partygoers. As The Cut first reported, real-life Jesuit priest James Martin, SJ, was in attendance at fashion's biggest night, where, among the sea of men in standard black suits (Chadwick Boseman, Darren Criss, and Jared Leto being some of the notable exceptions), his old-school vestments stood out (mind you, that's vestements, not Vetements). So much so that he was told he was the "best dressed dude here, bro."
"Actually said to me at the #MetGala tonight: 'I love your costume.' 'Is that, like, for real?' 'Funky outfit!'" the priest tweeted later. "'You're the best dressed dude here, bro.' (High fives me.) 'You look just like the real thing.' And, truly: 'I love that you got dressed up as a sexy priest.'"
"Those are verbatim," Martin added.
Unfortunately, the priest didn't upload a picture, but he did include some other snaps from the Met Gala, which he attended with other clergy members, including His Eminence Cardinal Timothy Dolan, the Archbishop of New York. In a series of tweets, Martin praised Dolan's presence at the gala and press conference, and said that the highlight of the Met Gala was "not the celebrities but the surprise appearance of the Sistine Chapel Choir, introduced by @CardinalDolan, singing 'Sicut Cervis' in the American Wing under a portrait of Michelangelo's Last Judgment,' from their home chapel."
The gala's "best dressed dude" also complimented the Met's "Heavenly Bodies: Fashion and the Catholic Imagination" exhibit. "It has been beautifully curated, and I was particularly impressed that the 'Catholic parts' of the museum's descriptions are as accurate as the 'fashion parts.' I.e., the correct terminology, with accurate identifications of habits, cassocks, copes, etc," he tweeted. "Thoughtfully done."
Glad priests are finally getting their time in the high-fashion spotlight.
Related: See What Celebrities Wore to the 2018 Met Gala
Met Gala 2018: See What Celebrities Wore on the Red Carpet
Rihanna at the 2018 Met Gala. Photograph by Benedict Evans for W Magazine.

Benedict Evans
Cardi B at the 2018 Met Gala. Photograph by Benedict Evans for W Magazine.

Benedict Evans
Lily Collins at the 2018 Met Gala. Photograph by Benedict Evans for W Magazine.

Benedict Evans
Donald Glover at the 2018 Met Gala. Photograph by Benedict Evans for W Magazine.

Benedict Evans
Selena Gomez at the 2018 Met Gala. Photograph by Benedict Evans for W Magazine.

Benedict Evans
Katherine Langford at the 2018 Met Gala. Photograph by Benedict Evans for W Magazine.

Benedict Evans
Jasmine Sanders at the 2018 Met Gala. Photograph by Benedict Evans for W Magazine.

Benedict Evans
Rosie Huntington Whiteley at the 2018 Met Gala. Photograph by Benedict Evans for W Magazine.

Benedict Evans
Kate Upton at the 2018 Met Gala. Photograph by Benedict Evans for W Magazine.

Benedict Evans
Winnie Harlow at the 2018 Met Gala. Photograph by Benedict Evans for W Magazine.

Benedict Evans
Alek Wek at the 2018 Met Gala. Photograph by Benedict Evans for W Magazine.

Benedict Evans
Zendaya at the 2018 Met Gala. Photograph by Benedict Evans for W Magazine.

Benedict Evans
Priyanka Chopra at the 2018 Met Gala. Photograph by Benedict Evans for W Magazine.

Benedict Evans
Migos at the 2018 Met Gala. Photograph by Benedict Evans for W Magazine.

Benedict Evans
George and Amal Clooney at the 2018 Met Gala. Photograph by Benedict Evans for W Magazine.

Benedict Evans
Lena Waithe at the 2018 Met Gala. Photograph by Benedict Evans for W Magazine.

Benedict Evans
Ariana Grande at the 2018 Met Gala. Photograph by Benedict Evans for W Magazine.

Benedict Evans
Kim Kardashian at the 2018 Met Gala. Photograph by Benedict Evans for W Magazine.

Benedict Evans
Travis Scott and Kylie Jenner at the 2018 Met Gala. Photograph by Benedict Evans for W Magazine.

Benedict Evans
Blake Lively at the 2018 Met Gala. Photograph by Benedict Evans for W Magazine.

Benedict Evans
Bella Hadid at the 2018 Met Gala. Photograph by Benedict Evans for W Magazine.

Benedict Evans
SZA at the 2018 Met Gala. Photograph by Benedict Evans for W Magazine.

Benedict Evans
Kendall Jenner at the 2018 Met Gala. Photograph by Benedict Evans for W Magazine.

Benedict Evans
Janelle Monae at the 2018 Met Gala. Photograph by Benedict Evans for W Magazine.

Benedict Evans
Emily Ratajkowski at the 2018 Met Gala. Photograph by Benedict Evans for W Magazine.

Benedict Evans
Daniel Kaluuya at the 2018 Met Gala. Photograph by Benedict Evans for W Magazine.

Benedict Evans
Gigi Hadid at the 2018 Met Gala. Photograph by Benedict Evans for W Magazine.

Benedict Evans
Katy Perry at the 2018 Met Gala. Photograph by Benedict Evans for W Magazine.

Benedict Evans
Paris Jackson at the 2018 Met Gala. Photograph by Benedict Evans for W Magazine.

Benedict Evans
Madonne and Nicki Minaj at the 2018 Met Gala. Photograph by Benedict Evans for W Magazine.

Benedict Evans