Met Gala 2018: The Most Talked About Non-Fashion Moments on the Red Carpet
From couples' debuts to a proposal.
---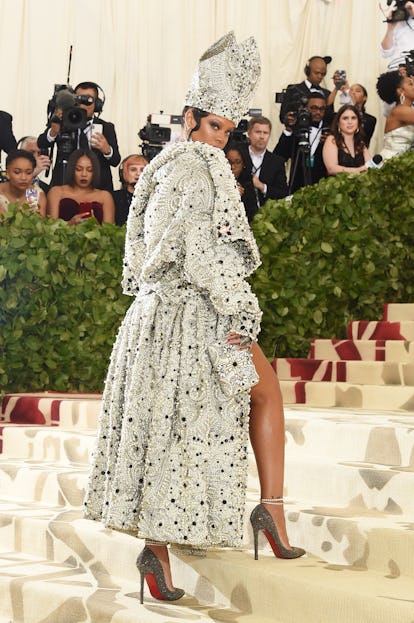 Jamie McCarthy/Getty Images
The Met Gala is fashion's biggest night, but that doesn't mean it's all about the fashion. Tonight's "Heavenly Bodies: Fashion and the Catholic Imagination" made for some sure-to-be-talked about sartorial statements (Rihanna as the pope, just to name one), but there were nonsartorial statements made as well. Rumored couples like Shawn Mendes and Hailey Baldwin, and Lili Reinhart and Cole Spouse, made their official red carpet debuts. 2 Chainz may or may not have proposed to the woman who is already, presumably, his wife.
So, if you're not much into fashion, or you've already been through a dozen best-dressed lists already, here's your guide to everything else that went down on the steps of the Met.
A Bunch of Couples Official Debuted
Lili Reinhart and Cole Sprouse
All classic teen shows need at least one real life couple, and after months of speculation (and some paparazzi-caught PDA during a jaunt in Europe), Lili Reinhart and Cole Sprouse have been rumored to be Riverdale's. Although their friendship has been clear, the pair has been coy about confirming that it was anything more, to the point that it's a case of intense speculation among the Riverdale faithful. Short of sending out a press release, this appearance says all it needs to.
Shawn Mendes and Hailey Baldwin
This pairing between the up-and-coming singer-songwriter and the young celebutante and second-generation Baldwin family member has been rumored in the tabs and gossip columns for months, but this evening the pair exited the hotel on their way to the gala hand-in-hand.
Grimes and Elon Musk
In the most surprising couple debut, indie music polyglot Grimes showed up with eccentric billionaire Elon Musk. According to Page Six, the pair met about a month ago on Twitter.
Katherine McPhee and David Foster
Katherine McPhee, the former American Idol and Smash star who is now on actual Broadway in Waitress, has been linked for months to David Foster, the music mogul who counts Yolanda Hadid as an ex, but, again, the pair has said they're just friends. This is their first official red carpet together. Foster, undoubtedly, may run into his former stepdaughters Gigi and Bella.
2 Chainz Proposed to The Woman He's Already Married To (?)
According to the Internet, 2 Chainz proposed to longtime partner and mother of his children, Kesha Ward, in 2013 at the BET Hip-Hop Awards and got married sometime later that year, but the rumors could be wrong because the rapper got down on his knees and proposed to Ward on the red carpet. Or, maybe, they're just renewing their vows?
Katy Perry Made Quite the Entrance
Katy Perry is not known for subtlety, and she approached the Met standing up in a the back of a vintage automobile, wings and all.
Someone Wore Anna Wintour Earrings
Keltie Knight, an Entertainment Tonight correspondent, showed up wearing earrings shaped like gala host Anna Wintour. Perhaps you're thinking, Wait, isn't this list supposed to be about non-fashion moments? Well….
Related: For Lili Reinhart, Her First Met Gala Is as Exciting as Her Wedding Day
Met Gala 2018: See What Celebrities Wore on the Red Carpet
Rihanna at the 2018 Met Gala. Photograph by Benedict Evans for W Magazine.

Benedict Evans
Cardi B at the 2018 Met Gala. Photograph by Benedict Evans for W Magazine.

Benedict Evans
Lily Collins at the 2018 Met Gala. Photograph by Benedict Evans for W Magazine.

Benedict Evans
Donald Glover at the 2018 Met Gala. Photograph by Benedict Evans for W Magazine.

Benedict Evans
Selena Gomez at the 2018 Met Gala. Photograph by Benedict Evans for W Magazine.

Benedict Evans
Katherine Langford at the 2018 Met Gala. Photograph by Benedict Evans for W Magazine.

Benedict Evans
Jasmine Sanders at the 2018 Met Gala. Photograph by Benedict Evans for W Magazine.

Benedict Evans
Rosie Huntington Whiteley at the 2018 Met Gala. Photograph by Benedict Evans for W Magazine.

Benedict Evans
Kate Upton at the 2018 Met Gala. Photograph by Benedict Evans for W Magazine.

Benedict Evans
Winnie Harlow at the 2018 Met Gala. Photograph by Benedict Evans for W Magazine.

Benedict Evans
Alek Wek at the 2018 Met Gala. Photograph by Benedict Evans for W Magazine.

Benedict Evans
Zendaya at the 2018 Met Gala. Photograph by Benedict Evans for W Magazine.

Benedict Evans
Priyanka Chopra at the 2018 Met Gala. Photograph by Benedict Evans for W Magazine.

Benedict Evans
Migos at the 2018 Met Gala. Photograph by Benedict Evans for W Magazine.

Benedict Evans
George and Amal Clooney at the 2018 Met Gala. Photograph by Benedict Evans for W Magazine.

Benedict Evans
Lena Waithe at the 2018 Met Gala. Photograph by Benedict Evans for W Magazine.

Benedict Evans
Ariana Grande at the 2018 Met Gala. Photograph by Benedict Evans for W Magazine.

Benedict Evans
Kim Kardashian at the 2018 Met Gala. Photograph by Benedict Evans for W Magazine.

Benedict Evans
Travis Scott and Kylie Jenner at the 2018 Met Gala. Photograph by Benedict Evans for W Magazine.

Benedict Evans
Blake Lively at the 2018 Met Gala. Photograph by Benedict Evans for W Magazine.

Benedict Evans
Bella Hadid at the 2018 Met Gala. Photograph by Benedict Evans for W Magazine.

Benedict Evans
SZA at the 2018 Met Gala. Photograph by Benedict Evans for W Magazine.

Benedict Evans
Kendall Jenner at the 2018 Met Gala. Photograph by Benedict Evans for W Magazine.

Benedict Evans
Janelle Monae at the 2018 Met Gala. Photograph by Benedict Evans for W Magazine.

Benedict Evans
Emily Ratajkowski at the 2018 Met Gala. Photograph by Benedict Evans for W Magazine.

Benedict Evans
Daniel Kaluuya at the 2018 Met Gala. Photograph by Benedict Evans for W Magazine.

Benedict Evans
Gigi Hadid at the 2018 Met Gala. Photograph by Benedict Evans for W Magazine.

Benedict Evans
Katy Perry at the 2018 Met Gala. Photograph by Benedict Evans for W Magazine.

Benedict Evans
Paris Jackson at the 2018 Met Gala. Photograph by Benedict Evans for W Magazine.

Benedict Evans
Madonne and Nicki Minaj at the 2018 Met Gala. Photograph by Benedict Evans for W Magazine.

Benedict Evans