A Surprisingly Long List of Celebs Who Are Ordained Ministers
In case you want to make like Vanessa Carlton and have Stevie Nicks officiate your wedding.
---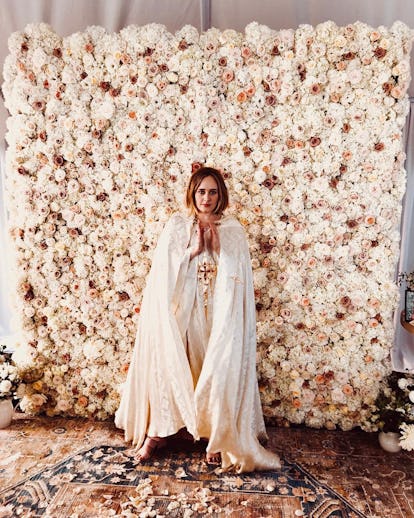 Courtesy of @adele
Sorry, but there's no denying your chances are slim when it comes to marrying, say, Benedict Cumberbatch or another A-lister like Emma Stone. There is a chance, on the other hand, that those names might actually oblige to marry you—with the small snag that it would have to be to someone else. Stone and Cumberbatch are a couple of a surprisingly long list of celebrities who happen to have side gigs as ordained ministers—one that Adele officially joined, as she revealed on Tuesday that she in fact married two of her best friends, comedian Alan Carr and his partner, Paul Drayton, back in January.
Not all may be overachievers like Adele, who also planned her friends' wedding, which took place in her garden. Still, in case you have any wedding planning coming up, read on for a list of potential officiators, from Ian McKellen to Stevie Nicks, to take into consideration, here.
John Early
Though he was in drag as "Vicky," the chain-smoking denim lover from The Characters, it was in fact the comedian and actor John Early who carried out the surprise wedding between Amy Schumer and Chris Fischer. (Looks like Schumer may not have been joking after all when she explained the ask was so last-minute because "Adele backed out.")
Benedict Cumberbatch
A matter of hours after he found out out he was nominated for an Emmy, Benedict Cumberbatch flew off to Ibiza on his birthday in 2013 to officiate the marriage of his friends Seth Cummings and Rob Ridner.
Kesha
Kesha, in fact, has two weddings under her belt. The most recent one was in 2015, between her longtime makeup artist Vittorio Mascecchia and his longtime boyfriend, Felipe Noquiera, and it apparently saw her comfortable enough to wear black.
Emma Stone
Emma Stone was just 24 when she presided over the marriage of a couple she'd introduced to each other: her publicist, Holly Shakoor, and the director of Gangster Squad, Ruben Fleischer.
Stevie Nicks
In news of celebs we didn't realize knew each other, Stevie Nicks was the one to officiate Vanessa Carlton's wedding to Deer Tick's John McCauley. (For the outdoor ceremony, Nicks wore a flower crown.)
Victor Garber
Ben Affleck and Jennifer Garner's marriage may be no more these days, but its beginning will have always taken place at the hands of Victor Garber, Garner's on-screen dad in Alias, who officiated their 2005 wedding in Turks and Caicos.
Lady Gaga
Around when same-sex marriage was legalized in New York, Lady Gaga received ordination papers. Though it's unclear whether or not the wedding took place, she told a radio station at the time, in 2011: "My yoga instructor Tricia is a lesbian and she lives with her partner for years now, and they have a beautiful daughter. And [they] asked me to marry them. So yes, I'm going to."
Sasha Lane
Less than a week ago, actress Sasha Lane declared being an ordained minister her "best role yet." She further elaborated in an Instagram caption: "#why?youask #becauseigettosaythesentence- #imanordainedministerbitch." (And, of course, because it meant she could marry her friends Lars and Amy.)
Jonah Hill
Adam Levine's longtime friend Jonah Hill was the one to officiate his wedding to Behati Prinsloo in Cabo in 2014—a ceremony that Prinsloo's minister dad deemed "loose, romantic, and fun."
Ian McKellen
Far from forgetting his BFF Ian McKellen when Patrick Stewart married the singer Sunny Ozell in 2013, he tapped McKellen to officiate the ceremony. (Like Kesha, the ceremony wasn't his first; he now even owns a "minister" slogan tee.)
An Intimate Moment with Ciara Before Her Wedding to Russell Wilson:
Related: Kate Moss and Princesses Beatrice and Eugenie Attended a Royal Wedding in Peru This Weekend