Adriana Lima Finds True Love And Marries Herself
Adriana Lima is sick of relationship drama right now and just decided to marry herself while in Monaco.
---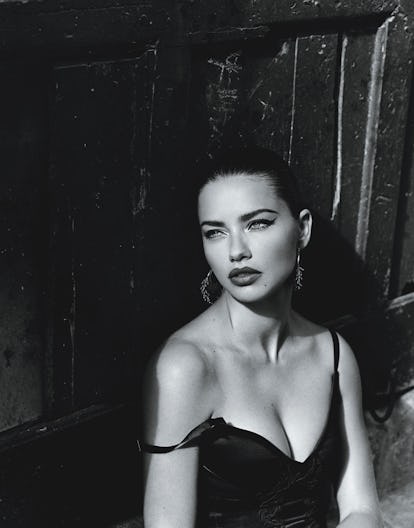 Miranda Kerr wasn't the only Victoria's Secret alum to get hitched over the weekend. Brazilian beauty Adriana Lima also had exciting relationship news and a shiny new ring to share of her own. The model and newly minted single girls' icon announced that she is now married to her self.
The 35-year-old may have traveled the world, rubbed shoulders with a who's who of eligible bachelors, and had a few high profile relationships in the past, but for right now at least she's decided she's the only person she needs in her life, thank you very much.
"WHATS UP WITH THE RING?" she wrote in all-caps interspersed with emojis. "ITS SYMBOLIC, I AM COMMITTED TO MYSELF AND MY OWN HAPPINESS I AM MARRIED WITH ME LADIES LOVE YOURSELF AND YES I AM SINGLE"
In the photos, there's a sparkly band along her ring finger, while she suggests a secret with her index finger.
Maybe she's following in the footsteps of singer Fantasia Barrino? The former American Idol contestant recently announced that she had bought herself a ring and married herself before she ended up marrying her husband (she now has two rings).
Or maybe she's signaling to the world that she's done with relationship drama.
The model recently ended a short relationship with New York Mets pitcher Matt Harvey, and per the tabloids, recently sent him into a tizzy when she met up with another ex, New England Patriots wide receiver Julian Edelman.
The rumors went that Harvey then went into a alcohol-assisted hissy fit and failed to show up for a game and received a three-game suspension. Because certain dudes on social media will always find away to blame a woman for everything, some Mets fans started harassing Lima online. When one user commented on one of Lima's Instagram pictures, "You ruined the Mets season go away," Lima wrote back, "no I did not. There is always two sides of the coin. Only 1 has been heard."
Harvey latter told reporters that he and he alone was to blame for missing the game.
But Lima, who has also had past relationships with Lenny Kravitz and basketball player Mark Jaric, is sick of it all right now and is just settling for herself right now.
And she seems to be doing just fine. She's currently in Monaco for the Grand Prix after all.
Related: How Adriana Lima Plans to Live Forever
Adriana Lima and Joan Smalls Get Hot in Havana:
Adriana Lima Rules the Runway
Lima started modeling in the late '90s and was one of the highest paid models by 2006. Working a sheer green top and baggy denim trousers during Sao Paolo Fashion Week Spring 2006, she proved exactly why.
Photo by Getty Images
Part of Lima's appeal is her ability to pull off almost any look. Here, she takes on "ladylike" on the Luca Luca runway…
Photo by Getty Images
"Smoldering" for Jason Wu Fall 2014…
Photo by Getty Images
And, basically, "badass" for Givenchy Spring 2015.
Photo by Getty Images
Karlie Kloss has "The Panther," Zoolander has "Blue Steel," and Lima? The charming "Kiss and Wave." (As seen at Desigual.)
Photo by Getty Images
The Victoria's Secret veteran is also known to "Point and Stare" occasionally.
Photo by Getty Images
Lima (among others) famously went makeup-free for Marc Jacobs' Spring 2015 show.
Photo by Getty Images
And glowed at Balmain Fall 2015.
Photo by Getty Images
There's that "Point and Stare" again (at amfAR's 2015 charity event).
Photo by Getty Images
But at the end of the day, rocking a pair of wings for Victoria's Secret—as she has since 1999—is Lima's true calling.
Photo by Getty Images