China Fun
Monsoon-worthy rain and 40 mile gusts of wind are the stuff fun nights on the town are made of, so I was overfilled with joy at the prospect of hitting two parties, separated by 80...
---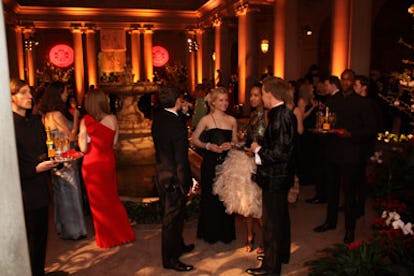 Monsoon-worthy rain and 40 mile gusts of wind are the stuff fun nights on the town are made of, so I was overfilled with joy at the prospect of hitting two parties, separated by 80 blocks and occurring at almost exactly the same time on a rain-sodden Thursday evening.
First, the pre-party ritual: food (antithetical to sample size dresses, I know, but necessary to prevent, umm, slovenly behavior later on); a visit to my doorman, Mike, my unofficial dresser when I can't reach that button or pull up that zipper, and then a quick dose of DVR-ed TV (in this case, Top Chef All Stars) to masochistically remind myself of the comforts of home that I am forgoing.
But as I approached my first destination, the Frick Collection's Young Fellows Ball, I was reminded why it's such a hard invite to pass up. An intrepid crew of girls—among them a slew of fashion editors who had just arrived back from Paris that morning—always make the trek, even in such inclement weather (last year, the party occurred the same night as a blizzard). The true testament to the event's popularity, though? I had to show a photo ID to gain entry.
"What is this, the Oscars?" sniffed one guest.
Once past the ropes, coat safely checked, this year's theme, Bal de Chinoiserie, was in full evidence (the night was sponsored by Rachel Roy, Judith Leiber and Baccarat). Red neon circles of zodiac designs decorated the walls; a projection of colored orchids covered the ceiling, and there were cherry blossom branches placed around the central fountain. A dim sum buffet was set up in dancing room—slow to get started except for a few boppers—and waiters procured duck spring rolls and edamame tartlets to the likes of Olivia Chantecaille, Allison Aston, Lydia Fenet and Lara Meiland-Shaw.
Few attendees, though, seemed to have fully embraced the Asian theme, aside from a man with a sword, a fellow with a rounded hat and faux (I hope!) long braid and a few chaps sporting silken, frog-closure pajama jackets.
"My orchid is my one ode to the theme," said Kimball Hastings, who wore a vintage 1940s tuxedo. Lisa Salzer one-upped him with a fan from Pearl River Market, attached to her rope, J. Crew belt.
The real activity at hand, was trying to track down errant friends and husbands who had been easily separated in the circular layout.
"I'm going to run after a friend," said Adelina Wong Ettelson. "That's what you do here."
What I did, after a couple of laps, was hastily make my way down to the opening party for the Mondrian Soho, just in time to catch The Kills performing in the newly finished lobby as a projection by Poppy de Villeneuve covered the walls. Still in my black tie frock from the Frick, I felt like Blair Waldorf crashing a Brooklyn rave, and hastily covered my dress with a hooded coat as protection from the various beverages being tossed in the air with abandon. Talk about culture shock.
Instead of red silken gowns, this crowd was heavy on the black leather, mini dresses, striped shirts and plaids: all the makings of a proper downtown bash.
As The Kills set into "Sour Cherry" mop-haired boys bobbed their heads, while a horizon of iPhones and Blackberrys captured shots of the band.
"Do you know the name of this song?" asked one hat-clad guy to photographer Santo D'Orazio.
"No," he replied succinctly as he looked unimpressed with the scene.
Nearby, the model Aurelie Claudel was snapping photos of a bare-chested androgyne of a guy in a feathered, bejeweled headdress and red lipstick.
Just beyond the lobby, in the hotel's Imperiale No.Nine restaurant, suited guys like Jay McInerney with wife Anne Hearst sipped champagne alongside dudes downing beers. A particularly impatient girl at the bar offered to help the bartender pop a bottle for her.
Later, the scene moved to the lounge Mister H, now fully outfitted with fog machines and a stripper pole. Prabal Gurung, who inaugurated the place during Fashion Week with a post-show party, chatted with friends and the room grew increasingly packed.
Glancing at the bar's neon signage reading "This is not a brothel there are no prostitutes at this address," and then back at the crowd, one reveler seemed skeptical.
"They're going to have to change that sign in a year," he quipped.
Time will tell.