El Museo del Barrio Gala
In like a lion, out like a lamb. So the month of March is supposed to go and so, too, one might gather, the New York spring social season. Well, not when one of...
---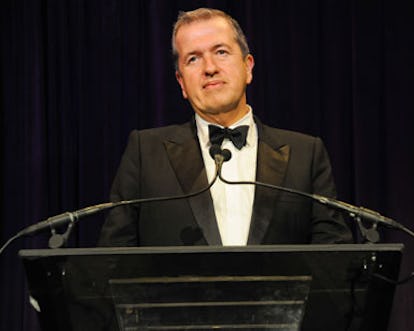 In like a lion, out like a lamb. So the month of March is supposed to go and so, too, one might gather, the New York spring social season. Well, not when one of its final events is El Museo's 2011 Gala, honoring photographer Mario Testino. Guests at Cipriani 42nd Street Thursday night were seemingly so hyped up about the much-anticipated evening they needed a drink to calm down (or in some cases, perhaps one to amp them up for a final charity circuit hurrah).
"Let's head to the bar," said one woman to her husband upon entering.
"That's exactly what I need," he said.
"Where did you get that Bellini?" queried Bettina Zilkha to the designers Carly Cushnie and Michelle Ochs.
The girls had gotten theirs from a bar hidden at the end of a long, snaking red carpet and step and repeat.
"It's your reward for doing the line," joked Cushnie.
Only one lady seemed timid about her beverage choice.
"Not with the drink, it's very tacky!" she trilled at a photographer as he tried to snap her picture.
She was clearly the only one with such an attitude—at an event like this, how could anyone be embarrassed about having a wee bit of a good time? In the side room off the main dining area, Carolyn Murphy, Gucci Westman, Fe Fendi, Crystal Renn, Arlenis Sosa, John Legend and a phalanx of editors mixed with many feather bedecked ladies, one of whom declared to her conversation partner, "I am the Pisco sour lady, the president of Pisco sour," before handing the woman her card, offering her a "Pisco tour" of New York City. The festivities had even drawn a hermit-like Josh Hartnett, fresh off a movie shoot in India, out of his anti-social haze.
"I wasn't in this sort of realm at all and I wouldn't be out for anybody else," he said of Testino. "He's very easy to shoot with, he makes the experience like a party."
A few steps above him in a quasi VIP area, Kate Winslet (who snuck in unnoticed, skipping the red carpet) chatted with Anna Wintour, Carine Roitfeld and Stephen Gan had a tete a tete, Prabal Gurung posed with Joan Smalls for photos and the man of the hour Testino seemed to still be recovering from the rigors of the red carpet.
"I just did one hour in that line," he said apologetically as he ducked any questions. "I need a drink."
The gong had already rung for dinner, so he popped behind the vacant bar and poured himself an inch or two on the rocks.
The evening's speeches were briskly delivered as guests ate their goat cheese and beets appetizers at baroquely romantic tables, bedecked with long high, candelabras and lush roses.
The El Museo del Barrio chair Tony Bechara, introduced Gala chairs Alex Gonzalez and Yaz Hernandex, who related how Gonzalez had brought up Testino to her a year ago after a gala which had honored Placido Domingo.
"But he's Italian, why would we honor him?" she recalled telling him (El Museo del Barrio, in case it wasn't evident from the name, is a Latino organization). "He told me, "He's Peruvian, though he may look Italian sometimes.'"
Winslet then took to the podium to speak about Testino.
"Kate Middleton and Kate Moss weren't available, so I'm afraid you're stuck with this Kate," she said self-deprecatingly, saying of Testino, "We know he will talk us into doing absolutely anything for him. And why? Because we trust him. Not only because he is capable of surrounding himself with beautiful assistants who help keep us focused. So when he says 'It's beautiful, but it would be better naked, no?' How can one say no?"
"Well first of all, it's not my fault that all the people born in England are Kate," countered Testino as accepted his Lifetime Artistic Achievement Award. "People think it's funny that I cast for assistants. But I do. I think it's very important to have good-looking people around me. Then the girl feels beautiful."
One such girl is Donatella Versace, who admitted she had been seduced by Testino's charms seven years ago on a shoot.
"He makes me go in my house and stand up in the bathtub in all my clothes," she said. "I never thought I would do such a thing, but with Mario, he makes you do anything."
Photos: Neil Rasmus/ BFA