Animal House
Jimmy Choo celebrates its collaboration with artist Rob Pruitt
---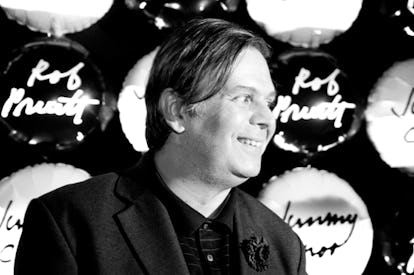 The privileged stretch of East 79th Street between Madison and Fifth Avenues has seen many a boldfacer, considering one of its inhabitants is Mayor Bloomberg. A 19th century house-turned-Ukrainian embassy lit up in neon pink? Not so much. Such was the main attraction Thursday evening when Jimmy Choo took over the Fletcher Sinclair Mansion to fete its collaboration with artist Rob Pruitt, whose fruits—19 exuberantly printed shoes, bags and accessories—were displayed on the second floor after guests ascended a neon-lit grand staircase. The room, with its black and white striped floors and sweeping views of Central Park, proved the perfect playground for a cavalry of models, socials and a smattering of actresses to sip bubbly and admire an animated video "Angel Panda, Devil Panda" playing on a screen behind DJ Nick Cohen. Caught in the fray was Pruitt, sporting a velvet Lanvin boutonniere, who offered his thoughts on his fashion endeavor.
I have to ask, are your shoes Jimmy Choo?
I don't want to tell you.
Why not?
They're some kind of vegan shoes.
Are any of the shoes in your collection vegan, too?
I think the sandals are, the jelly sandals. I didn't really press it. It's what I believe for myself but everyone makes their own choices.
What was the most challenging part of this design process for you?
I think it was a challenge that I failed. I wanted to make something that was sophisticated and classy. And instead I made something very garish, but hopefully in a good way.
In a charming way.
Yes, in a charming way. But you know, I was tricked by this whole notion of cruise. Tricked is maybe the wrong word, but I like to think that cruise is a two week period where you can step out of your own life and do a little role-playing, maybe go some place you've never been, sleep with somebody you don't know. They're shoes for that. It's like free parking, it's not your real life. You can be somebody else.
Click here to see more photos from the party.
Photo: Sherly Rabbani & Josephine Solimene