Gem Palace
Like just about everyone I know, I'm a bit of a caffeine addict—I am barely human without my daily dose of concentrated green tea, particularly after a night out. Wednesday morning, however, I discovered an...
---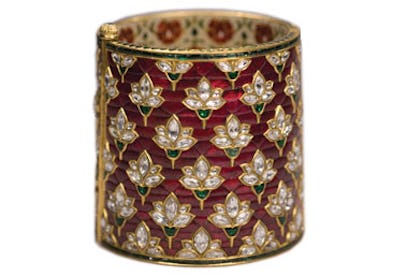 Like just about everyone I know, I'm a bit of a caffeine addict—I am barely human without my daily dose of concentrated green tea, particularly after a night out.
Wednesday morning, however, I discovered an even better pick-me-up than legal stimulants: jewelry.
Less than twelve hours after leaving the annual spring New Yorkers for Children gala, I paid a visit to the Munnu studio on the Upper East Side where Siddharth Kasliwal, the son of the famed Gem Palace jewelry designer Munnu Kasliwal, gave me a private viewing of the Jaipur-based company's Indo-Russian collection, recently the subject of a Kennedy Center exhibition in Washington D.C. Despite their museum-worthy workmanship, the pieces were all produced in the last five to ten years and were being shown in the United States for the first time.
Now, attending New York society events on a regular basis, I've seen my fair share of jewelry—just the night before I had admired a Fred Leighton cuff and earrings worn by the model Crystal Renn. But these Gem Palace stunners defied all my expectations of what constitutes fine jewelry.
Take a ruby cuff, for starters: the 95 carats of rubies (sourced from an African mine for their color) had been inlaid into the cuff with diamonds in such a seamless manner as to give the impression of enamel. On the cuff's underside? Actual Jaipur enamel in a similar pattern.
Or a necklace comprised of 108 carats of flawless diamonds and 850 carats of Basra pearls, with a central pendant that features a 16.33 carat diamond and whose back is covered with a delicate image of the Taj Mahal rendered in diamonds. Flip this open and you see a portrait of Mumtaz Mahal, the wife of the Mughal emperor Shah Jahan, in whose memory the building was erected.
"This is for the body and soul," explained the younger Kasliwal of the equally stunning backs to all of the pieces. "A client once asked my father, 'Why should I pay for this?' and he replied, 'Why do you buy expensive underwear?'"
La Perla no longer seemed to hold much luster.
"We come and go, jewelry remains forever, so it needs to be perfect from all angles," continued Kasliwal, who is the eighth generation in his family to help run Gem Palace.
"Oh this is my favorite piece, it's the only piece a man can wear," he said as he pulled out a sarpesh, a decorative turban attachment worn by men on their wedding day (think a tiara for dudes). This particular one was 22.5K gold (as all the Gem Palace creations are, excepting the silver-gold alloy used for lacework) sporting South Sea Pearls, 72 carats of emeralds and 110 carats of diamonds.
"I found this, now I just have to find the bride," he joked.
And the checkered green enameled and ruby and diamond-encrusted bird shaped chuski, an object traditionally used for drinking opium water ("we tested it with wine")?
"That's for the bachelor party," grinned Kasliwal.
I should mention at this point, that I was having a party of my own, because by now Kasliwal had draped two necklaces around my neck, one a beautiful rose-cut diamond choker, the other, what his father calls a "T-shirt necklace." Translation? 780 carats of emeralds and 288 carats of flawless diamonds that look so insanely decadent, that most people would assume your piece was a fake.
"You can walk on the subway and they think you're some crazy lady wearing all your bling, bling."
Would he have thought me crazy if I'd made a run for it at that point?
Perhaps the most blinding piece de resistance was a wedding suite owned by the royal family and on loan for the exhibit (all of the other pieces are, technically, for sale). Comprised of a necklace and extraordinary headpiece, it took the 75 Gem Palace workers three and a half years to produce, using over 880 carats of diamonds and 5,500 carats of pearls. Oh, and the whole thing weighs about twelve pounds, and the bride wore it for seven hours.
There are more effective ways to lose weight and build muscle mass, but really could there be more a decadent one?