Mister H
Nightclub trends can go in and out of fashion as quickly as the latest Marc Jacobs shoe (Duvet and Bed, anyone?). One thing that remains a constant, however, is the promise of a little iniquity....
---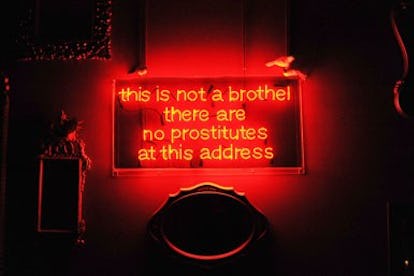 Helmed by Armin Armiri of Socialista fame, who worked with Mondrian Soho designer Benjamin Noriega Ortiz and the in house design team, Mister H promises a mash up of film noir, 1930s Shanghai and contemporary Chinatown influence to create an air of playful sin, fueled by specialty libations, music courtesy of resident DJ Mia Moretti and some live entertainment (more on that later). Two neon signs of Chinese characters reading "Happy Love Drunk" greet guests ("I thought everyone should be happy and responsibly drunk," explained Armiri) who can choose to plop down in one of the red sofas dotting the space or head through a poppy flower decorated chain wall into a more intimate space of colorful seats. A sign above that area currently reads "This is not a brothel, there are no prostitutes in this place." In case you were concerned.
Rabbit paintings by Gregory de la Haba (in honor of the current lunar year), Chinese newspapers lacquered as wallpaper, a floor painted to resemble tiles in jade green and gold, a six panel lacquered cabinet-esque bar and a straight line of five, bright red pagoda-esque light fixtures ("If you're lost or you're ever too drunk, you can just look up and follow your way") round out the décor. There will also be photos of film noir actors and Bruce Lee ("You can't have a Chinese bar and not have Bruce Lee") in a VIP room and, of course, four fog machines to create a constant layer of mist along the floor to evoke Shanghai and San Francisco.
"I thought what if we had him cinematically have a nightcap before he goes home, where would he go?" said Armiri. But the actor is not the bar's mysterious namesake Mister H (or Mister Hong, as Armiri elaborated). "So who is Mister Hong? I am Mister Hong. She is Mister Hong," he said, gesturing at his PR woman. "Whoever works here is geared to help you."
Indeed. A cocktail menu of eight concoctions (a feng sui woman was brought in to case the joint, hence all the specifically numbered elements) lists elixirs like the vodka, ginger, cucumber and agave-based Secret Garden and a rum-fueled Scorpion Bowl. Though the most intriguing offering is the "Love you long time" chaser, containing "horny goat weed tea" and meant to be drunk after downing a shot of tequila.
"It's just to perk you up and make you feel good about yourself," said Armiri of the Chinese herb so subtly named for its supposed aphrodisiac impact. He can attest to its properties. "The effect of it on me was I was very happy for the rest of the day. It last for a while. I've never tried Viagra or anything else so I wouldn't know but this definitely…"
Other things to make you feel good? A Madame Butterfly-worthy character dubbed Mrs. Hong who will perform. And strippers.
"We're going to have a strip pole right here," said Armiri, gesturing to a space near the DJ booth where both hired professionals and clientele will have a chance to show their skills.
Guess that would be the love part of the formula.