After Trump, Brits Impart Their Own Post-Brexit Wisdom
Dominic West and Sienna Miller host a party at Burberry's Soho shop celebrating 'The Tale of Thomas Burberry,' and a few outspoken Brits weighed in on the America's answer to Brexit.
---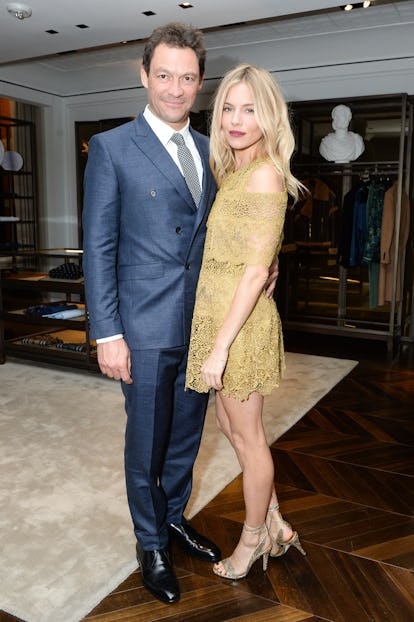 Joe Schildhorn /BFA.com
It's been just a week since Donald Trump clinched the presidential election after a bitter, months-long fight against Democratic nominee Hillary Clinton, and he's already begun filling out his transition team and future staffers with an assortment of family members, surrogates, and far-right politicians and figureheads. He met with President Obama. He and his family appeared on 60 Minutes, as is customary of the president-elect. Still, among New Yorkers, who overwhelmingly voted for Clinton, the aftershock of the loss, and the accompanying motivation to demonstrate and protest, continues to dominate many conversations.
This was the context into which several Brits (many of them adoptive Americans) touched down on Tuesday in Soho for a party for Burberry's new holiday short film, The Tale of Thomas Burberry, starring Sienna Miller and Dominic West – they play Thomas Burberry's first romance and one of his most noted clients, explorer Ernest Shackleton – as well as Domhnall Gleeson and Lily James.
The internet — and Twitter in particular — has seen some demand for Burberry to expand The Tale of Thomas Burberry into a full-length theatrical release. West would undoubtedly reprise his role, explaining on Monday night that he's wanted to play Shackleton for two decades and even followed his steps to the South Pole, albeit not wearing Burberry.
The Brits themselves recently underwent their own version of the Trump upset in the form of Brexit, in which British citizens voted to leave the European Union.
"It's Brexit times 100," West said, echoing a comparison that's been drawn many times in the wake of Trump's victory. Except, he said, "It's much, much worse." The actor, perhaps best-known for playing Detective McNulty in The Wire, currently stars in The Affair, a project that has landed him stateside for five months.
He had just returned to New York Sunday night after a brief sojourn in London, and noted the somber atmosphere on set Monday morning. He and the cast journeyed upstate to shoot, finding themselves in a small, overwhelmingly pro-Trump town: "Every shop window had a Trump sign in it," he said. "I thought, 'How did we not see it coming?'"
British DJ Mary Charteris, too, had just landed in New York to attend the Burberry party. While spinning an eclectic mix of tracks — including a few "English odd ones" that might only be recognizable to the most British among Burberry's crowd — she recalled the atmosphere back in Los Angeles, where she moved just over a year ago.
"I felt way more weirdly invested in this election than ours," she said, weighing the parallels between the Trump victory and the Brexiters' win. "I couldn't vote. I was just watching. Maybe that's why I got more invested than the English one — because I couldn't do anything about it."
She and fellow British DJ transplant Chelsea Leyland hovered around the DJ booth in the back of the two-story Burberry shop; later on, Leyland floated through the upstairs, searching for the projection room where the short film was screening.
"I would say it didn't cut as deeply as this," Leyland said of Brexit. "I think a lot of that is fear-driven." She added that acquaintances had reminded her she still had options — implying she could return to the U.K.
West echoed this. In the wake of the election, he pondered taking his family abroad — "I thought, we'll go to Ireland, where my wife's from," he said. "Then I remembered that 20 minutes from my wife's house is a huge Trump golf course."
The actor also offered a few words of encouragement, wry as they might be: "I do think it's important that he is held to account," he said, adding that he was encouraged by Trump's visit to the White House, where he seemed genuinely taken with President Obama. "Do what the Republicans do, which is question every bloody thing and try and block everything he does. Do what the Republicans did to Obama."