Meet the French Sunglass Designer that Counts Beyoncé as a Fan
French expat Ahlem Manai-Platt recently opened a shop in Venice, California for her eponymous luxury eyewear brand. How much cooler can you get?
---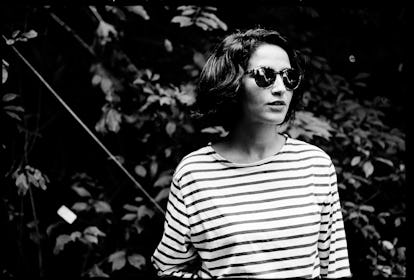 Settled in the heart of Venice, California, French expat Ahlem Manai-Platt has set up shop creating understated luxury eyewear that combines classic frames and contemporary details. Playing off her French roots, each frame of her line, Ahlem, is named after a famous landmark or neighborhood in Paris, injecting the foundation of the brand into every style. Between the launch of a collaboration with premiere eyewear retailer Black Optical and the recent birth of her son, the busy Parisian designer found time to sit down to discuss her new store, finding inspiration in sunny L.A, and the prized moment when Beyoncé became a client.
How did you get your start in fashion? Why did you decide to go into designing accessories? I've been working in the fashion industry for a long time, first as a buyer for Acne, and then as the merchandising manager for Miu Miu in France. I left the buying world in 2012 to start up my own consulting firm, Retailist, which worked with up-and-coming French designers to help them build their brands.
I've always loved fashion and the idea that something small – like a red lipstick or a pair of sunglasses – can completely change the way you look and feel about yourself. When I decided to launch my own brand, I wanted it to be something I personally connected to. I've been wearing sunglasses and playing with accessories since I was young, and I wanted to carve out a niche for myself in that arena, injecting some of my own personality and classic French irreverence to the designs as well.
Describe the experience of getting your business off the ground. As someone who did it all on her own, it was definitely a steep learning curve. I didn't come with a business partner or investor, and I worked out of my home office for the first year and a half. The designing part came more naturally to me. I spent months in France visiting different factories and sourcing the right materials for my frames. I also spent a lot of time in the studio with the frame-makers, who still do everything by hand. I wanted to sit with them to learn their process, and to make sure we were creating something of the highest standards of quality.
Talk about your move from Paris to L.A. and how that affected your business and inspiration for designing. Paris will always be a part of me, and I love the Parisian way of life. We're more relaxed and we have an innate way to channel our personalities into everything we do. Paris definitely inspires my collections – all of my frames are named after neighborhoods and landmarks in Paris, and each frame captures the feeling and colors of that particular place.
But L.A. also has a great energy right now. The vibe here is super happy and laidback and there's an amazing community of cool artists, chefs, designers and creative-types that I'm excited to be a part of. Plus, everyone needs sunglasses in L.A., so it's definitely influencing the way I design, as well as who I design for.
What accessories trends are you seeing among women right now? What style do you find is most popular with your customer? I love taking a classic silhouette and putting a new, contemporary twist on it. Our most popular frame, for example, is the Concorde, which is our version of the classic aviator sunglasses. The traditional teardrop shape feels overly done and too retro, so we've used flat lenses for a more square-off silhouette. We've also raised the brow-bar a little bit so it stands out as being a design feature, as opposed to just holding together the frame.
When did you feel the label was on the right track? I think I knew I was on the right track when I went to France and saw my first samples being produced at the factory. The team there has been making eyewear for generations, and when they were commenting on the quality of the materials and noticing the little details I put into my designs, that meant a lot to me.
Has there been a favorite moment since you launched? Definitely seeing Beyoncé in my frames. I'm a big fan of hers and when I found out that she bought a pair of my frames (at Colette in Paris), I totally freaked out – in a good way of course! I don't really do celebrity gifting, so for Beyoncé to discover my collection on her own and actually buy a pair of glasses was a big deal.
Let's talk Fall 2016. Where did you get started, and what did you want to communicate? My designs are rarely dictated by seasonal themes—I like to approach each new design as organically as possible. Right now, for example, we just launched three frames inspired by the unique beauty and architecture of Paris train stations. With this newest line, I have combined our modern palladium frame with accents of our signature acetate—mimicking the architectural play between light, stone and exposed cast iron beams.
Talk about your plans for the future. What's next? There are so many exciting things coming up for the brand. We recently opened our first flagship store in Venice, CA. I collaborated with the L.A. collective, PSS Design Cult, and local designer, Made Solid, to build an intimate and inspiring retail space that doubles as my working studio. This is always how I hoped the brand would evolve and it's been extremely fulfilling to create a space where customers cannot only connect to the Ahlem brand, but to me as well.
As for the immediate future, I had a baby the first week of May, so the next little while will be spent on mommy duty. It's been such an amazing experience watching my son grow and change. Every day, he's learning new things about himself and the world around him. In a way, it's sort of how I feel about my brand as well: we've had a lot of success in a very short time, but we're still growing and learning, and I can't wait to see what happens next.
Watch W's most popular videos here:
Photos: Meet the French Sunglass Designer that Counts Beyoncé as a Fan
Ahlem Manai-Platt. Photo courtesy the designer.
Ahlem storefront in Venice, California. Photo courtesy the designer.
Inside Ahlem in Venice, California. Photo courtesy the designer.
Ahlem "Concorde" sunglasses. Photo courtesy the designer.
Ahlem "Pont des Arts" sunglasses. Photo courtesy the designer.