Alber Elbaz Has Been Busy Incubating His Future
Fashion's favorite designer talks life post-Lanvin, including his new collaboration with LeSportsac.
---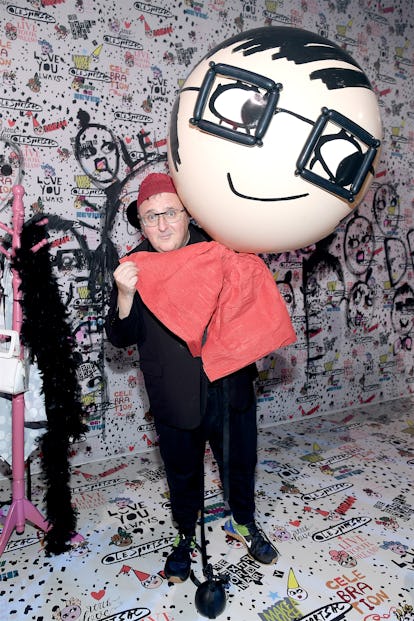 Mike Coppola/Getty Images
Alber Elbaz, the practically universally beloved 57-year-old designer, has been largely missing from fashion week over the past three years, ever since he was infamously ousted from Lanvin. Last Wednesday, on the eve of New York Fashion Week, though, he was suddenly everywhere—at least on the top floor of Spring Studios, which had been papered with his face in celebration of his new collaboration with LeSportsac. The only thing stealing the show from Elbaz was a massive silicone cake that served as a platter for candy apples, gumballs, glittery popcorn, and other treats. Fitting, really, for the man who brought along a giant shopping bag of chocolates for the audience of hundreds who showed up to hear him give a talk at Parsons shortly after he left Lanvin.
Elbaz, in case you couldn't tell, has moved on from what he described to us as his "annus horribilis" when accepting France's highest honor, the Légion d'Honneur, in front of a star-studded fan club including Pierpaolo Piccioli and Demi Moore, in 2016. During that time, Elbaz found himself unable to sketch for the first time since he was 4 years old. Now, though, he's definitely made up for that lapse: Every single backpack, tote, weekender, and cosmetic case in his line for LeSportsac is patterned with Elbaz's drawings, along with scrawls of his signature uplifting slogans like "big kiss," "you look divine," and "dance with me."
The good news is that Elbaz has lately been sketching more than that—"a lot" more, in fact. The bad news is that it might be a while before we get any more details than that. "I cannot unveil [them] at this moment, while you're having iced coffee and I'm having hot coffee," Elbaz told me on a recent morning in the NoMad Hotel, where he was comfortably camped out in his trademark black suit, tucked away from the New York heat (which he compared to "walking in a microwave") and what he deemed the "culture shock" of New York Fashion Week.
Elbaz would be in town for the next few days but was adamant that "no shows" were on his agenda. "Some of my best friends are in New York," he said, noting that, after growing up in Morocco and Israel, it was where he kicked off his now decades-long career, moving to the city in 1984. Although Elbaz is so closely associated with Paris, before Yves Saint Laurent tapped him to take over his namesake label, where Elbaz designed women's wear prior to his 14-year tenure at Lanvin, which saw him successfully revive the house and turn it into an industry favorite, he actually spent a dozen years in New York, working first in the Garment District and then with Geoffrey Beene.
That's not to say that Elbaz has given his old apartment on 10th Street much thought since. "I'm never going back to places, because I get too sentimental, too sensitive. You know, sometimes, when you go through a moment, you want to keep it as a moment. I always love what Nina Simone used to say—that when it comes to her work, she never wants to go backward, she only wants to go forward," he said.
Looking Back at Alber Elbaz's Best Lanvin Moments in W
All clothing, accessories, and jewelry Lanvin.
Photographer: Juergen Teller Stylist: Edward Enninful
Lara Stone in Lanvin's silk lamé dress with beads and feathers. Janis Savitt earrings, Lanvin necklace, Dior bracelet (right hand), Solange Azagury-Partridge ring, Wolford hosiery.
Beauty Note: Erase eye creases on come-hither lids with Strivectin-SD Eye Concentrate for Wrinkles.
Demi Moore in Lanvin's beige polyester and polyamide dress, at Barneys New York, New York; Bergdorf Goodman, New York, 800.558.1855. Lanvin necklace.
Hair by Recine; makeup by Gucci Westman/Revlon; manicure by Deborah Lippmann/Lippmann Collection. Production by LaLaLand; digital imaging by D-Touch; post­production by Dreamer Post. Photography assistants: Gareth Horton and Maurizio Bavutti. Fashion assistants: Kathryn Typaldos and Sarah Schaub.
Photographed at Milk Studios, Los Angeles.
Amy Adams on the cover of W's February 2015 issue.
Watch a video interview with Amy Adams here.
Amy Adams wears Lanvin jacket, $2,985, and trousers, $1,145, Saks Fifth Avenue, 877.551.SAKS; DO-Paris swimsuit, $392, do-paris.com; Lanvin scarf (worn as suspenders), $175, lanvin.com.
Jane Fonda wears a Lanvin dress, $15,500, Lanvin, New York, 646.439.0380 David Webb gold, platinum, ruby, diamond ring, $46,000, and gold, platinum, crystal, ruby, and diamond ring, $135,000, davidwebb.com.
Hair by Guido for Redken; makeup by Pat McGrath for Covergirl; manicure by Jin Soon Choi for JINsoon at Jed Root. Produced by Steven Dam for PRODn at Art + Commerce. Digital technician: Noah Esperas. Photography assistants: Ned Rogers, Stas May, Nick Brinley. Fashion assistants: Ryann Foulke, Dena Giannini. Hair assistants: Sandy Hullett, Benjamin Muller. Makeup assistants: Mimi Imanishi, Erin Parsons.
Christy Turlington, Model and humanitarian; Alber Elbaz, Creative director of Lanvin; Michael Kors, Designer.
Lanvin's polyester and polyamide dress, at Lanvin, Las Vegas and Bal Harbour, Florida. Western Costume hat with Lanvin belt attached; Lanvin necklace; Burberry belt.

Hair by Jimmy Paul/Bumble and bumble; makeup by Lucia Pieroni/Streeters for Clé de Peau Beauté; manicure by April Foreman/The Wall Group. Production by Kyd Kisvarday and Ricardo Martins at North Six; digital technician: Stowe Richards. Photography assistants: Chris Ferretti and Huan Nguyen. Fashion assistants: Kathryn Typaldos and Katie Casamassimo.

Photographer: Craig McDean Stylist: Alex White
Peaches Geldof wears Lanvin's teal and black silK dress, at Kirna Zabete, New York. Chanel headband; Tom Binns earrings.
Beauty Note: An uber femme-fatale eyelid is dramatically lined with Cle de Peau Beaute Intensifying Cream Eyeliner.
Gwyneth Paltrow in Lanvin silk top with pearl buttons and silk pants. Impasse 13 by Alexis Mabille headband.
Hair by Orlando Pita for Kérastase Paris at Orlo Salon; makeup by Peter Philips; manicure by Deborah Lippmann / Lippmann Collection / The Wall Group. Production by Tracy Doyle. Prop stylist: Andrea Stanley / The Wall Group. Photography assistants: Sharif Hamza, Sebastian Mader and Chris Bisani. Fashion assistants: Kathryn Typaldos and Martha Violante. Special thanks to Brent at Briese.
Jourdan Dunn wears a Lanvin jackets, Amelia Toro turtleneck, Marni earrings, Monica Rich Kosann necklace.
Hair by Shon for Bed Head by Tigi at Julian Watson Agency; makeup by Frankie Boyd for Dior at Tim Howard Management; manicure by Megumi Yamamoto for Chanel. Model: Jourdan Dunn at Women Management. Photography assistants: Lex Kembery, James Robjant, Nick Brinley. Fashion assistants: Ryann Foulke, Dena Giannini. Hair assistant: Ryuta Saiga. Makeup assistant: Ryo Yamazaki.
Elaine Irwin Mellencamp wears Lanvin's black linen jersey and elastic dress, at Lanvin, Bal Harbour, FL. Chanel shoes.

Photographer: Bruce Weber Styled: Camilla Nickerson
Rihanna wears a Lanvin coat; Candice Angélini mask (worn as headpiece); Yves Salomon stole (in hair); Amrapali ear cuffs; Meadowlark septum ring; Lynn Ban choker and bracelet.
Hair by Yusef Williams for Matrix at Factory Downtown; makeup by Kabuki for Dior at Kabukimagic; manicure by Maria Salandra. Set design by Gerard Santos. Production by Kate Collings-Post for North Six. Digital technicians: Victor Gutierrez, Jeronimo de Moraes. Photography assistants: Matt Easton, Teddy Park, Pavel Woznicki. Fashion assistants: Ryann Foulke, Dena Giannini. Yusef Williams for Matrix Oil Wonders Products at Factory Downtown.
Lanvin dress; Rebecca Taylor top.

Photographer: Mert Alas and Marcus Piggott Stylist: Edward Enninful
Lanvin's beige washed-cotton and silk dress, at Susan, Burlingame, California, 415.922.3685.

Photographer: David Sims Styled: Camilla Nickerson
Craig Lawrence metallic yarn top, trousers, and hood. Lanvin sequin-embellished silk dress. Damir Doma wool and leather cape (on ground). Hervé Léger by Max Azria harness; Rick Owens boots.

Photographer: Tim Walker Styled: Jacob K Illustrator: Kristen McMenamy
Lanvin's black linen, wool and elastic dress, at Jeffrey, New York.

Photographer: David Sims Stylist: Alex White
Alexander Wang rubberized twill jacket. Lanvin silk blend dress. Maison Martin Margiela virgin wool and silk trousers, and gloves.

Beauty note: Clarins Ombre Minérale Mono Eyeshadow in Sparkle White gives brows a cool frosting.

Photographer: Steven Meisel Stylist: Marie-Amélie Sauvé
Lanvin's linen, viscose and elastic jacket and cotton and polyester skirt, at Kirna Zabete, New York. Lanvin earrings and ring; Mulberry bag.

Photographer: Terry Richardson Stylist: Alex White
Lanvin's silk dress, at Barneys New York, New York, barneys.com.

Photographer: Craig McDean Stylist: Alex White
Lanvin's black velour dress, at Barneys New York, New York; Bergdorf Goodman, New York, 800.558.1855. Lanvin headpiece and gloves.

Photographer: Inez van Lamsweerde & Vinoodh Matadin Stylist: Alex White
Elbaz has the same attitude when it comes to his career. Since leaving Lanvin, he's branched out to work with Frederic Malle, Converse, and, of course, LeSportsac, which is, in fact, a multiseason partnership. It's not lost on him that collaborations are all the rage these days; Indeed, he considers their prosperity to be a "a bit scary," for becoming "almost like the new communication." There's no denying, for example, that Elbaz is reaching a much wider audience by working with LeSportsac. "It's a bit of a culture shock to go from dressing Meryl Streep and Emma Stone to doing a bag for under $50," he said. (Every piece in the collection retails under $200, with some pieces costing as little as $30.)
For Elbaz, though, "It wasn't about high and low; it wasn't about luxury versus high street." Instead, after using the past few years as an opportunity to travel and observe fashion, shops, and shoppers from afar, he considers the collaboration to be more a personal exercise. "I thought it was good to go back to the street from our studios, and to see what the streets are all about, and why so many girls are wearing fabric bags now. Where is it coming from? What does it mean that really old women and really young girls are wearing the same company? What size and what kind of bag do you need today, now that you have an iPhone?" he said, rattling off a few more questions about, say, the necessity of A4 bags.
"I want to consider myself not just as a 'fashion designer,'" Elbaz continued, illustrating the term by suddenly waving his hand with a grand flourish. "I want to go back to the idea of asking questions and creating product that also has a meaning, and that also has fun and a sense of humor."
Elbaz's appreciation for the latter has long been a large part of his industry-wide popularity. Whereas three years ago he didn't have any social media, or even an e-mail address, these days, he's probably the only person in the upper echelon of fashion who'd wish the world happy holidays with an over-the-top video of himself wearing a Santa hat, or simply share photos of himself eating food. Those posts can be found alongside memes, throwbacks, and his series #alberandamigos, the hashtag he uses to catalog his hangs with, to name a few, Meryl Streep, Pierpaolo Piccioli, and Emmanuel Macron.
At the same time, though, Elbaz can be intensely private; the only detail he would tell me about his summer, for example, is that he went to Asia, and that lately he's gone through long periods without posting on or checking Instagram, at times even shutting off his phone. "I felt that sometimes you start to create moments, and that's not the idea," he said. "My life is not always a theater or a movie."
Elbaz is the first to acknowledge that he's "always coming from the dream world." Indeed, time off has given him space to realize and explore his newfound attraction to things that are "real," hence his request to LeSportsac that he take over their store in SoHo for a couple of hours the day after the party to stage a meet-and-greet, where he made sketches for customers, admirers, and passersby, from a young designer nervous about the fact that his first show only featured four looks to a man who, after he presented photos of his wife and children for Elbaz to sketch, asked if the bags were free. "Of course, I could be in a nice restaurant instead of doing that," Elbaz said, "but it was important for me to go all the way from the sketch and working with the designers to making a connection with people."
Alber Elbaz's Most Creative Moments
Lanvin Fall 2002.
Photo by Getty Images.
Lanvin Spring 2003.
Photo by Getty Images.
Lanvin Spring 2004.
Photo by Getty Images.
Lanvin Fall 2004.
Photo by Getty Images.
Lanvin Spring 2008.
Photo by Getty Images.
Lanvin 2010 Cruise/Resort.
Photo by Getty Images.
Lanvin Spring 2010.
Photo by Getty Images.
Lanvin Spring 2014.
Photo by Getty Images.
Lanvin Fall 2014.
Photo by Getty Images.
Lanvin Fall 2015.
Photo by Getty Images.
Elbaz has stuck with that personal approach for decades—it was exactly how he brought about Lanvin's tremendous comeback. "In the past, every time I was told something was a best-seller, I didn't think about how much money we got out of it; I thought, So how many women now are being hugged by me? How does that dress make the women who are wearing it feel?" he said, adding that he doesn't "see things in dollar signs." (Unfortunately, that personal approach is also what eventually led to his falling out with the company's shareholders.)
The "biggest paradox," Elbaz continued, is giving people what they want, which means juggling expectations of churning out designs with maintaining their quality. Still, he only "sometimes" misses that nonstop lifestyle: "You know, I'm a workaholic. Sometimes I get so bored so quickly, and sometimes boredom brings me so much, but I know the importance of having some time off so you can think and dream and listen to yourself and change. And going back to a conference zone is not always what interests me—it's too easy for me. We're living in a time of changes, so maybe it's not a bad thing for me to also change."
Those workaholic tendencies showed over the course of our hot and cold coffees, in which he repeatedly referred to everything he's been busy with over the past few years as "taking some time off." Indeed, shortly after he began his multiyear collaboration with LeSportsac, Elbaz started the year by posting his New Year's resolutions on Instagram—they included "find job." When I asked if he still felt that way, even though he seems to have kept his plate consistently full, Elbaz was momentarily flummoxed. "I don't know how to answer this question," he said. "I will keep it an open answer."
At that point, Elbaz took a long pause, apparently floating up to his usual dream world, before signaling his return to earth by grabbing his coffee and bringing things resolutely to a close. "It's not that I'm sitting at home, or that I've been on vacation. I don't like the beach; I don't like the sand; I don't like water; I don't like boats. All this time, I've been working on my own projects, and one day—not yet—I'll bring them out, and it'll be the new me," he said animatedly.
There's no telling when, but there's no doubt that Elbaz will deliver. His top priority, after all, remains giving people what they want—even if it means "making my face into a balloon, when my face is already a balloon."
Related: Kendall Jenner Opens Up About Her Fashion Week Anxiety