Kendall Jenner Opens Up About Her Fashion Week Anxiety
"I go in and out of having freak-outs."
---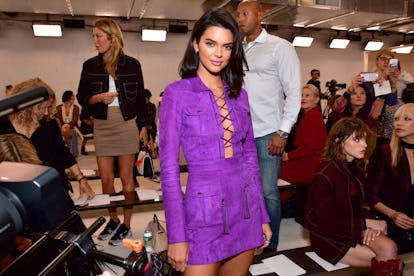 Sean Zanni
There was plenty to take in at Longchamp's massive New York Fashion Week runway show. There were the views of lower Manhattan, thanks to the sky-high location at 3 World Trade Center. Kaia Gerber, model du jour, closed the show. And freaking Kate Moss sat front row.
But no one stood out quite as much as another front-row attendee: Kendall Jenner. Sure, there was her towering stature, the frenzy of flashbulbs around her, and the general Kardashian aura, but what was truly unmissable was her ensemble: a bright purple suede mini-dress in a sea of Fashion Week black.
"Thanks!" she exclaimed in reaction to a compliment on her look. It is worth noting, however, that it was raining outside—not exactly the most suede-friendly weather. Earlier in the week, Jenner had also donned a heavy wool sweater during a sweltering 90-plus-degree heat wave. One has to ask: Does Jenner ever take the forecast into consideration? Or are supermodels simply impervious to mundane things like rain and heat? "I literally text my agent, 'Is it cold?' And she's like, 'No,'" she explained. "So I'm fine. If it's raining and cold, I don't care."
Jenner was seated in a private area backstage, moments after her friend Gerber had closed the show—a coveted spot that Jenner herself has often secured. This New York Fashion Week, she was opting out of walking, however, and instead had taken in Longchamp from the front row. "It's always a bit different," she said. "It's always fun to be on the other side of things, and to get to be on the other side of the craziness. I actually enjoy it. I love being able to see the collections when they are brand new."
Of course, there were still three more weeks to go, a marathon for an in-demand model like Jenner, who has publicly shared her issues with anxiety and panic attacks surrounding fashion month. "I try to keep myself cool. I go in and out of having freak-outs, so I just have to chill out and be by myself," she said. "Yesterday, I took a bath because I was really stressing out. I lit some candles, and, yeah.