Alberta Ferretti, Lover of Capri, Always Wears High Heels When Traveling
The Italian fashion designer, who just launched her first capsule collection, shares her travel secrets.
---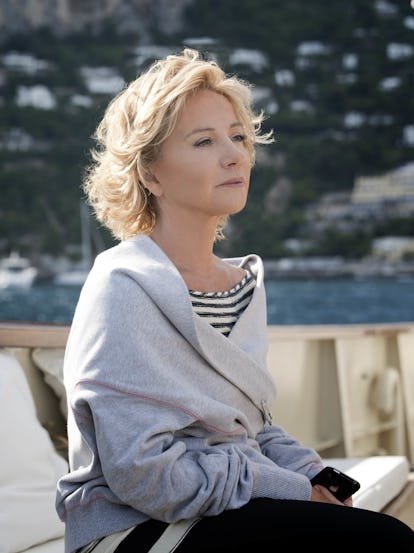 Andrea Savini
Alberta Ferretti is best known for designing elegant, ethereal dresses that are perfect for the red carpet, but decidedly inappropriate for a road trip. Fortunately, the Italian fashion designer just launched her first-ever capsule collection, comprised of 7 chic sweaters, one for each day of the week. "The capsule started off as a fun joke with my team, as I am always in a hurry and often times don't realize what day it is," she explained. "From there, the idea of creating seven different sweaters with contrasting lettering, depicting each day of the week was born. The goal was to diversify each day with a different color combination inspired by the rainbow, a welcoming symbol of joy and positivity."
See Alberta Ferretti's New Capsule Collection, "Rainbow Week"
The new collection is perfect for a traveler on the go, which makes sense as Ferretti is a travel obsessed. "I love to travel because it one of the few times I can relax," she said. Here, she shares everything from her favorite airport in the world to the best travel advice she's ever received.
What was your favorite place to visit growing up? I've always been a curious person and I enjoy discovering new places and cultures. I was born and raised in a town on the seaside, surrounded by boats in the harbor, so it is my preferred natural habitat. I love all the islands of the Mediterranean, from Greece to Ibiza and Formentera. With that said, my true passion is always Italy. Capri is among my favorites because despite the tourism, this worldly island still manages to preserve its authenticity and rich history (after all, it is the birthplace of the Roman Emperor Nero, where his villa Ottaviano Augusto remains).
What is your earliest travel memory? My childhood holidays were always spent at our house in the countryside, but one of my first favorite trips was a wonderful holiday spent in Kenya, where I was able to discover the parks. The Kenyan landscape was completely different, immense, almost infinite. The best memory of the trip was the opportunity to see wild animals roam free and the juxtaposition of the silent nights with the sounds of nature.
Where are you off to for vacation this winter? I have a house in Cortina d'Ampezzo, which is in the Dolomites. I typically spend the winter holiday there with my family. Cortina has everything I love! The connection with nature and all the different landscapes, which change with the seasons, revealing something new each time. However, winter is typically the perfect time for longer and more adventurous trips so I've recently been considering a trip back to India!
What is your favorite airport in the world? The airport in Bologna, because it represents the departure and return of all my trips
What do you wear when you travel? And shoes? I am a practical woman and love to travel in comfortable clothes. However, I never compromise my habit of wearing high heel shoes.
What would you never wear on a plane? Sweatshirts or sweatpants, because I love to be comfortable but always feminine.
What beauty products do you always travel with? A super moisturizing face cream from Carita and a lip balm by La Mer.
What is your preferred mode of travel? I love driving and traveling by car (long road trips don't take a toll on me!). In fact, I still like to drive around the country roads of home, Central Italy, even when I don't have to leave for a specific trip.
What is your favorite hotel in the world? I love charming hotels, so I prefer unique boutique hotels to large chains of the same global standards. I can't help but mention the Sirenuse in Positano, Italy, which is the most beautiful country in the world. If I must choose a hotel for a work trip, my favorite is always in Claridge's in London.
What is the one item you always carry when traveling? A long dress to wear in a relaxed style during the day that can also be worn at night, for a night out with friends.
What is the best piece of travel advice you have ever received? Always pack a good book to read.
Watch W's most popular videos here: