Don't Miss: Alberto Burri at Luxembourg & Dayan
Black, it seems, is still the new black.
---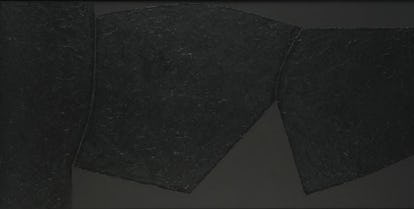 If you were only to consider the Abstract painter Alberto Burri's humpback canvases, tar collages, and charred wood works you might forget he started out as a physician, battle-tested in North Africa during World War II, before being captured by the Allies and relocated to a Texas POW camp. But the Italian master's surgical touch is on full display at Luxembourg & Dayan's elegant (and tightly edited) survey of Burri's late career exploration of Cellotex, a chemical composite used to make insulation, roofing products, and ceiling tiles.
Though he'd previously used the foam material as a support for his paintings, in 1975 he began to treat Cellotex as a subject. Between 1986 and '87 he sculpted and shaped textured reliefs from 4′ x 8′ black Cellotex boards framed by layered acrylic arcs. The 10 paintings on display, which have never been shown in the US, are worth pausing over and soaking in, preferably during the daylight hours. Black, it seems, is still the new black.
Open through April 20, luxembourgdayan.com
Photos: courtesy Fondazione Palazzo lbizzini Collezione  Burri ©2013 Artists Rights Society ARS), New York/ SIAE, Rome.