Top Hat
Albertus Swanepoel is determined to make millinery the next big thing.
---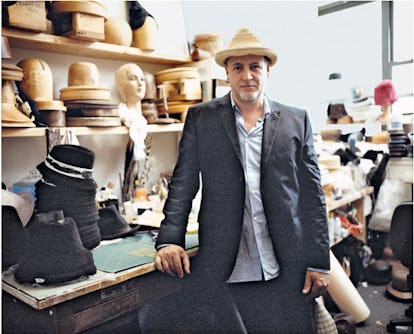 In fashion, the studios of rising designers often leave something to be desired. Sure, there are some who plot out their collections in airy downtown lofts with wide-plank floors (courtesy of deep-pocketed parents or investors), but wander along Manhattan's West 30th Street and you'll find that behind those grimy upper windows sits many a newly minted star, draping, pinning and sketching in a room not much bigger than a studio apartment.
Case in point: the office of milliner Albertus Swanepoel, who, at age 50, is considered one of fashion's most exciting new accessories designers. It's on the third floor of a low-slung Garment District building that resembles a suburban police station. Down a long hallway with flickering fluorescent lights, in a room of about 200 square feet, Swanepoel handcrafts more than 800 hats a year for his own line, plus dozens of exquisite one-off pieces for designers' runway shows. "This was all in my living room until two years ago," Swanepoel says, gesturing at the piles of grosgrain ribbon, feathers and blocks (the round wooden molds of heads that milliners use to shape hats, much as cobblers use lasts to craft shoes) that clutter one workbench. Tall and elegantly disheveled, with a sweep of dark hair and a white goatee, Swanepoel lives with his partner of six years in Washington Heights, in a sprawling Art Deco apartment above the Hudson River, though he is contemplating moving. "It's very cheap up there, but no one wants to visit us," he says. "And I can't work late because cabs are very expensive and the trains run local, and I don't want to get home at, you know, two in the morning."
For a man who is clearly a grown-up among young upstarts—his fellow nominees for CFDA's Swarovski Award for Accessory Design this year, Justin Giunta of Subversive Jewelry (he nabbed it) and shoemaker Alejandro Ingelmo, are 30 and 35, respectively—Swanepoel is refreshingly unabashed about his struggle to stay solvent, let alone become successful, in an industry reeling from the economic crisis. While bags, shoes and jewelry are typically cash cows for both ready-to-wear and accessory designers, hats…well, let's just say there's nary a line out the door of any Madison Avenue boutique for the latest pillbox. Yet if anyone is going to make the cloche or the panama a sought-after accoutrement, it's Swanepoel.
When asked to describe his aesthetic, the designer laughs. "I'm not a minimalist," he says. Indeed, his pieces range from an intricately wrapped linen turban (created for Proenza Schouler's spring 2005 runway show, his first major collaboration) to a jaunty hunting cap with a thin rooster feather pluming from its side (one of Swanepoel's favorites, it was for Carolina Herrera's fall 2008 show). His approach is painstakingly detailed: He hand-sews dip-dyed lace onto the crowns of felt fedoras, shellacks ebony latex body paint onto boating caps, even trolls flea markets and eBay for discarded blocks, the shapes of which are nearly always imperceptibly different yet help him come up with new silhouettes each season. According to Swanepoel, the last "great blockmaker" in the United States, a gentleman who ran a company in Brooklyn called La Mode, died several years ago. Swanepoel now orders from the best craftsmen in Paris, which is, he points out, an expensive journey. "The fedora blocks from the Forties, that's honestly the mainstay," says Swanepoel of his most successful style. "And it's funny. In the end, you use a very small portion of your blocks over and over again, and you get known for that sort of shape…. To me, they're like my babies."
A vintage straw hat trimmed in Malian fabric, which Swanepoel designed exclusively for W. He dubbed the hat Shingwedzi, after his favorite lookout post at a game park in South Africa.
It is not unusual in fashion for a designer to toil for many years without getting the kind of recognition Swanepoel has received recently, which includes two CFDA award nominations, a highly publicized line of khaki hats for the Gap, and runway partnerships with Herrera and Proenza Schouler as well as Marc by Marc Jacobs, Alexander Wang, Thakoon, Diane von Furstenberg and Narciso Rodriguez; for the latter, Swanepoel made wonderfully spooky black and white helmets with cutout eyes for fall. But even he admits his path to top milliner was particularly circuitous, even painful, which makes this moment—he is working on expanding with a less expensive, machine-made diffusion line and talking to larger retailers about designing in-house collections—sweeter, and plenty precarious.
The youngest of four sons raised in a devoutly Dutch Calvinist household in Pretoria, South Africa, Swanepoel arrived late to the idea that he could find work as a designer. "I was very shielded," he says, fidgeting with a clasp on his watch. He didn't set eyes on a fashion magazine until he was 17, and while he prefers to keep the details of his upbringing off the record, it suffices to say his youth was bound by many rules. "I think that's why, really, I ended up in fashion," he says. After majoring in fine arts (to the chagrin of his parents) at the local university, Swanepoel launched a successful ready-to-wear line, Quartus Manna, in Johannesburg. "I think that repression…gives you this added drive to create beautiful things," he explains. "Everything else might be so miserable that it's some kind of escape." Yet after winning a Coty Award in South Africa in 1987, Swanepoel and his then wife, Shaneen Huxham, now a well-known glove designer, packed up their apartment and moved to New York. He soon shuttered his business altogether, eager to parlay what he deems his little-pond success into something bolder.
Initially, all went according to plan. "I remember the first night we went out, someone took us to eat on Madison Avenue and Calvin Klein was [at our restaurant], and it was all sort of amazing," Swanepoel recalls. Yet eight months into his job at a sportswear company, one he declines to name, he was told his services were no longer needed. "And I didn't have work papers," Swanepoel says. "We then had a really hard time, honestly." Scraping together the last of their savings, the couple bought piles of leather gloves and started decorating them with beads and sparkles. Three months and dozens of phone calls later, Bergdorf Goodman placed a $10,000 order. Gloves, however, are a winter business, and Swanepoel and Huxham needed an income to get them through the rest of the year. What do women like to wear in the summer? Why, little straw hats, Swanepoel figured. And cotton bucket ones too! So while working various freelance jobs, he began taking millinery classes at the Fashion Institute of Technology, where he studied under Janine Galimard, the former in-house hatmaker for Cristóbal Balenciaga. A formidable mentor, Galimard won Swanepoel's admiration. "She would throw hats on the floor and step on them," he says fondly. "I remember I once made this hat with a very high crown and she said, 'All you need is a broom with this.'"
Hats in Swanepoel's studio.
Swanepoel, however, had stumbled upon a calling. (By 2000, he and Huxham had split up, and Swanepoel subsequently came out.) He began working for Lynne Mackey, a Broadway hatmaker (Shrek, Mamma Mia!), and the famed milliner Lola Ehrlich. By 2004 he was doing small capsule collections for Jane Mayle, who then put him in touch with Jack McCollough and Lazaro Hernandez of Proenza Schouler. The following season, Swanepoel's linen turbans glided down their runway.
Swanepoel's ability to approach hats as modern, wearable accessories as well as sculptural works of art is part of his appeal: For Wang's fall 2009 show, Swanepoel couldn't get the thin brims of his bowler caps to stay stiff, so he inserted inside them the strips of plastic that carmakers use to create dashboards. And there remains a root-for-the-underdog affection for him among designers. "A man in the studio was wearing a charming tweed hat Albertus had done, and I thought, We must have these hats for the collection!" says Herrera of her collaboration with Swanepoel for her fall 2008 show. "Albertus made these wonderful traditional British-style fedoras that we put atop everything from the caped looks to the evening gowns. They looked fantastic."
Recently Swanepoel was driving up the West Side Highway, where his smiling face, surrounded by models in his hats, looked down on commuters from an enormous Gap billboard. "It was surreal," he says with a laugh. "It has taken me a long time to get here, but I don't think I was ready for it before. I'm not resentful at all. I'm just grateful."
Straw hat: George Chinsee; assorted hats: Tony Floyd