Milliner Albertus Swanepoel Is Having A '70s Moment
Fashion's go-to milliner talks dip-dyeing, Gucci, and respecting tradition.
---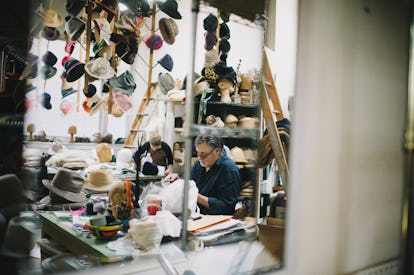 Top design houses, including Marc Jacobs, Proenza Schouler, and Carolina Herrera, have all looked to South African milliner Albertus Swanepoel when they're in need of a killer hat. One of the few remaining milliners in New York, Swanepoel is surely one of the most iconic, known for his classic felt fedoras and woven straws sold exclusively with The Line. Here, we sit down with the designer to discuss Gucci's reemergence of the accessory, his love of hand craftsmanship, and his upcoming 10-year anniversary in the art of hats.
How did you get your start in fashion? Why did you decide to go into designing accessories?
I started off as a graphic designer, then studied fashion. I was a well-known designer in South Africa, where I was born. Moving to New York City in 1989 did not at all work out as I planned or dreamt! I went into hat making after a few years of working with a glove designer. When I started, in 1992, it was much easier to break into a new category than now.
What was the experience of getting your business off the ground?
I am still a small, self-funded business. I grow very organically and cash flow remains the biggest obstacle as my business grows. I worked for many years, sometimes more jobs than one, before things changed for me.
What style is most popular with your customer?
I am known for my fedoras and variations on the theme is my best selling style. I prefer minimal or no trim currently and customers find it easy to wear and more adaptable to their personal style than a decorated hat.
What accessories trends are you seeing among women right now? What hat styles do women love to wear now?
I think Gucci has a tremendous influence, so there is a return to ornamentation and smart whimsy. I sometimes call hats the orphan accessory, as it is the last thing women spend money on or think of! A simple hat still works with a decorative look. Bigger brims are certainly back, also amongst men, and Western style hats.
When did you feel the label was on the right track?
I think I came more into my own around 2008… I was a runner up in the CFDA/Vogue Fashion Fund that year and the attention I received really inspired and focused me.
Has there been a favorite moment since you launched?
My hat being on the cover of the fashion issue of WSJ. in February this year with Christy Turlington was certainly a major moment for me. The CFDA/Vogue Fashion Fund prize was also incredible and the support of Conde Nast publications changed my visibility and career.
Let's talk Fall 2016. What was the starting point and what did you want to communicate?
I had a '70s moment for Fall, so I did a lot of dip-dyeing and hand embroidery, trying to make it current and desirable. My craft is very important to me, respecting the age old tradition, making it modern. Doing everything by hand is a certainly a message I like to convey, it also makes my hats more personable and special.
Talk to me about your plans for the future. What's next?
I have been in business 10 years and will do something to celebrate the occasion later this year with a special project to mark this milestone. I am always looking to do a special collaboration!
Photos: Milliner Albertus Swanepoel Is Having A '70s Moment