Alec Baldwin Defends Kendall Jenner's Involvement in Pepsi Ad
"Kendall is still a very young, inexperienced woman in an awful business."
---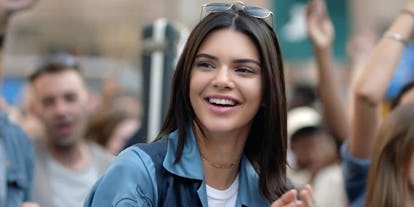 Pepsi
Pepsi's controversial, now-pulled ad had the Internet—and Madonna—up in arms, but Kendall Jenner, the commercial's celebrity star, isn't to blame for the PR nightmare that followed the video's release. At least, that's what Alec Baldwin thinks.
Baldwin came to the model's defense on Thursday via Twitter. In a series of tweets, the actor/comedian said that he felt Jenner's naïveté excused her from taking the fall for the tone-deaf ad, which depicts her departing a photo shoot in favor of joining a protest for a vague cause, only to make peace between protesters and police by handing an officer a can of Pepsi. Pepsi later apologized "for putting Kendall Jenner in this position" and said the ad "missed the mark."
"Don't blame @KendallJenner for that spot," Baldwin wrote on Twitter. "Kendall is still a very young, inexperienced woman in an awful business. Blame her management." Of course, whether Baldwin knows it or not, her management is mother Kris Jenner.
In another tweet, Baldwin recalled a time when Kendall Jenner and his daughter Ireland were classmates. "I remember when my daughter Ireland and Kendall were little kids in school. I think it's unfair to rake these younger ppl over the coals"
Jenner hasn't spoken publicly about the debacle. Her activity on social media since the commercial's release has been to tweet an image of herself on the cover of Harper's Bazaar, though she will reportedly be back in the public eye in full force soon. Jenner is set to host two events at Coachella this weekend with sister Kylie Jenner by her side.
Baldwin concluded his commentary on the subject with musings about society at large. He wrote, "The US is such a sadistically shame-based, blame-centered culture…"
Alec is not the first Baldwin to defend Jenner. His daughter Ireland Basinger-Baldwin once defended both Jenner and Gigi Hadid against charges they weren't real supermodels. "I've grown up with Kendall, gone to school with her my entire life, been around Gigi. They're both, honestly, really nice, beautiful people. There's no denying that they're absolutely drop-dead gorgeous, sorry," she once told a British chat show.
Perhaps, as a father of a similarly age daughter who indeed is friendly with Jenner, Baldwin couldn't help but project his papa bear status.
Related: Rosario Dawson Spoofed That Kendall Jenner Pepsi Ad…18 Years Ago
Kendall Jenner Rented Out Magic Mountain on Her Birthday: