Alessandra Facchinetti: Lady of the House
At her new Milan abode—and in her new role at Tod's—the designer finally feels at home.
---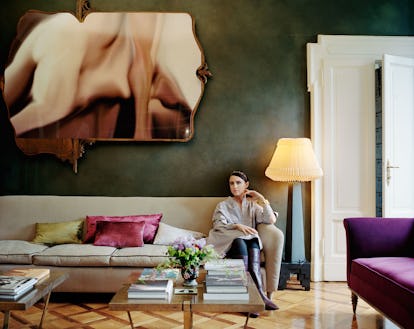 Photographer: François Halard
The roof terrace is not particularly large, nor is it blessed with spectacular views, and when Alessandra Facchinetti first saw the terrace, it was bare, having been stripped of foliage and every stick of furniture. Yet no sooner did she set eyes on it than Facchinetti knew she had found her new home. "It's very rare to find something like this in Milan," she says. "But it was exactly what I was looking for, because greenery is something I love and need. So when I moved into this apartment, the terrace was the first thing I worked on."
What a job. Not only did Facchinetti, a slender, delicately pretty 42-year-old, select every sprig of greenery now growing there, she scoured flea markets and antiques stores for the furniture, and worked with trusted artisans to restore and customize it. A set of metal chairs was unearthed at a market, and a tiny 19th-century bed, reinvented as a sofa, at another. The table was made by an ironworker who had the antique cast-iron base in his workshop and fabricated a top of the desired shape and size. The fashion designer even picked out the precise shade of aubergine brown she wanted the chairs and table to be painted, and repeated the hue in a bold graphic pattern on the outdoor sofa pillows.
Four years after Facchinetti discovered the apartment she now shares with her friendly mutt, Zac, in an early-1900s building on a quiet street in the Magenta area of Milan, the once desolate terrace has become a charmingly tranquil space—elegant, feminine, and perfectly suited to its owner's needs. Those qualities are also evident in the rest of the apartment, which she approached with the same energy and aplomb, filling the rooms with an eclectic mix of objects ranging from opulent 18th-century cabinets and rustic Italian chairs to sleek Stilnovo lights, which were fashionable in Milan in the '60s. Facchinetti was equally obsessive about the choice of materials, colors, and finishes, many of which were the result of her antiquing jaunts. The battered dark gray leather of a pair of vintage men's shoes, for example, inspired the color and texture of the paint on the living room walls. "I never work with interior designers, because I really like looking for things myself—the art, the furniture, everything," she explains. "This is the first place I've lived in that really reflects me."
The timing was perfect, because Facchinetti was able to complete work on the apartment before taking on a demanding new role last year as the creative director of women's collections at Tod's, the Italian luxury group. Developing a women's ready-to-wear line to accompany Tod's shoes and bags has left her with less time for decorating, though the fashion critic Suzy Menkes clearly considers the sacrifice worthwhile. Having praised Facchinetti's first "precise, chic collection" in the International New York Times, she hailed the second as "streamlined, modern, and women-friendly," concluding, "Tod's seems to have found a winner."
The new venture is a bold endeavor for Tod's, as it seeks to build on its success in leather goods and create a more rounded image for its brand. Although Derek Lam designed a women's line for the company from 2006 to 2012, until now Tod's has been best known for two things: its Gommino driving shoes and its charismatic president, Diego Della Valle. The proud owner of a jet inscribed with the words dignity, duty, fun, the gregarious Della Valle is largely responsible for turning the cobbler shop his grand-father founded into a globally renowned empire. One of his early schemes was to persuade Gianni Agnelli, the late Italian industrialist, to wear Tod's shoes while watching his soccer team, Juventus, play. Whenever Agnelli and his natty footwear appeared on the television at Juventus's games, Tod's sales soared. Since rescuing a rival team, Fiorentina, from bankruptcy and donating $30 million toward the restoration of the Roman Colosseum, Della Valle has slipped into Agnelli's old role as a corporate hero in the Italian media. His arrival at Tod's fashion shows, where he sits front and center between magazine editors in chief, heralds a paparazzi stampede and excited cries of "Diego! Diego!"
Working with such an alpha character could be daunting, but Facchinetti has had plenty of practice, as the oldest of the five children of Roby Facchinetti, the lead singer and keyboard player of Pooh, one of Italy's most successful pop groups. He celebrated her birth in 1972 by writing the title track "Alessandra," and he remains so popular in Italy that his latest solo release topped the albums chart this spring. "No. 1 at 70 years old, it's amazing!" Facchinetti says, laughing. "Growing up, we knew our dad was famous, but he made it all seem very normal, as if being a rock star was just another job." Roby was away on tour for much of her childhood, and she was raised by her mother and maternal grandmother in Bergamo, a city northeast of Milan, where the family remained after the parents split up. Facchinetti's mother was an important influence on her, not least in passing on her love of antiquing; likewise her grandmother, an imposing figure, who was always immaculately dressed and coiffed, and a passionate cook. "She was incredible: a real mamma to her family, spending all day in the kitchen, cooking, cooking, cooking," Facchinetti recalls. "But if we went shopping, she was like whoosh!—suddenly so glamorous, with her antique jewels and incredible nails."
After studying sculpture and architecture at art school in Bergamo, Facchinetti graduated from the prestigious Istituto Marangoni in Milan. She then worked for Prada for seven years, mostly designing for Miu Miu. "I learned everything there," she recounts. "Miuccia Prada has such a strong vision and is a true thinker. She spends a lot of time developing her ideas, which, with her passion for art, gives her a totally different approach than other designers." Next came four years working for Tom Ford at Gucci. "It was very different, but I loved it," Facchinetti says. "Tom also has a strong vision, but of a different woman and a different world, and he works on instinct." When Ford left Gucci, Facchinetti took over his position but, after enduring a difficult 18 months of corporate politics, left the company. She soon found herself in a similar situation at Valentino, after becoming the first creative director to succeed its eponymous founder, yet won the support of influential editors for her work there. Cathy Horyn described it as "an impossible job" in the New York Times in 2011, ** noting that Facchinetti had "delivered a gorgeous haute couture collection for Valentino that I still vividly remember." "It was kind of tough," Facchinetti admits. "But it was always my dream to do couture. The work with leather I now do for Tod's requires a very similar approach."
Her two Tod's collections have reflected the qualities of the brand's shoes and bags: elegant yet pragmatic, with a sporty spirit. Drawing on the company's artisanal heritage, as well as her experience at Valentino, Facchinetti has designed supple leather skirts, shirts, and dresses embellished with sophisticated finishes and intricate laser-cut patterns. She has also indulged her love of unusual color combinations and symbolism by mixing masculine and feminine or historic and contemporary references in her designs, as she does in her own clothes: popping a 1950s men's rain cape found on a vintage spree in London over a laser-cut cotton shirtdress from the spring 2014 Tod's collection, for example.
Another of her innovations is the sophisticated design of the sets for the ready-to-wear shows, which have been held in Milan's Padiglione d'Arte Contemporanea, a museum sponsored by Tod's. For her most recent presentation, Facchinetti created a series of rooms inspired by those in a favorite film, Luchino Visconti's 1974 Conversation Piece, which combined Italian art and design from different periods. Working with the Milanese design guru Nina Yashar, of the Nilufar gallery, she mixed 1950s furniture with Stilnovo chandeliers, an early-1900s portrait by Giovanni Boldini, and one of Lucio Fontana's "slashed" bronze wall sculptures. She instructed the models to pose with the furniture after their runway turns, as if for photographs, and chose the uniforms for the waiters and waitresses who served cocktails on Piero Fornasetti trays after the show. Rather than racing away, guests lingered to enjoy the scenarios. "It took two months of planning, but it is one of my favorite parts of the job," Facchinetti notes. "We'll do it again in the future. Differently, of course, but in the same spirit."
Working on her apartment was the best possible preparation for art directing the Tod's shows. After Facchinetti moved in, she did nothing for the first few months, leaving the walls white while thinking about what to do with each room. The layout has been left intact, but the marble and parquet floors have been restored, as has the stucco on the walls. The heart of the home is the enormous living room, whose windows are level with the leafy tops of the trees on the street. Above the dining table is a spectacular light fixture made by Dimore Studio, the Milanese duo who also designed the living room tables, which are heaped with art and photography books. Facchinetti loves objects that show their age and refuses to repair a couple of prettily painted but decrepit wooden chairs from the Liguria region of Italy. She was determined to preserve the sofa's threadbare amethyst-colored velvet, only to concede defeat and track down an identical fabric with which to reupholster it. Standing in pride of place is a Petrof grand piano, a gift from her father, who gave one to each of his kids last year. "I can't play it at all," Facchinetti says, laughing. "But my dad wanted us all to have a piano, and he said it would be okay as long as I pressed the keys for a few minutes each day."
She planned the design of most rooms by focusing on special objects. In the kitchen, it was the 18th-century chinoiserie crockery she has collected for years, which is surrounded by stacks of antique silverware, beautifully crafted cutlery, and books of the traditional Italian recipes her grandmother loved. The starting point for the hall was an early-1900s American armchair with an animal-horn frame. The piece prompted Facchinetti to assemble groups of images on the walls around it: framed butterflies that she prizes for their vivid colors; 1920s photographs of young Berliners sunbathing nude by a river that she picked up in a junk store in Rome; and evocative backstage shots of her Valentino shows. Shards of embroidered silk she rescued from an antique Chinese skirt and had framed became the focal point of the bedroom. The colors of the fabric dictated the palette of the room, including the dark brown walls and pale blue bed linens made to Facchinetti's specifications by her friend Vera Persiani. A Man Ray study of a female nude hangs on one wall; in the hallway outside is a collage of family photographs, including a 1950s portrait of her grandmother dressed up for a night out and a snapshot of Facchinetti with her dad and younger sister clowning around in the Piazza San Marco during a late-1970s trip to Venice.
Vintage clothes, from an ancient Japanese kimono to an exquisitely beaded 1920s evening gown, are strewn throughout the apartment alongside chunky leather doctors' bags and heaps of antique textiles. In the bathroom, Facchinetti has assembled clusters of vintage perfume bottles, as well as nail polishes in vivid colors. "I only ever use two of them," she confesses. "The rest are for research." Another of her passions is flowers, which appear in every room. Facchinetti shows images of the type of thing she'd like to Milanese florist Margherita Angelucci, the owner of Foglie, Fiori, e Fantasia, who makes the arrangements. Her current favorites are vases of straggling wildflowers and blossoms like the ones in the lugubrious English country house in James Ivory's 1993 movie The Remains of the Day. "I love movies, and I am always inspired by them. But not by the costumes—more the sets."
She spends as much time as she can in the apartment, even staying there on weekends, when many of her Milanese friends escape to the mountains or the beach. "It's so peaceful for me here; very calm and very private," Facchinetti says. "It took me a long time to find this place, and now I never want to leave."
Photos: Alessandra Facchinetti: Lady of the House
Facchinetti, in her living room, wearing clothing from her fall collection for Tod's; the couch is from the 1950s, and the pair of Dimore Studio coffee tables were made exclusively for her. Styled by Viviana Volpicella.

Photographer: François Halard
The plant-filled terrace with restored 19th-century furniture.

Photographer: François Halard
Photographer: François Halard
A collection of black and white photographs line a hallway.

Photographer: François Halard
Freshly cut flowers on the terrace.

Photographer: François Halard
The master bedroom, with framed 19th-century embroidered Chinese textiles above the bed.
Janet, by Markus Schinwald, 2013–2014.

Photographer: François Halard
Photographer: François Halard
Photographer: François Halard
An assortment of Tod's Gommino driving shoes.

Photographer: François Halard
An antique display case and an American horn chair with a leather shopping bag, ankle boots, and a wool hat, all by Tod's.

Photographer: François Halard
Markus Schinwald's Lars, 2011, rests on a French iron and wood table, with a Stilnovo light fixture above.

Photographer: François Halard
An 18th- century French dining table with 1950s chairs and a Dimore Studio light.

Photographer: François Halard
Facchinetti worked with design doyenne Nina Yasher, owner of Nilufar gallery, for her fall 2014 installation that featured a mix of 1950s furniture, Stilnovo chandeliers, an early-1900s portrait by Giovanni Boldini, and one of Lucio Fontana's "slashed" bronze wall sculptures.
The set for spring 2014 included a console table, couch, chandelier, and rug created by the Milan interiors firm Dimore Studio. Accents included a pair of Lady chairs, by Marco Zanuso for Arflex, and pale mauve roses.