Alex McCord on unemployment, that parenting book & Simon as a doula
'Tis a pity that season two of The Real Housewives of New York has already wrapped—we'll be missing out on all the exciting recent events, like Kelly's assault charge, the collapse of the Countess's fairytale...
---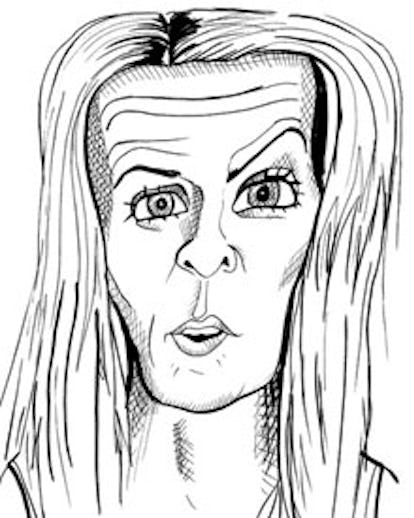 We popped on the phone with the Brooklyn mom last week and heard about all sorts of plans, including the parenting book she's been penning with hubby, and more to come on the Huff Po front.
I think I need clarity about the book. Do you have a publisher lined up? We have a confirmed offer and we're just nailing down the details. We'll probably be signing the contract within the next week.
It's a little unusual to start writing without one. Did you at least do a proposal? We did, and then rapidly expanded that. We're at about 60 pages. This is a subject that's very easy for me to write about. So it began when we were on vacation last summer.
Did you and Simon just crack open a bottle of wine in your hotel room in St. Bart's after the boys were asleep and start writing? You know how sometimes when you're in a tropical climate you just get up at the crack of dawn? We found ourselves doing that. No matter how late we'd been out the night before, we were beckoned by the beautiful terrace outside our cottage, right by the water. So we had this amazing deck, an espresso machine and our laptops and it just started happening.
So is it aimed at show watchers, or are you hoping for a larger audience? It's for anyone who wants to know what it's like to raise kids in an urban area. Before I gave birth, I read everything I could get my hands on. And the books that resonated with me most were stories from the trenches: the good things, the bad things, the wonderful, the horrible, the absurd, the sublime. I don't find it particularly helpful to read a book by a child psychologist about what you should be doing in order to raise the perfect child. Of all the how-to-raise-a-child books by experts the only one we have in the house that I can even remember the name of is The New Basics by Michel Cohen.
Love him. Well, actually I love the women in his practice even more. But his book is fabulous. So will you be touching on such unglamorous subjects as potty training? Everything. And as a little preview on that: We were very, very Michel Cohen with our potty training. We let the kids run around naked until they got the idea. The book is a collection of anecdotal experiences, as in, "Here's this crazy, off-the-wall thing that happened last week and here's how we dealt with it." The other unique thing about it is that Simon and I are writing it together. Different people, different takes on a situation. For example, our son Francois had written a song called, "Putting to Death Is Not Nice." I thought it was really funny — because putting to death isn't nice. But Simon was alarmed.
Had you guys just put a cat to sleep or something? No. He had some friends over and they were getting a little raucous. You know how little boys are.
I'm impressed you had two drug-free births. I didn't intend to do that from the get-go. But I've never been happy with our existing health care system, and I don't like the idea that people try to hit conditions with drugs or invasive procedures rather than preventing them. I also wanted to control my experience. So I viewed childbirth as an athletic event. Yes, it was painful, but after both births, I experienced a kind of runner's high. I think the most important thing is to have an advocate. A third party. Someone who isn't the medical provider and isn't you. A lot of women hire a doula for that, but Simon functioned as the best doula. He was willing to burn down the hospital to get me what I needed.
Let's switch gears. I'm surprised the subject of your acting career never comes up on the show. It seems as if you were completely into that for a long time. I spent ten years as an actor, and I went to Northwestern for the theater school. Don't forget, we film for hours and hours and only a couple of minutes of that makes it to air. So I've never not talked about my acting. It's just that we don't put the show together and people tend to think that the other things we talk about are more interesting.
How did the Huffington Post blog come about? Did you approach them or vice versa? Simon and I met someone from the Huffington Post at a party several months ago. And we talked about doing something. We were writing the book at that time, and weren't really sure what the best angle was. Then after my layoff happened, and the economy declined, it really made sense to do a series about someone who is affected by the economy and also has all these other things going on in her life. I'm currently going through a lot of what other laid-off employees are going through, but all the while writing a book and having the experience of being on a reality show.
Was being on the show a factor in getting laid-off? No. One had nothing to do with the other.
Still, it must have been hard to have maintained such a big job at the same time. We filmed weekends and evenings, but certainly it was a big juggle. It was really difficult to balance filming a show, working 40 to 50 hours a week, traveling for business and raising two young kids. Oh, and renovating our home.
How's that going? I'm sure as the season progresses, you'll see us both looking more and more stressed-out.
See our previous interview with LuAnn HERE.
Thanks to David Gilmore of Pretty On The Outside for use of his artwork. Photos courtesy of NBC Universal.