Alexa Chung Gets Fresh in French
The It girl shares talks about her summer travel plans.
---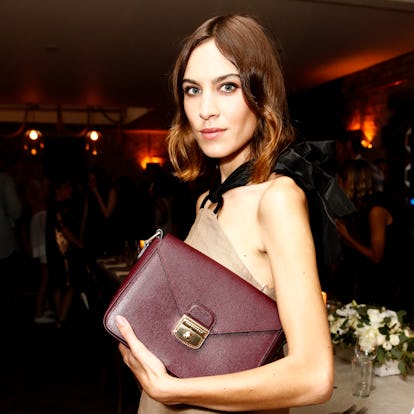 This week, Alexa Chung came to New York on a 24-hour whirlwind trip to celebrate her fourth Longchamp campaign. Here, the British fashion darling fills us in on her future travel plans—for both work and fun.
Is this dinner to celebrate love between you and Longchamp? To be honest I don't really know why we're throwing a party… but yes, sometimes you've gotta do it to keep things fresh. Revamp the sex life.
What other exciting adventures have you and Longchamp gone on recently? My most recent adventure with them was a trip to Hong Kong, Beijing, and Tokyo with the head designer Sophie Delafontaine and her daughter. I was expecting a work trip since we were doing press over there, but it was one of the best trips of my entire life. They're cool as fuck. It's a family-run business and they're so sweet and genuine. I love how French they are. They've forced me to learn the language a bit.
Any favorite words? Putain.
Are you going on any upcoming adventures on your own? I'm headed to Glastonbury tomorrow and I'm so unbelievably excited. It's less commercial than other festivals. There are seven different stages, and each one with a different theme—one is dedicated to Greenpeace, another to helping children. I'm really excited to see what Kanye is going to do and, of course, the headliner Florence and the Machine who I've been friends with forever. This year marks the first time a woman is headlining in 10 years!
And post-Glastonbury, do you have any upcoming projects? I have tons of collaborations with clothing brands. What, is this not enough for you? I'm not allowed to have just one job? I just want to go on holiday.
Where will that be? I'm not allowed to say! My friend who has always gone there said if I spill the name too many "cool" people will start going there, and we can't have that.
Can I have a hint? It's near Spain… That's all I got!
Photos: Alexa Chung Gets Fresh in French
Alexa Chung. Photo by BFAnyc.com.
Nikolai Fraiture and Illy Fraiture. Photo by BFAnyc.com.
Mia Moretti, Cleo Wade, and Waris Ahluwalia. Photo by BFAnyc.com.
Fiona Byrne. Photo by BFAnyc.com.
Atlanta de Cadenet Taylor. Photo by BFAnyc.com.
Olivier Cassegrain, Sophie Delafontaine, and Jean Cassegrain. Photo by BFAnyc.com.
Ben Watts. Photo by BFAnyc.com.