Alexander McQueen's New Short Film Is a Welcome, Five-Minute Escape
The house tapped arthouse director Jonathan Glazer to offer a different take on virtual fashion week.
---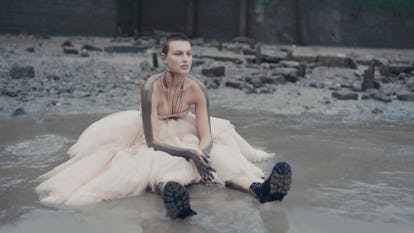 Courtesy of Alexander McQueen
Even when set in far-off locales like an expansive desert, virtual fashion week presentations can sometimes seem to drag on. But Alexander McQueen's new video presentation of its latest men's and womenswear collections is not only a digestible five minutes; while almost entirely silent, it's also far more engaging than watching distanced models silently walk.
The short, titled First Light, was directed by Jonathan Glazer, whose previous work includes movies like Under the Skin and music videos like Radiohead's "Karma Police." The setting is the shores of a particularly muddy-looking Thames on a dreary London day. Staying at home may have become tiresome, but at least it isn't this dull and grey. But as the camera pans, a sign of life emerges: There are two models in pale pink tulle gowns, bravely trudging through the water.
Meanwhile, on land, another couple is passionately making out. Things look like they're starting to heat up when one of the models seems to reach for the other's pants. She's actually stealing his wallet—offering a first glimpse at the latest McQueen accessories in the process. What first seemed like a lifeless landscape turns out to be populated by models, whether making a slimy mud version of a snow angel or teetering in stilettos atop a rock. There's no sign of the sun in sight, but the models wearing sunglasses and picnicking don't seem to mind.
As for the collection, it's best seen in the real light of day. "Shape, silhouette and volume, the beauty of the bare bones of clothing stripped back to its essence," creative director Sarah Burton said of the spring 2021 womenswear and pre-fall 2021 menswear collections. But much of the clothes are actually far from stripped back. There's no shortage of exaggerated, statement silhouettes, from a women's leather jacket with gigantic tulle shoulders to a boxy men's trench coat with a slim waist.
Many designers have naturally focused on comfort since the pandemic began. But Burton is looking resolutely toward the future: The gowns in particular are perfect for that distant, celebratory night when we can return to going out.
Related: Alexander McQueen's Best Creations in the Pages of W Magazine