Stacey Bendet Has Gotten Off Flights Because of Tom Ford Scents
Jetsetters like Stacey Bendet have their own signature travel habits, and she shares hers here, like always ship your luggage ahead and carry homeoplasmine.
---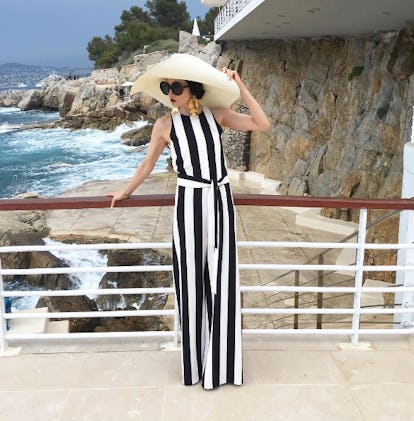 Stacey Bendet, the chief executive and and creative director of Alice + Olivia, has come up with a set of rules to keep up with her busy travel schedule. For her, it's all about traveling with non-wrinkling tops, the freebies on Emirates, Aspen in the summer, and always jetting with hat boxes on hand. And, most importantly, she strongly advises that aspiring jetsetters not be afraid to simply get off a flight if the scent of fragrance in the cabin is simply too strong to take for a couple of hours or more. Then again, you could always just fly private.
Favorite mode of travel? Private.
Best travel shoe? Alice + Olivia Stace Face sneakers or our platform Gianna shoe, which is the only heel you can literally run through an airport in (I have had to test this out more than once).
Go-to travel outfit: Bell-bottom jeans and a long jacket or vest. I also always pack multiple non-wrinkling tops in my bag because I never seem to make it off a flight without one of my children spilling something on me.
What's something you would never wear on a flight? I am not a sweatpants sort of gal. I would never wear sweatpants in public. I always dress up.
Best or worst person you have ever been seated next to on a plane? Worst: Anyone wearing strong perfume, especially the Tom Ford ones that sort of scent anything they touch. I get an instant migraine. I have gotten off flights when the scent of perfume is overwhelming.
Best freebie you've stolen off a plane? The little cases that they give you when you travel on Emirates to Dubai are beautiful. It is the only time I have ever taken anything off of an airplane.
Airline with the best or worst food? I always pack my own meals on flights, I find all microwaved airplane fare inedible.
What's your summer vacation destination? We spend July in Malibu—it is one of my favorite places in the United States. I love the farmer's market on Sunday, ashtanga yoga at Mike D and Tamra Davis's house, and dinners with friends at our house.
Best beauty products for travel? I always carry homeoplasmine, which is a great flight hydrator and Jao hand sanitizer. My friend Lola Schnabel always brings me back an amazing facial moisturizer from St. Bart's made by a friend of hers there and it is a great refresh at the end of a flight. My other beauty secret is a little bit of breast milk… It will cure any skin irritation in hours!
Name five essential pieces of clothing/accessories you can't travel without: Alice + Olivia suede hobo bag, pleat skirts (they never wrinkle!), vintage Sudan sunglasses, embroidered bell-bottom jeans, and a long vest or jacket.
What's a big packing mistake to avoid? I rather pack an extra suitcase than have everything stuffed to the brim in one. I also like to ship my luggage wherever I go.
Name something that always saves you when you are traveling: Hat boxes! I have all of my hats shipped in hat boxes so they are not ruined in a suitcase.
Best souvenir you have ever picked up on a trip? When I went to Istanbul I bought all these amazing bed covers, the most beautiful fabrics you have ever seen.
What's your favorite hotel in the world? Villa TreVille in Positano— it is owned by an old friend of mine and it is one of the most unique beautiful places I have ever stayed. You truly feel like you are staying in a friend's home.
Favorite off-season destination? I really love Aspen in the summer. Everyone runs there during Christmas and spring break to ski and it is so crowded, but summertime there is really magical and so underrated!
Most luxurious hotel bathroom you've ever seen? The Mandarin in Hong Kong has an amazing giant bathtub, the bathroom is half the size of the room…
Photos: Stacey Bendet Has Gotten Off Flights Because of Tom Ford Scents