Alicia Keys's New Mermaid Box Braids Are Her Best Look Yet
"This is me. Love me or hate me"
---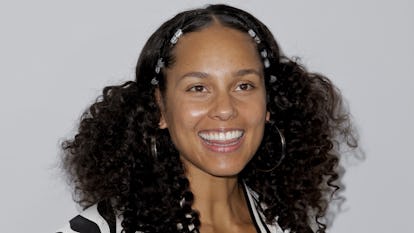 Tibrina Hobson/Getty Images
Alicia Keys unveiled a new hairstyle on Instagram on Tuesday: a brand new set of boxer braids dyed a mesmerizing combination of blue, purple, and pink. She posted a series of three photos to her account with the hashtag #currentmood in order to give her followers the view from every angle. The look is reminiscent of the neon-braid look she debuted back in July, though this time she swapped the warm Starburst-inspired shades for some cooler ones.
When it comes to her hair, Keys has been outspoken in the past about her decision to keep things natural. "[Beauty] definitely is [a revolutionary act]," the singer said in Glamour's March issue. "I didn't think about that then. I didn't think wearing braids was something revolutionary or iconic; that was just how I loved wearing my hair. I recognize now that how you look is your statement, because it's a claiming of yourself. You're saying, 'Look, world. This is me. Love me or hate me, I really don't care.' I guess that is the revolution."
Aside from her affinity for braids and natural hair, Keys has also made an inspiring statement with her natural face, too. She was credited as one of the pioneers of the "no makeup movement" after pledging to go makeup-free in 2016, and a year and a half later she's stayed true to her mission. Obviously, she's also fresh faced in all of the Instagram photos showing off her new 'do.
"Beauty is from the inside out," Keys said in the interview accompanying her January Allure cover. "My mother always said, 'Beauty is as beauty does.' I never understood that then, but I do now."
Related: Meet the Woman Behind Alicia Keys' No Makeup Look and Glowing Complexion
How to Get the No Makeup Makeup Look: