Alicia Vikander's Friends "Kidnapped" Her for Her Bachelorette Party
The actress married Michael Fassbender in October 2017.
---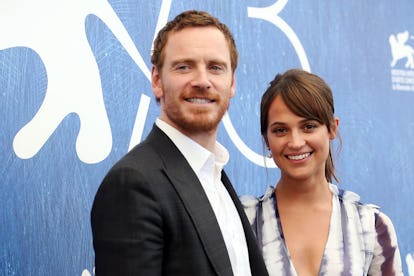 Franco Origlia/Getty Images
Alicia Vikander and Michael Fassbender kept their wedding plans as secretive as possible, so when planning Vikander's bachelorette party, her friends made sure to do the same. Though, the Oscar winner shared in her cover interview for the April 2018 issue of Marie Claire, that her pals' methods of surprising her with the party plans were a little unorthodox.
"I was there [in Paris] for the Louis Vuitton show and suddenly got a text that says, 'Go out. We need you right now,'" Vikander said, presumably referring to the brand's Spring/Summer 2018 show in early October 2017. "They kidnapped me for 24 hours!" While getting kidnapped in Paris sounds like a situation only Liam Neeson could free you from, Vikander's friends released her willingly after a fun-filled day and night. Just a few weeks later, Vikander tied the knot with Fassbender, whom she met on the set of 2016's The Light Between Oceans. Their extremely private ceremony took place in Ibiza in mid-October; photographers spotted the duo, surrounded by friends and family on a yacht, suddenly wearing shiny new rings on their left hands.
Of married life with Fassbender, Vikander told Marie Claire, "I'm a big romantic, and I always have been." The 29-year-old expanded further in her March 2018 cover interview with Vogue. "I feel I'm more happy and content than I've ever been," she said, adding that she'd be more than happy to work with her husband again in the future. "I think he's one of the absolute best actors I've worked with. Of course, he'd done more films than me, but immediately when we started to work together, he was so open to wanting me to chip in new ideas and thoughts," she said. "He would be like, 'I'm stuck; what should I do?' and I would say, 'You're asking me?' That was such a sweet thing."
Alicia Vikander Can Do No Wrong on the Red Carpet
Alicia Vikander in Adeam on Late Night with Seth Meyers

Lloyd Bishop/NBC/NBCU Photo Bank via Getty Images
Alicia Vikander in Preen by Thornton Bregazzi in New York, New York, July 2016.

GC Images
Alicia Vikander in Rosetta Getty heading to a taping of The Tonight Show Starring Jimmy Fallon in New York, New York, July 2016.

GC Images
Alicia Vikander in Alex Eagle at a photocall for Jason Bourne in Berlin, Germany, July 2016.

Photo by Getty Images.
Alicia Vikander in Louis Vuitton at the premiere of Jason Bourne in Seoul, South Korea, July 2016.

WireImage
Alicia Vikander in Louis Vuitton at the premiere of Jason Bourne in London, England, July 2016.

FilmMagic
Alicia Vikander in Louis Vuitton at the premiere of Jason Bourne in Paris, France, July 2016.

WireImage
Alicia Vikander in Proenza Schouler at a photocall for Jason Bourne in Madrid, Spain, July 2016.

Europa Press via Getty Images
Alicia Vikander in Louis Vuitton at the premiere of Jason Bourne in Las Vegas, Nevada, July 2016.

FilmMagic
Alicia Vikander in Céline at the press conference for Jason Bourne in Seoul, South Korea, July 2016.

Getty Images
Alicia Vikander in Rodarte at the premiere of Jason Bourne in Sydney, Australia, July 2016. Photo by Getty Images.

Getty Images
Alicia Vikander in Louis Vuitton at the Louis Vuitton Cruise 2017 presentation in Rio de Janeiro, Brazil, June 2016.

Getty Images
Alicia Vikander, in Louis Vuitton, with Nicolas Ghesquière at the Met Gala in New York, New York, May 2016.

WireImage
Alicia Vikander in Louis Vuitton at a dinner for the brand in Paris, France, March 2016.

GC Images
Alicia Vikander at the 89th Annual Academy Awards at Hollywood & Highland Center on February 26, 2017 in Hollywood, California.

Kevin Mazur/Getty Images
Alicia Vikander attends the "Tomb Raider" Mexico City Premiere at Oasis Coyoacan on March 10, 2018 in Mexico City, Mexico. (Photo by Victor Chavez/Getty Images)

Victor Chavez
Alicia Vikander poses during the 'Tomb Raider' photo call at Pergamon Museum on March 2, 2018 in Berlin, Germany. (Photo by Matthias Nareyek/Getty Images)

Matthias Nareyek
Alicia Vikander attends the European premiere of 'Tomb Raider' at Vue West End on March 6, 2018 in London, England. (Photo by Mike Marsland/Mike Marsland/WireImage)

Mike Marsland
Alicia Vikander attends the Los Angeles Premiere of 'Tomb Raider' at TCL Chinese Theatre IMAX on March 12, 2018 in Hollywood, California. (Photo by Axelle/Bauer-Griffin/FilmMagic)

Axelle/Bauer-Griffin