Leader of the Pack
Chris Silbermann has defined a slick new breed of Hollywood agent. Now, as president of ICM, he's planning to put his agency back on top.
---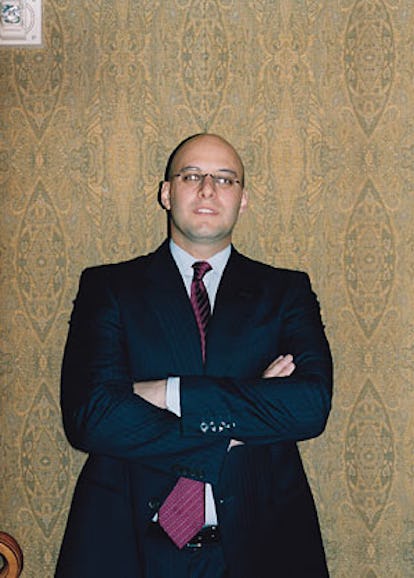 The most remarkable thing about Chris Silbermann is just how unremarkable he is. In his corporate uniform of a suit, light-colored shirt and inoffensive tie, sitting at a blond-wood table in a bland conference room, he talks about the trouble of balancing work with a wife and two young kids (plus one on the way) as if he were, say, a middle manager at a paper plant rather than one of Hollywood's most innovative young agents. He doesn't, like so many power players in the industry, seem to think of his kids as interesting little objects he gets to enjoy for a few minutes now and then; he talks about playing with them each day and the challenge of switching out of agent mode and into dad mode. "Yoga has made a big difference in my life," says Silbermann, who, at age 40, was recently appointed president of talent agency ICM. "You have to learn how to focus. I used to box, but you can't be 35 and put on the headgear. Meditating keeps your mind sharp. "But go easy on the yogi stuff," he adds. "It's a little embarrassing. In my business it works much better to say, 'I'll punch you!'"
Silbermann's shift in athletic interests is an apt metaphor for his changing industry. Once filled with tough guys who ruled with iron fists and outsize egos from booths at the Polo Lounge, agencies have replaced their colorful, ruthless characters with a new breed of dealmaker. Ask one of these up-and-comers out for drinks at 7 p.m. and you'll be greeted by a serious expression and an expensive but not too flashy suit. After 45 minutes of sipping soda water and constantly checking the BlackBerry, he'll be off—to his 8 p.m. drink appointment. The days of the four-martini meeting are long gone.
When Jeff Berg, the venerable chairman of ICM, tapped Silbermann to lead it into the future, it was a generational changing of the guard. ICM had been a powerhouse throughout much of the Nineties, representing film heavyweights like Julia Roberts and Mel Gibson. But, as with most talent agencies, it was the television department that brought in the dependable business. Since ICM had "packaged" long-running hits like Friends and Frasier, it could count on a steady stream of tens of millions of dollars every season that those shows were on the air. But when it failed to construct new hits to replace them, it became the sick man of the agency world.
In 2005 Berg raised $100 million from new investors and bought a smaller agency, Broder Webb Chervin Silbermann (Silbermann, who had been at the firm since starting as an assistant 17 years earlier, was the youngest partner), which focused almost exclusively on representing television executive producers—known as showrunners—and selling their programs to the networks. Silbermann's client list was overflowing with people whose names might be unfamiliar but whose creations are prime-time powerhouses: Grey's Anatomy, My Name Is Earl and Two and a Half Men.
"They wanted us so badly because everyone acknowledged that the [ICM] television department was really not great," says Silbermann, whose wife is Julia Franz, who runs the creative department at ABC studios and thus is one of the people with whom Silbermann does business. "We had this boutique shop that you could just slip in there." The aftermath of the acquisition was not a happy time for some—several of ICM's veterans were pink-slipped, including TV department head Nancy Josephson, the daughter of ICM cofounder Marvin Josephson.
Silbermann, however, saw his star rise. He was brought in as copresident, a title he was to share with Ed Limato, an old-school film agent whose impressive client list includes Gibson, Denzel Washington and Steve Martin. Limato, a Polo Lounge regular whose power is reflected in the star-studded Oscar party he has thrown for years at his home, is the personification of the old guard.
But the power-sharing arrangement quickly broke down last summer, when Berg announced that Silbermann alone would hold the president title. Limato learned of his demotion when one of his three assistants read him the companywide e-mail over the phone. He resigned shortly thereafter, and, after an arbitration proceeding allowed him to exit his contract, he left for rival firm William Morris and brought many of his clients with him. (ICM continues to represent Billy Crystal and Claire Danes, who were formerly with Limato, and other agents at the firm represent stars including Halle Berry, Jennifer Connelly and Beyoncé Knowles.) Several of the ICM agents who had started out as Limato's assistants were let go soon after his departure.
Silbermann is unapologetic about the disruptions. Limato's film department, he says, was too insular and not on board with the "culture and ethos" he wants to instill. "We had to make it more of a team-oriented culture, break down the cliquishness. And as a result we did lose some high-profile clients," Silbermann says. (Limato declined to comment for this story.) "Certainly there's a cool perception around representing movie stars," Silbermann continues. "But we felt like, you know what? We can be on the forefront of the next wave."
"Team" is the driving buzzword around ICM these days. It's not enough to be an agent who lands big clients and big paychecks. What Silbermann wants is for everyone, from all departments, to be pitching new ways to make their clients money.
"The straight business of representing a client in a certain discipline isn't a growth business," Silbermann says. He points to Dancing With the Stars as an example of the sort of strategy he's chasing. ICM first represented the BBC—which developed the format for the show in the UK—in a deal to create an American version for ABC, which aired its fifth season last fall. After the show became a ratings success, ICM's music division lined up a live concert tie-in, which completed its third tour last year. Meanwhile, ICM's corporate division enlisted Slim-Fast as a corporate sponsor, and the book division went to work on a deal for a Dancing With the Stars–branded fitness title.
"With success in one column, you help build value in other columns. That is a growth business," Silbermann says. In terms of his own role in the process, he explains, "I liken it to being the chief of staff at a hospital. It doesn't mean I don't love surgery and dealing with patients—I'm an agent with my own clients. But I also have teams of people that I help strategize with, and then I have a lot of management duties."
Granted, Silbermann has a long way to go before ICM is back to its glory days. But he has already won over the entertainment execs he's done business with. "Chris has brought a new generation of leadership there," says CBS chief Les Moonves. "He is a shining star and someone who will be very influential in our business in the future."
Ron Meyer, president of Universal Studios, adds, "Chris should not be underestimated."
But there are some in the industry who counsel that Silbermann has some work to do. "ICM needs to rebuild itself, and he's a smart guy who will do what he has to do to rebuild," says one insider. Signing some marquee names would help prove ICM can once again work with the highest levels of talent. "You need to make yourself attractive to one or two big clients. You have to sign someone that makes people say, 'Wow!'"
Silbermann knows this, and he's already honed his pitch. "I'm not a guy who's just going to blow smoke up your ass or say, 'Oh God, your agent screwed that up!' That's a cheap shot," he says. "Good representation comes from just being passionate about somebody and having a connection and understanding their goals."
And, of course, he says, it's about the synergy. "ICM is more of a team-based environment than it used to be," Silbermann says, invoking his buzzword. "It's not like everybody has their shop in the mall selling different things. We look at every client as an opportunity for any division and any agent at ICM to shape in some way. We're hungry. And we're working our asses off."