All about Emma's (insane) boots
By now, we've received plenty of comments about Steven Klein's Bruce and Emma Willis shoot. As expected, many of them have been about Emma's mysterious gorilla suit. But a sizable number have been about the...
---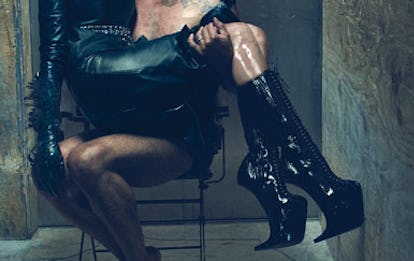 Here's the deal: Olivier Theyskens created the boots for the Fall 2009 Nina Ricci show, where a few other versions (all with a sickle-shaped hole where the heel should be) were also on display, including one in glittery fuchsia. According to the designer, the platform of the shoe is handmade of wood, and there is an internal metal support to hold up the foot. The size of the platform is 11cm for a 10cm heel size.
We hear that between shots, Emma swapped the boots for her Ugg slippers, but managed quite well throughout the shoot, at times using Bruce as a crutch.
Accessories Market Editor Shiona Turini, no stranger to the killer shoe herself, says that she tried the Riccis on when they were in the office. "They were not impossible to walk in," she confirms. "You just had to lean forward."
Below, the glittery pink version from the Nina Ricci runway