Aly Raisman And 140 Additional Larry Nassar Survivors Stood Together To Accept the Arthur Ashe Award for Courage at the 2018 ESPYS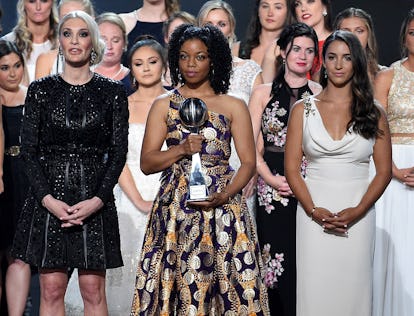 Kevork Djansezian/Getty Images
The 2018 ESPY awards—the annual broadcast that honors athletic achievement—took a powerfully emotional turn when it came time to hand out the Arthur Ashe Award for Courage, which went to the survivors who bravely spoke out against Larry Nassar, the doctor who earlier this year was convicted of multiple counts of sexual abuse and will be spending the rest of his life in prison. During his two trials, more than 100 young women gave powerful victim statements (or had statements read on their behalf) about how his abuse affected their lives.
During Wednesday's ceremony, Olympic gold medalist Aly Raisman, former Michigan State softball player Tiffany Thomas Lopez, and gymnast Sarah Klein, speaking out for the first time tonight, accepted the award.
"We're about to tell you a story that is difficult to hear," said Jennifer Garner, introducing the award. "A story about what can happen in sports goes terribly wrong … We have to hear it…to make sure it never happens again."
"Abuse. Silence. Victory. Abuse. Silence. Victory. The cycle was repeated for generations," Garner continued in a voiceover of a moving short film featuring many of the women.
All together, 141 women—including Klein, Raisman, and Thomas-Lopez—came to the stage as the video concluded, creating an image that will not easily be forgotten.
"It is such a privilege to stand up here with my sister survivors as we represent hundreds more who are not with us tonight," Klein said. "Make no mistake we are here on this stage to present an image for the world to see, a portrait of survival, a new vision of courage." And she did not hold back when it came to calling out the United States Olympic Committee, USA Gymnastics, and Michigan State University, saying they placed "money and medals above the safety of child athletes."
Raisman echoed that sentiment in her speech as she listed the many years, beginning in 1997, that someone spoke up about Nassar's abused and was not believed "in favor of money, medals, and reputation." She called attention to the inaction of so many over 30 years of Nassar's crimes. "The ripple effect of our actions, or inactions, can be enormous, spanning generations," she said. "Perhaps the greatest tragedy of this nightmare is that it could have been avoided … All we needed was one adult to have the integrity to stand between us and Larry Nassar. If just one adult had listened, believed, and acted, the people standing before you on this stage would have never met him. … To all the survivors out there, don't let anyone rewrite your story. Your truth does matter. You matter. And you are not alone."
The message may have been hard to hear, but it was also hopeful. "As a survivor, I am here to say that if we can just give person the courage to use their voice, this is worth it," said Klein. "If one more victim of sexual abuse feels less alone tonight, then our suffering has meaning."
And Raisman concluded her speech with a simple, yet impactful statement: "We may suffer alone, but we survive together."
The ESPY audience—which included Nassar prosecutor Angela Povilaitis and detective Andrea Munford, who were thanked by Klein—gave the award recipients a standing ovation. Also in attendance to support the young women—and receive a heartfelt thank you from Raisman: Judge Rosemarie Aquilina who let every victim who wanted to speak do so during the sentencing phase of Nassar's trial. She famously told Rachel Denhollander, the first to give her statement, "You started the tidal wave. You made all of this happen. You made all of these voices matter…You are the bravest person I have ever had in my courtroom."
"For 25 years, the Arthur Ashe Award for Courage has been given to those who change the world in important ways and the future will undoubtedly be different because of the actions of these heroic women," said the show's producer Maura Mandt, prior to the 2018 ceremony. "This tribute will reflect the awe and admiration these individuals deserve."
Since breaking her silence on Nassar, olympic gymnast Raisman—perhaps Nassar's most well-known survivor—has continued to speak out on behalf of victims of abuse everywhere and launched an initiative called Flip the Switch, to protect athletes from sexual assault. Thomas-Lopez says that she told trainers about what she endured during Nassar's "treatments" while she was a student at Michigan State University but was dissuaded from filing a formal complaint. She eventually quit playing softball, the sport that landed her a scholarship to MSU. Klein, too, has continued to stay involved, attending a Senate hearing in June that attempted to uncover who knew what, and when, inside the USA Gymnastics organization.
ESPN the Magazine also made Raisman a cover star of their new "Heroes Issues".
Ashe was a tennis champion and an activist who used his platform to advocate for human rights—speaking out against apartheid and later sharing his struggle with AIDS. According to ESPN, "Recipients [of the award] reflect the spirit of Arthur Ashe, possessing strength in the face of adversity, courage in the face of peril and the willingness to stand up for their beliefs no matter what the cost."
Past honorees include athletes Muhammad Ali and Billie Jean King, news anchor and activist Robin Roberts, and TV personality and activist Caitlyn Jenner. It's almost always a tear-inducing moment that reminds us all how sports can bring the world together and the impact that athletes' voices can have for the greater good.
Related: Gabby Douglas Has Apologized For Shaming Victims Of Assault And Aly Raisman