Alyssa Milano Calls Out Donald Trump's Victim Blaming as a Survivor of Sexual Assault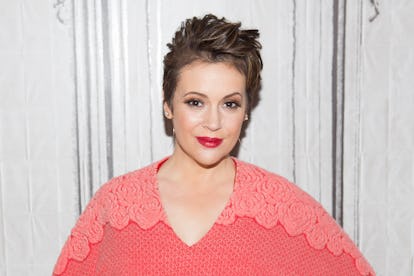 Adela Loconte/WireImage
Donald Trump, an alleged repeat sexual assault offender, according to the dozens of women who've come forward against him, took to Twitter today to blame sexual assault survivors. And Alyssa Milano wasn't having it.
Trump tweeted his unwavering support for his Supreme Court nominee, Judge Brett Kavanaugh, who allegedly tried to rape Christine Blasey Ford in the 1980s at a high school party, according to his accuser, as The New York Times reports. "I have no doubt that, if the attack on Dr. Ford was as bad as she says, charges would have been immediately filed with local Law Enforcement Authorities by either her or her loving parents," Trump tweeted, blaming the victim of a sexual crime for not speaking up sooner. "I ask that she bring those filings forward so that we can learn date, time, and place!"
Outside of how offensive it is to put the onus on a victim to report a traumatic crime, Trump's tweet also defies facts. Sexual assault survivors overwhelmingly underreport their assault, because in rape culture sexual assault is so normalized that it doesn't always register as such. For example, according to one recent survey, the number of women reporting sexual harassment doubles when victims are asked about specific inappropriate behaviors like groping or verbal harassment. In other words, when sexual assault is clearly defined, the number of women reporting that they've experienced it goes from 25 percent to 50 percent, as The New York Times highlights.
Milano pointed out this issue with Trump's victim blaming. "Hey, @realDonaldTrump, Listen the f–k up," she tweeted. "I was sexually assaulted twice. Once when I was a teenager. I never filed a police report and it took me 30 years to tell me parents."
The actress also encouraged other survivors of sexual assault to add to the conversation, writing, "If any survivor of sexual assault would like to add to this please do so in the replies. #MeToo."
Others echoed Milano's experience, sharing their own reasons for why they waited so long to come forward. "Over 20 years of staying quiet so I wouldn't lose a job or my home," one Twitter user wrote. "We must keep fighting."
If you or someone you know has been sexually assaulted, you can seek help by calling the National Sexual Assault Hotline at 800-656-HOPE (4673) and by visiting RAINN and the National Sexual Violence Resource Center.