Heads Up: Amanda Bynes Is Planning to Make Her Comeback in 2018
She's apparently looking forward to "dipping her toe back into acting," and has simply been waiting for the right role to come along.
---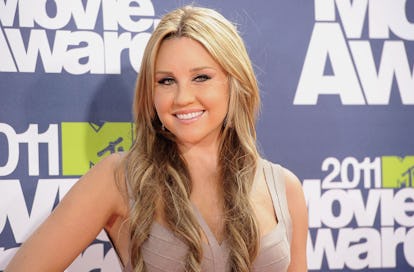 Jason Merritt/Getty Images
It's been a long time since we've heard from Amanda Bynes, the actress whom we also didn't hear from for a long time until she was practically unavoidable thanks to a series of well-publicized, definitely not sober antics that included its fair share of eye-catching wigs.
New years mean new beginnings, though, and now, Bynes is apparently aiming to be back on everyone's minds once again, though this time in a much more positive light. Her lawyer told Page Six that "in 2018, [Bynes] looks forward to completing fashion school and dipping her toe back into acting. She has had several offers but is waiting for the right one to come along for a comeback."
Bynes's last role was in 2010's Easy A, the same year in which, at 24, she announced a hiatus from acting—even as several producers reportedly tried to revive The Amanda Show, the Nickelodeon series that began in 1999 and made her a star at just 13. Some years later, though, after movies like She's the Man, Bynes unfortunately ended up being associated with quite a different field: In 2012, she was charged with a DUI, which was eventually dropped but did lead to a three-year probation. As it turned out, though, 2013 would be an even more eventful year: she was arrested for reportedly throwing a bong out the window of her 36th-floor apartment, and police also detained her for reportedly starting a fire in a stranger's driveway, leading to her hospitalization for a mental health evaluation, and eventually psychiatric treatment.
This year, things took a turn for Bynes—this time finally for the better: Her probation came to an end in February, and this June, she both regained control of her own finances, after her parents had filed for conservatorship, and gave her first interview in four years, leading to her appearing on Good Morning America saying that she's "doing great" and has been spending her time hiking, taking spinning classes, feeding the homeless, and feeling a desire to return to TV.
Bynes has also importantly stayed off social media as of late—save for a rather un-noteworthy but therefore perhaps encouraging photo of her with flowers that she tweeted earlier this year—marking quite the change from her memorable past tweets like how she wanted Drake, whose handle she mentioned, to "murder" her vagina. The backstory behind that one, as she explained in June, was that she was on drugs and "trying to be hilarious." (In case you're wondering, she also added that "I actually wasn't being insincere … that was my way of saying like, 'Let's do it man.'")
Nowadays, though, Bynes, 31, is reportedly sober and has been for months. And, in between those hikes and spin classes, the actress, who had her own fashion line back in 2007, has apparently still been attending class at the Fashion Institute of Design and Merchandising in L.A., which she enrolled in in 2014. If all goes as planned, then, she's likely set for a 2018 graduation date—and, if she really gets this acting thing down again, maybe she can finally even get to meet her boy Drake.
Related: Drake Hosts Bar Mitzvah-Themed Birthday Party
See W's most popular videos: