Amanda Murphy Loves Riding Horses and Matte Lipstick
The American model shares her beauty secrets.
---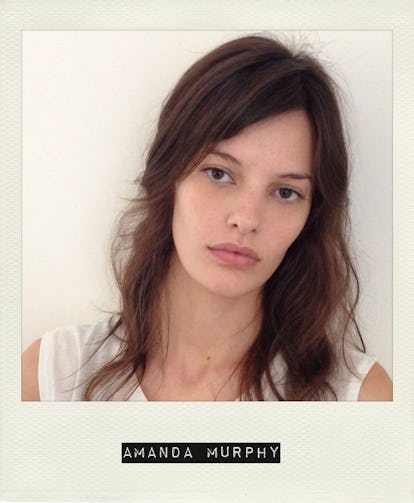 American model and Prada muse Amanda Murphy, who most recently transformed into a member of the new normal crew in W's August 2014 story "Banal Plus," is known for her extraordinary natural beauty. Here, the 27-year-old talks perfectly imperfect eyebrows and reveals her skincare musts.
Signature feature: My left eyebrow has a perfect supermodel shape. My right has a scar and its own shape. It's always out of place and doesn't like to match my left, which sums up my personality ____
Words to live by: Beauty is being yourself and being confident in your own skin.
Exercise regime: Jumping horses. I also work out a few times a week— my boyfriend is a naturopath and personal trainer.
Beauty essentials: Estee Lauder Smoothing Cream Concealer, mascara, NARS matte lip pencil.
Skincare secret: SK-II facial mask, Estee Lauder advanced eye repair cream, Elizabeth Arden 8 hour cream, Cetaphil moisturizer and face wash.
Eyes or lips: I love NARS chunky matte lip pencils. I rarely wear eye makeup, just use mascara and an eyelash curler.
Air-dry or blowout: Air-dry.
Best advice from mom: Be yourself. Always be polite.
Best advice from the pros: Skin and makeup tips from makeup artists. I'm always asking them questions.
Necessary splurge: My horse. I spend so much on equestrian products and riding gear.
Drugstore favorite: Ceptaphil moisturizer.
Fragrance of choice: Marc Jacobs Daisy.
Beauty icon: Jessica Stam.