Amber Valletta Steps Back Into the Spotlight
The Blood and Oil star talks about her complicated character—and how she dresses for the part.
---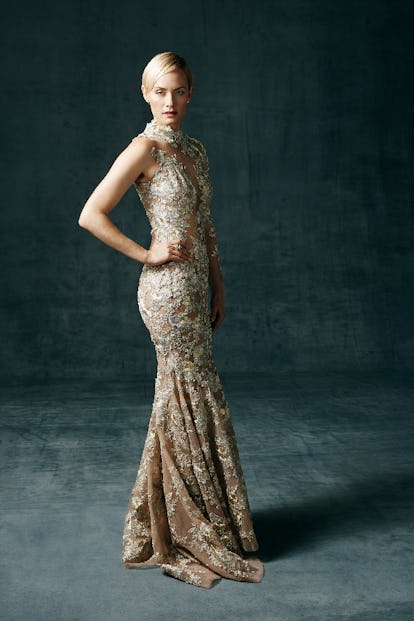 When the words "blood" and "oil" are uttered in the same breath, you know you're in for some juicy drama. And ABC's new show, Blood and Oil, delivers. Model-turned-actress Amber Valletta stars as Carla Briggs, whom she describes as the "much younger, very glamorous, smart, calculated and perfectionistic," wife of American oil tycoon Hap Briggs, played by Don Johnson. (Chace Crawford and Rebecca Rittenhouse are also on the show.) "She's the matriarch and the queen of her world," Valletta says of her character. Get the inside story here.
Are you at all like Carla Briggs, the character you play on the show? I like her sense of fashion and style. I think there are subtleties to her personality that match mine—and maybe that's intentional because you bring things to the character—but she's definitely a caring person. She loves family. She worked really hard for her position. She educated herself and paid for her education and is a self-made woman. I'm a self-made woman. No one handed me anything and I worked really hard for everything in my life. That kind of fire that it takes to continually get up and keep moving forward, I can relate to a lot.
How would you describe Carla's sense of style? My wardrobe is super important to the character because it tells so much of who she is. She's extremely powerful and very bright. There's a lot of depth to her, but it's not obvious. Her color palette speaks a lot to who she is. I wear a lot of reds and deep emerald green and black. She's always in super high heels and Alia boots and sexy, tight dresses from Victoria Beckham or Roland Mouret. There's a great look coming up that's all leather from Jason Wu. Everything she wears is rich and textured. She's definitely not afraid. She's bold in her choices. Nobody dresses like her. She would be an It girl in the W pages and lunch with Anna Wintour.
Did you work with the costume designer on Carla's outfits? For every episode we do fittings and go through what the looks are going to be. Recently, there was a very emotional scene between Hap, played by Don Johnson, and me, and I intentionally picked this blood red Jason Wu blouse and we paired it with a very tight Victoria Beckham pencil skirt that zipped up the back. It could have been a moment where we went more casual because of the atmosphere where we were shooting, but I intentionally said to Kathleen [Detoro] that we should keep her buttoned-up and with the color red, to signal that it was a heartfelt moment and that she was feeling vulnerable.
Is there a piece from your own wardrobe that you think best describes you? I know this sounds crazy, but Tom Ford made me a beautiful tuxedo where you don't wear shirt underneath it. It's very low-cut with buttons. It has a high waist and is tailored to me very well. To me, that sums up…me. It's a little androgynous, it's strong, it's sexy, but it's classic.
"Blood and Oil" premieres September 27th on ABC.
Photos: Amber Valletta Steps Back Into the Spotlight
Amber Valletta as Carla Briggs. Photo by Kurt Iswarienkio/ABC via Getty Images.
Amber Valletta on the "Blood and Oil" set. Photo by Fred Hayes/ABC.
Amber Valletta on the "Blood and Oil" set. Photo by Fred Hayes/ABC.