French Accessory Designer Amélie Pichard Made a Capsule Collection Inspired by Twin Peaks
Just in time for the premiere of the cult show's reboot.
---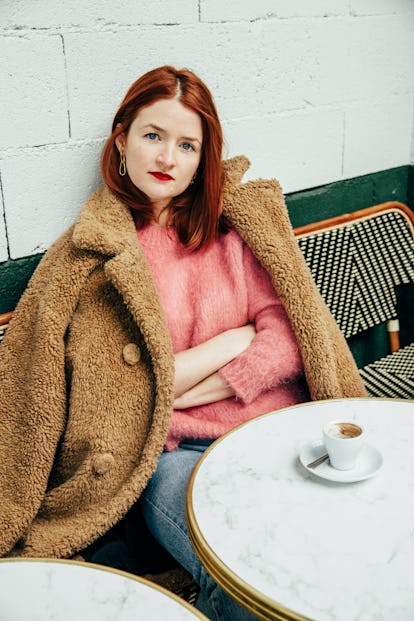 Photo by Douglas McWall
The cultural renaissance of the cult TV show Twin Peaks has made it all the way across the Atlantic to France, where the young accessories designer Amélie Pichard, 34, became obsessed with everything about it—including, of course, the characters' now-signature 90's style. More than two decades later, images from the show can still be found on her mood board.
Naturally, in honor of the Twin Peaks reboot on Showtime tonight, Pichard decided to design a capsule collection as an ode to the original. It features a pair of bright red pumps bearing the show's famous catchphrase "Fire Walk With Me," which was also the title of David Lynch's spinoff prequel about the days leading up to Laura Palmer's murder. Plus, a matching red bag inspired by an equally-mysterious and surreal scene from the same prequel depicting a dancing woman in all red with a blue flower lapel. As Picard herself puts it: "So strange and sexy!"
What do you love about the clothing on Twin Peaks?
What I love is more than the clothing—it's the atmosphere! The girls; Kyle; David; the broken hearts; the countryside style! I did a Twin Peaks road trip four years ago. I slept in the Grand Hotel and ate the cherry pie at the Double R diner!
In your opinion, who had the best style on the show?
My fave was Audrey, of course. So strange and sexy!
Other television characters with style you admire:
Pamela Anderson in Baywatch. Oh god, I live in a vintage world!
Three words that describe your brand's aesthetic:
Cool, sexy, raw-mantic.
Style icons/inspirations:
Pamela Anderson; Lynch-ian muses like Laura Dern; Solange; and all my Pichard girls. Also Petra Collins, Christine & the Queens, Emily Weiss, Leandra Medine, Chloe Wise, and company!
Your favorite pair of shoes growing up:
I wore these gymnastic slippers that were very light and comfortable. I also love all slippers.
Photos pinned to your most recent mood board:
The dancing lady wearing full red with a blue flower in Twin Peaks. I am obsessed with this scene! Also, always Pamela Anderson—particularly a picture of her by Luke Gilford, which inspired my Spring 2017 collection. And then a photo of a green car full of flowers and vegetables, because I miss the countryside and the simple life.
Fashion pet peeve:
I love bad taste! Be what you want to be!
Daily uniform:
100-percent denim.
Night out look:
100-percent denim, and lipstick!
Preferred footwear for summer:
Birkenstocks or my new flower mules.
Most prized possession(s) in your closet:
Lots of vintage Sonia Rykiel. One day, I bought an off-white knitted dress to wear to my wedding… If this day happens!
Morning/night beauty rituals:
Glossier coconut Balm Dot Com, morning and night; Musk perfume from Kiehl's; Glossier sunscreen; Laura Mercier foundation; NARS lipstick; Bumble & Bumble for my hair.
Best recent discovery:
Adam Selman! He's the cowboy I wanted to be.
Lusting after:
Making my own lipstick with a nice make-up company.
Something unexpected in your bag right now:
A bra. I don't know why I decided to wear it again this morning, but after three years without I felt so uncomfortable. So, I took it off!
Watch Laura Dern, Naomi Watts, Patricia Arquette, and Hailey Gates Open Up About Working with Legendary Director David Lynch