America Ferrera, from Ugly Betty to Hot Betty
*Ugly Betty* star America Ferrera glams it up.
---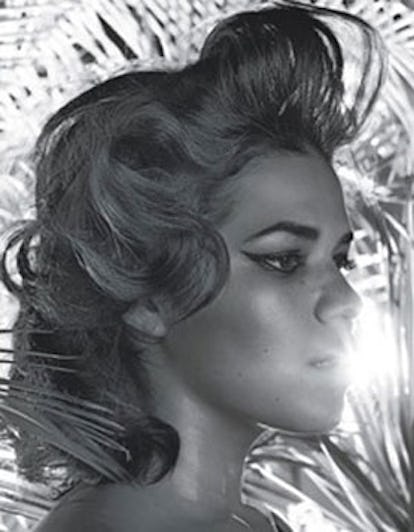 America Ferrera's first real showbiz experience was something of a letdown. At 16, after a decade of acting in school plays and drifting off each night to Hollywood dreams, she was cast in a Disney Channel movie about a junior high school dance team with the somewhat hilarious name of Gotta Kick It Up. At first, she was thrilled. "I love to dance, so I couldn't believe I was getting paid to just dance all day. And there were four other girls in the cast, so that was fun. And youknow the way you think when you're a teenager: Disney Channel today, Oscars tomorrow!" she says with a laugh. But a few weeks into filming, she had what she describes as "a mini nervous breakdown." "I just felt really empty," she says. "I had achieved my dream, and it wasn't totally fulfilling. I still had school problems, and I still had boy problems. My life was still my life. I guess I had been waiting to be turned into a swan."
Seven years later, chatting over a dinner of fish cakes, fried rice and chicken curry at a Thai restaurant in New York's SoHo, Ferrera is no longer waiting for her swan moment. That sort of magical transformation doesn't happen in real life, she's realized—not even in Hollywood. But about a year ago something far better occurred: She was cast as an ugly duckling, and that lovable four-eyed, brace-faced duckling has made Ferrera into a big, big star.
Betty Suarez—the lead character in television's Ugly Betty—is a style-challenged young Latina from Queens who lands a job as assistant to the editor in chief of a fashion magazine. The show is based on a Colombian telenovela called Yo Soy Betty, la Fea, which was a cultural phenomenon in Latin America and was adapted for markets around the world—everywhere from Israel to India—before being imported to the U.S. for the fall 2006 season. American audiences fell for the series almost immediately. Drawing roughly 14 million viewers a week, the show dominates its competitive Thursday night time slot and ranks as the most watched newcomer of the season. In January Ugly Betty won the Golden Globe for best TV comedy or musical series, and Ferrera herself—who dons a wig, fake brows and snap-on faux braces for her role—walked away with the statuette for best actress, beating out such veterans as Felicity Huffman and Julia Louis-Dreyfus. Two weeks later she took home a SAG award.
According to critics and those who work with Ferrera on Ugly Betty, such accolades were well deserved. "She's one of the most charismatic people I've ever met," says Salma Hayek, an executive producer of the show. "She's also authentic. That's a rare characteristic nowadays, and that's why people are falling in love with her. I knew the minute that I saw her that she was a superstar."
Ben Silverman, one of Hayek's fellow executive producers, agrees. "There's no bulls— with her," he says. "It doesn't matter what makeup or hair or clothing she has on, she's so real that she grabs you. She's a very connected human being, and that really empowers her as an actor."
What's most interesting about America-as-Betty is the breadth of her appeal. The character has struck a chord with a remarkably diverse collection of fans— 12-year-old girls, gay men, Latinas, the fashion crowd—all of whom seem to want to adopt her as their mascot. The day after the Globes, for example, California Congresswoman Hilda Solis took to the floor of the House to, in her words, "commend America and everyone involved in Ugly Betty for helping to break down stereotypes and provide a role model for young Latinas." A few months later, Out magazine put the cast on its cover under a headline that read, HOW UGLY BETTY BECAME THE GAYEST, BEST SHOW ON TV. In the accompanying story, Ferrera recounted the surreal experience of attending the West Hollywood Halloween parade—a big night for L.A.'s gay community—and seeing scores of guys dressed up as Betty. "Anyone who's ever felt like an outsider can see themselves in her and feel represented," she says. "And who hasn't, at some point in their life, felt like they didn't belong?"
As the sixth and youngest child of Honduran immigrants, Ferrera says she had plenty of fish-out-of-water moments growing up in the predominantly Caucasian community of Woodland Hills, California. "As early as second grade I remember feeling really different and isolated," she says. "I had the hugest crush on a boy, and my best friend had a crush on him too. One day he said to me, 'I like your best friend more because she's paler and she has freckles.' And it was right then that I began to feel like, Oh wow, I'm different." At the same time, she says, she never felt like she fit in with the Latino community. "I mean, I grew up in the Valley," she says. "All my friends were white Jewish kids. So the Latino kids thought I was this white girl."
Ferrera's parents divorced when she was seven, and her father returned to Honduras, leaving her mother, a director of housekeeping for a Hilton hotel, to raise their son and five daughters on her own. Ferrera, who was named for her mother, says that her parents never encouraged her showbiz dreams. "Acting was not something that they came to this country to have me do," she explains. Still, she fell in love with the spotlight early and, despite her best efforts, was never able to shake the acting bug. "For a time I thought I could be a lawyer," she says. "As a kid I even went to law camp at UCLA. They had us watch My Cousin Vinny, which was great. But then we went to the courthouse, and we had to do these mock trials, and once I saw what it really meant to be a lawyer, I realized that it wasn't for me. I thought it was like in the movies, like, 'You can't handle the truth!' That kind of thing."
Luckily, a fallback career in the law was never necessary. At 17, after wrapping Gotta Kick It Up, Ferrera landed the role of Ana Garcia—a brainy Mexican-American teenager with a manipulative, weight-obsessed mother—in the 2002 film Real Women Have Curves. The movie won the Audience Award at Sundance, and Ferrera herself was awarded a Special Jury Prize for acting.
At that point a less grounded 18-year-old would probably have played hard at the Hollywood fame game, doing her best to be seen on the scene and lining up a slew of projects before the buzz could fade. But Ferrera, who graduated from El Camino Real High School with a 4.3 GPA, instead enrolled at the University of Southern California, where she's a semester away from her degree in international relations. "Acting is something I knew I wanted to do long term," she says. "But not going to college was not an option. I think it probably helped me as an actress as well, because actresses need real-life experiences to draw from." Though she took a break this past year to focus on Ugly Betty, she plans to start up again soon. "Once doing the show becomes more routine, I hope to fit in a class at a time and just slowly work toward my degree. I've come too far to quit one semester before graduation."
It was at USC that Ferrera met her now boyfriend, Ryan Piers Williams. A tall, handsome, Texas-born aspiring director who currently works for Steven Soderbergh, he cast her in his student film, and the two currently live together and share a golden retriever named Buddy, whom they refer to as "our baby." At Ferrera's W photo shoot, Williams sits by her side while she's being coiffed and made up, telling her how pretty she looks and bravely revealing to the crew that he once allowed her to put mascara on his lashes. Says Ferrera, giggling, "He has the longest eyelashes, but they're blond at the tips, and I just wanted to see what it would look like."
College, according to Ferrera, also served to help her focus on her career, ensuring that she signed on only for projects that she really wanted to do: movies that ranged from the well-received indie How the Garcia Girls Spent Their Summer to the feel-good teen chick flick Sisterhood of the Traveling Pants. She was living in New York, acting in an Off Broadway play and getting a few electives out of the way by taking classes at New York University when Hayek—whom she'd met in 2002, backstage at the Oprah show while promoting Real Women Have Curves—called her about the role of Betty. "Honestly I never saw myself doing TV," says Ferrera, "but Salma was so convincing. Salma is the kind of person who could sell you, like, a used stereo. She promised me that it would be done in the right way, and I just trusted her."
As it turned out, Betty's immense popularity has brought an avalanche of attention to Ferrera. Now paparazzi stalkings and demands for autographs are part of her daily life. What truly baffles her are the machinations of the tabloid press. In February one weekly gossip rag ran with a story that Ferrera and Williams were engaged, giving rise to BETTY TO WED headlines all over the Internet. "It's totally not true!" she insists of the rumor. "And his mom called me and my sisters were calling me, and I was like, 'Are you kidding? Did you not think I would tell you first?' And then I put out a statement that it wasn't true, and that became a whole news story. So now it's news when something doesn't happen? Like, news flash: California did not get hit by a hurricane today."
There's also the near constant reporting on her weight. And in that department it seems she can't win. On the one hand, reporters seem to enjoy describing her with unflattering terms like "lumpy." On the other, several Internet gossip sites have criticized her for looking less zaftig in recent months, implying that the actress lauded for promoting realistic body images had officially gone Hollywood. "I mean, of course I want to be at a weight where I'm happy," says Ferrera, who in person is neither lumpy nor emaciated but a healthy-looking, average-size woman. "There are times when I go to the gym and really try, and there are times when I just don't. I gain a pound; I lose a pound. But I think I've developed a really good sense of when I'm doing something for myself as opposed to when I'm doing something because of other people's expectations of me. And honestly, even if I wanted to be anorexic, I just don't have what it takes. After four hours of being anorexic, I'd be like, 'It's been four whole hours! Feed me!' "
Psychologically it helps that she hasn't had much time to monitor her press coverage. Her schedule at Ugly Betty is grueling, with workdays that are 12 hours long at the beginning of the week and stretch into the wee hours of the morning as Friday approaches. "Basically we're making a movie every eight days," says Ferrera, who insists that she adores every minute of it. "Last week it was only Tuesday and we were already there so late. I had to lead the crew in a cheer of 'I love my job! I love my job!' "
"We have her working 24 hours a day," concurs Silverman, who points out that such a schedule can be good for a 23-year-old actress, considering the antics of today's young Hollywood types. "I mean, we have her working so damn hard, all she probably wants to do at the end of the day is collapse in a ball." But even if she had the time, one gets the feeling that hobnobbing with Paris and Lindsay would be very low on Ferrera's to-do list. "Let's just say you're not going to see me at the PlayStation launch party," she says with a smirk. (Indeed, after the interview she heads not for Bungalow 8 but the F train, which she rides to a friend's place in Brooklyn.) As gregarious as she is, she says she has never been hypersocial. "Growing up, I never had a ton of friends. I always had two or three, but when you have four sisters and a brother all a year apart, you don't really need anyone else to play with."
Ferrera credits her five older siblings for the fact that she's always felt older than her years. "I learned the naughty words before anyone else in my class," she says, laughing. "And I think I avoided many of the pitfalls because I got to watch them live through it." Indeed, chatting with her, it's easy to forget that she's only 23. Her maturity is not just a matter of her intelligence—which becomes more and more apparent as she quotes New York Times articles over dinner and discusses genetics while having her hair done pre-photo shoot—but emotional precocity as well. "Happiness is something that you have to decide to have in your life," she says. "No amount of accolades can make you a happy person, and learning that as young as I did was a gift." Though she sounds like a poster child for the positive psychology movement that has lately dominated the self-help realm—the Oprah-endorsed best-seller The Secret being its latest missive—Ferrera says she figured out this truism on her own, as a result of her aforementioned Gotta Kick It Up experience.
Still, despite her belief that achievement isn't a one-way ticket to bliss, Ferrera remains a doer, and an intensely ambitious one at that. Rather than spend her summer hiatus resting up, she hopes to use the time to shoot a movie, though she's hesitant to talk specifics since nothing is set in stone. "When there's a film I want to do, sleep doesn't matter," she says. "Part of me would love to be sitting in the sun in Italy, but I'd be crazy by day four." One would think that, considering her recent rise in profile, offers of leading-lady roles would be rolling in, but Ferrera says that isn't the case. "When it comes to envisioning an actor in a role that they haven't seen them in, people in this business can be a little uncreative," she says. "No one is willing to take a gamble." As a result, she says, she's had to take a more proactive approach to her career: "It's been more about developing my own material, finding roles that I would like to play and figuring out a way to get those things made."
Her plans for the future are, in keeping with her just-make-it-happen attitude, huge: She wants a large family, and she wants to direct and produce and continue acting and maybe teach too. While keeping her natural drive in check can be a struggle—"The hardest part of this year has been learning to enjoy it," she says. "It's almost like a full-time job reminding myself to live in the moment and not look for more, more, more"—her recent success has only made her more likely to think big: "I see now that people who make movies, this world of creative geniuses that I grew up idolizing, are just normal people who wanted to do something and made it happen. Everything that's happened to me in the last year has only made me feel more like a normal person, more human, but in the most beautiful way."
Prada silk dress. Hair by Orlando Pita for Kérastase Paris at Orlo Salon; makeup by Gucci Westman for Lancôme; manicure by Sheril Bailey / Jed Root Inc. Set design by Tom Bell / Jed Root Inc. Fashion assistants: Rebecca Ramsey and Lauren Feldman.