America Ferrera Raises a Glass to Her Body on Her 33rd Birthday
America Ferrera just turned 33, and in honor of her birthday, the actress shared a beautiful post on Instagram celebrating her body and her friends.
---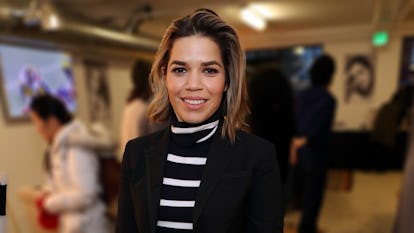 Composite. Randy Shropshire/Getty Images
America Ferrera has learned quite a lot since she burst into the public eye 11 years ago as everyone's favorite underdog fashion magazine employee in Ugly Betty. She's an outspoken political activist, an experienced producer, and a comedy star all over again with her sitcom hit Superstore. All of this before her 33rd birthday, which she celebrated earlier this week.
She's also learned to love her body, and decided to gift fans with some inspiring words on Instagram.
The actress shared a birthday celebration photo from inside the lobby of a SoulCycle decorated with "Happy Birthday America" sign. Two of Ferrera's pals join her in the photo: Pixie Acia, senior SoulCycle instructor, and Teri Weinberg, executive producer of Ugly Betty. In the caption accompanying the photo, Ferrera reflects on how she learned to love her body, and how thankful she is for her friends.
"At 33, I finally understand that my body is a miracle! After too many years of criticizing, punishing, depriving, or neglecting my body for what it isn't, I'm attempting to love it unapologetically as it is!" Ferrera wrote alongside the post. "Thank you body for 33 years of standing with me even when I wasn't on your side. I promise from here on out to stand by you and face down all the criticism and bull—- distractions (inner & outer), so that we can move beyond beautiful and get to the business of living!"
Ferrera continued by giving a shout-out to her sisterhood (no, not just the one that involves traveling pants). "Thank you to these amazing humans and so many more who have inspired me to celebrate my health and strength!" she wrote. "Get you some friends who remind you to celebrate your strong, healthy, loyal body! #HappyBirthdayBody #thisis33 #beyondbeautiful."
She tagged a few of her pals in the photo, including Amy Schumer, Lena Dunham and her Sisterhood of the Traveling Pants costar Amber Tamblyn.
And Ferrera has so many reasons to be grateful and proud. The actress recently ran not one but two triathlons, NBC's Superstore has been renewed for a third season, and she recently made a speech for the Human Rights Campaign.
Related: America Ferrera, from Ugly Betty to Hot Betty
See what's trending in W video: