The New American Apparel Doc Looks Like a True Crime of Fashion
The failing company's new docuseries about a failed company investigates Dov Charney's rise and fall.
---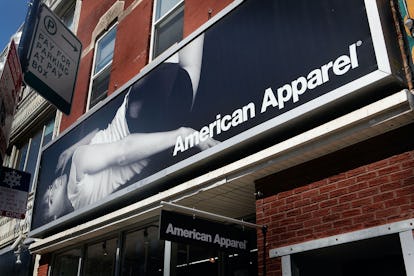 Getty Images
There's no way around it: Quibi, the $1.75 billion short-form streaming platform that launched in April, has turned out to be a failure. That hasn't stopped the company from relentlessly expanding its roster of original programming—a seemingly fruitless effort that may have finally led to some success. On Tuesday, Quibi dropped the trailer for its new docuseries in partnership with Vice Studios. And while regrettably titled, Big Rad Wolf seeks to answer a question that's no doubt crossed your mind in recent years: What happened to American Apparel?
Once upon a time, the Los Angeles-based retailer's ads—usually starring barely clothed, highly sexualized women—were ubiquitous. And for the first decade of the 2000s, its support for causes like marriage equality and immigration reform were enough to balance out the raunch. Signatures like body-con jersey dresses, crop tops, zip hoodies, and deep-V tees, all touted as "ethically made" and "sweatshop free," were so popular that at one point, American Apparel was generating half a billion dollars per year.
The mastermind behind American Apparel, founder and former CEO Dov Charney, was thriving. His employees, on the other hand, most definitely were not. "The culture was a wild, Wild West party nightmare," one former AA staffer says in the Quibi trailer, which then cuts to footage of Charney strolling through a factory pantsless, in classic American Apparel briefs. It appears to have been one of Charney's regular looks: He reprises it for another scene, which finds the factory workers present looking less than amused. (At least he was semi-clothed; there's another scene of him dancing in an office while fully in the nude.)
Charney was initially able to brush off the many sexual harassment allegations, like a then teenaged employee who claimed Charney treated her as a "sex slave." But in 2014, he was finally ousted, and two years later, the company declared bankruptcy. As for where Charney is now, Quibi managed to track him down. "I'm surviving," the now 51-year-old says, wearing sweatpants and complaining about cancel culture. "It was a really fucking scary time for me." Dramatically, he adds: "The American dream is being threatened."
American Apparel, while its stores are gone, is still up and running in some form under new ownership—and still weathering controversies. The Los Angeles County Department of Public Health shut down its manufacturing facility over the summer, after an investigation found that more than 300 garment workers had contracted the coronavirus, leading to at least four deaths. It's unclear if Big Rad Wolf leads that far up to the present, but it definitely covers the fate of Charney's successor, Paula Schneider. The trailer briefly revisits that memorable occasion in which members of the Workers Together Save American Apparel group memorably created a piñata version of Schneider's likeness—complete with the orange Birkin she purchased shortly after her hire—and hacked it apart.
Related: A Brief History of Fashion's Most NSFW, Controversial Ad Campaigns