American Ballet Theatre's Spring Gala
The American Ballet Theatre's Spring Gala is not really an occasion on which to mess around, fashion-wise. The annual event, this year sponsored by Graff, lures the type of ladies who think a five foot...
---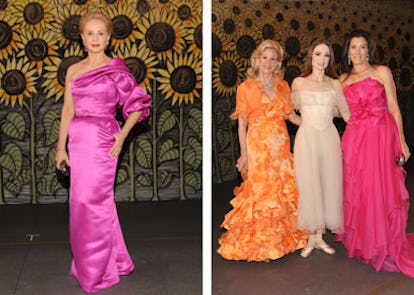 The American Ballet Theatre's Spring Gala is not really an occasion on which to mess around, fashion-wise. The annual event, this year sponsored by Graff, lures the type of ladies who think a five foot train could work for cocktails, whose hair is coiffed and teased into that signature Lee Radzwill-worthy high crown chignon and for whom costume jewelry is for, well, costume parties, if even. And it draws serious balletomanes, the kind who fly in from San Francisco just for the occasion and bring along a veritable private jet worth of their friends with them (Co-chair, Diane B. Wilsey, for example). In other words, you better bring it.
My hair wasn't particularly high nor my jewelry of much wattage, but walking into the Metropolitan Opera House's grand entrance Monday evening, it was hard not to feel the expectations set upon attendees. Lesser-named and endowed guests (those not staying for the post-performance black tie gala dinner) lined the multiple tiers of the spiraling staircase like pigeons on a building ledge, staring down at each entrance. And some, it appears, did not rise to the high standards.
"I think I'm the best-dressed one here," declared Deborah Fenker who was Zang Toi's date, and wearing his white tailored shirt tucked into a floor-length black skirt, a sort of female tuxedo.
Well, she soon had competition in the form of Honorary Chairmen Carolina Herrera, Caroline Kennedy and Blaine Trump, along with Anna Wintour, Fe Fendi, Julia Koch, Ranjana Khan and her husband Naeem and junior co-chairs Alexandra Kerry and Blair Husain.
The evening's program began with a mix of Tchaikovsky pieces, the "Karelia March," performed by students from the Jacqueline Kennedy Onassis School of American Ballet Theatre and notably, "Majisimo," a piece created for the Ballet Nacional de Cuba and danced by a mix of ABT principals and talent from the San Francisco, Boston and Miami City Ballets.
"I need to work on my glutes," Tim Schifter joked about any prospects for his own dancing as he headed to a champagne fueled intermission reception to continue the people watching—or hunting.
"Have you seen Diane Wilsey?" asked Bettina Zilkha, clearly on a mission.
"Everyone here is a hundred," remarked another woman, "Let's go back downstairs."
The program's second half included two "Swan Lake" pas de deux (sans "Black Swan" psychosis and suicide), the exquisite "Splendid Isolation III" danced by real-life couple Irina Dvorovenko and Maxim Beloserkovsky and a pas de deux from "Lady of the Camellias" with Julie Kent and Cory Stearns, among other snippets, before guests headed through a labyrinthine path towards the tented dinner. In honor of "Majisimo" and the visiting dancers, it was themed "A Night in Havana" with a menu of chopped vegetable tian and pollo con camarones (poussin with jumbo shrimp). There were large fronds decorating the tables' pink, coral and salmon color palette and waiters passed out mojitos as people sat or, in my case, headed to the trailer bathrooms set up nearby. Women in five figure dresses lined up to use the loo in trailers is a rare New York sight.
"These aren't ballgown-friendly," said one woman as she watched another almost fall on her way down the steps.
"Some of these women don't look real. Are they real? Were they hired?" one fellow asked of me, eyeing the statuesque—quite literally—women standing around for no apparent reason.
I had the fortune of sitting next to Kent, who seemed to have recovered quickly from her performance in a Bibhu Mohapatra gown and wedge sandals.
"The hardest part of the night is putting on the heels," she sighed.
I certainly had little reason to complain considering her podiatric state, but by the time the guava cheesecake arrived, I was ready to leave to the strains of Cee-lo. Susan Fales-Hill was doing an impromptu electric slide with friends and Jill Zarin was dragging around a veritable fabric store behind her, possibly her husband Bobby's.