American Horror Story: Cult Episode 7 Recap: Andy Warhol, the Zodiac, and Lena Dunham Pay a Visit
This week is full of cameos.
---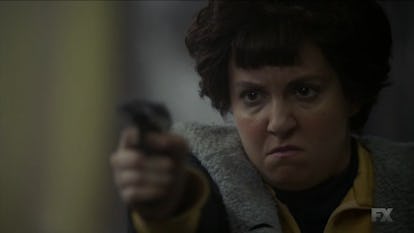 This week of American Horror Story: Cult lays the cameos on thick, in an episode that once again has uncanny resonance with current events. Namely, Lena Dunham stars this week as Valerie Solanas—she who shot Andy Warhol, and who wrote the _SCUM Manifesto_—following up on the Girls star's Instagram hint this week. If you're confused, hold on tight. We'll get there soon.
In the wake of the mass shooting by Meadow, Ally refuses to speak, Harrison says his wife was radicalized after Hillary lost, and Kai is winning the polls. Basically, it's total chaos. And strangest of all, Beverly is approached on a dark night by a mysterious woman. "I know what it means to assassinate a man," she whispers, intriguing Beverly.
Because Beverly is getting impatient. Now that Kai has become a national news figure, their equal power pledge doesn't seem to be holding up. The cult is becoming more alt-right than ever before, populated by young white men who snicker at Beverly. Do not sideline "Beverly f—ing Hope," per her own estimation. She but of course ends up tracking down the mysterious woman from the parking lot.
Ivy and Winter catch up at the Butchery, also feeling troubled by the cult's new misogynistic turn— as Winter bluntly puts it, "it's a total sausage fest." Beverly arrives and introduces them to her new friend from the parking lot: Meet Bebe Babbitt, who's here to set them straight. "[Kai] promised us a seat at the table," Beverly explains, "and now he's pushing the women aside," she elaborates. New cult!
Bebe starts telling them about dear old Valerie Solanas. Winter knows about her from Vassar's women's studies class! Flashback to the 1960s, where Lena Dunham plays Valerie Solanas, in one of the year's craziest cameos. (Dunham, for all her talents, just doesn't come off as scary or even creepy—but she's definitely all in.) We listen to her proclaim her SCUM Manifesto (Society for Cutting Up Men). Parallels drawn between Kai and Valerie Solanas ensue.
Twist alert so twisty it hardly makes sense if you don't twist your brain a little: turns out, Solanas and her converts were actually the Zodiac murderers. They targeted couples as a sign to women that coupling was how they would be killed. Okay then. Apparently, the puzzles in the paper were the work of an outsider trying to take credit, but Valerie wouldn't admit responsibility to set the record straight, Bebe says. When they later found out a male member of SCUM was responsible, Valerie ordered his brutal murder.
This episode couldn't have landed on a crazier week, in the wake of Weinstein scandal. Even beyond the real-world parallels in the writing, the timing of these episodes has been near-oracular. "Men have always helped themselves to our glory," Valerie Solanas played by Dunham, says: In case it wasn't clear by now, we are definitely watching cable TV in 2017.
And we finally get that Andy Warhol cameo teased since the summer (played by Evan Peters). He appears to Valerie in a hallucination: "Shooting me will be the only thing you'll be remembered for," he drawls. Bebe relates this episode as what ended Valerie's life (in real life Solanas died of pneumonia in 1988). Bebe concludes that this story should serve as a warning to the women of Kai's cult. "We have to strike back," Beverly says, "and this time we won't miss."
Kai is feeling the pressure as he consults with his rotting parents, but we can see Winter start to crack, too. Kai found the SCUM Manifesto in her room, which Winter claims is from school. But Kai isn't mad, he's inspired. He wants a mission statement, too. Not a book, something on social media.
At the Butchery, Harrison gets led into a trap where he's brutally murdered by the women of the cult. They torture him about Meadow—in an echo of the man (fictionally) ordered dead by Solanas—and then brutally murder him. Welcome to SCUM 2.0.
And Beverly has the exclusive, yet again. Kai watches the report on TV gravely. "They're at their best when they're angry, don't you think?" he asks… Bebe. Who is Bebe, and what's her end game? Only three episodes left to find out.
Related: American Horror Story: Cult Episode 8 Recap
Photos: Sarah Paulson Won't Be Typecast, On Screen or Off
Sarah Paulson wears an Alexander McQueen bra.
Photo by Mona Kuhn, styled by Patrick Mackie. Hair by Dennis Gots for Kerastase at The Wall Group; Makeup by Jo StrettelL for Lancome at Tracey Mattingly.
Sarah Paulson. Photo by Mona Kuhn, styled by Patrick Mackie.

Mona Kuhn
Sarah Paulson wears an Alexander McQueen dress and bra.
Photo by Mona Kuhn, styled by Patrick Mackie.
Sarah Paulson in Altuzarra at the 2016 CFDA Fashion Awards in New York, New York, June 2016. Photo by Getty Images.
Sarah Paulson with Holland Taylor in New York, New York, December 2015. Photo by Getty Images.
Sarah Paulson with Holland Taylor in New York, New York, October 2015. Photo by Bruce Glikas/FilmMagic.
Sarah Paulson and Cherry Jones during Cherry Jones Reception Hosted by Paula Wagner at CAMPANILE restaurant in Los Angeles, CA, United States. (Photo by E. Charbonneau/WireImage for CW Productions)
Cherry Jones, Christian Slater, Sarah Paulson and Jessica Lange
See what's trending on W video: