Great American Style
Icons Michael Kors and Aerin Lauder talk to Alina Cho about fashion in the past, present, and future.
---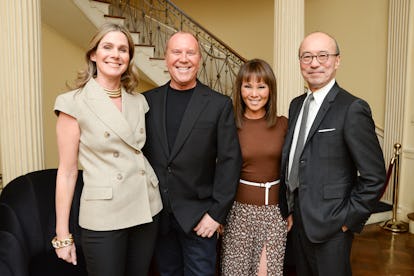 You would be hard-pressed to find a better authority to explain the myriad facets of 21st-century American style than the designer Michael Kors. Add in Aerin Lauder, whose wardrobe is practically a paean to patriotic fashion, and you have the makings of a perfect discussion for the sartorially inclined. Such was the setting Thursday night when the Friends of the Costume Institute of the Metropolitan Museum of Art hosted a conversation on, yes, 21st-century American style, at Estee Lauder's former Upper East Side residence.
After a glass or two of champagne in a room boasting a knight in full armor, guests headed upstairs where, seated beneath a huge Gustav Klimt painting, Kors and Lauder launched into a dialogue moderated by Alina Cho (who quickly noted that the two seemed like "brother and sister"). The duo's longstanding friendship was, it seems, in the stars.
"We used to make very short clothes and Aerin wore very, very short clothes, so I think we were destined," said Kors, who recalled an image of Lauder in a camel double-faced T-shirt dress from the New York Times that ended up on one of his early mood boards.
"The first time we met was at 7th on Sale in Washington DC. I had probably just graduated from college," said Lauder.
"And how would you define American style?" asked Cho.
"We have a pragmatism as Americans. No matter how indulgent something is, you have to be able to move in it," said Kors, adding, "When I first started my business, my idea of international was Toronto. The internet is now our global trunk show."
Lauder recalled her grandmother's influence—"she always said you can have it all, but you can't have it all at the same time"—and her pioneering publicity efforts, like spilling a bottle of Youth Dew on the floor of a department store to draw customers' attention.
Of course today, the means for attracting interest have grown exponentially.
"My first fashion show, the photographers used to sit in the front row. In today's world, there's a camera everywhere. That wasn't the case in Charles James's time," said Kors, referring to the great American designer, the subject of the upcoming exhibition "Charles James: Beyond Fashion," of which Lauder's eponymous lifestyle brand is the main sponsor (she is also the chair of the May 5th gala celebrating it).
As Cho noted, both Kors and Lauder have a personal connection to James. On Lauder's bedside is a print of a famed Cecil Beaton photo of a roomful of women in his ball gowns, a long ago birthday gift from her parents. Kors, meanwhile, met the "mad genius" in the '70s when he was 18 and a student at the Fashion Institute of Technology.
"I had a friend who was interning trying to organize Charles James's life at the Chelsea Hotel… the place was in shambles and he had this anger about him," recalled Kors (James died penniless in the Chelsea Hotel in 1978). "He said, 'No one realizes the '70s wouldn't have happened without me.' Talent gets noticed much quicker today. I believe in today's world, Charles James would have been acknowledged more readily. Today, if you're talented and good you're an icon at 28."
True, but unless you have the business savvy, drive and well-appointed team of a Kors—or a Lauder—you're not a billionaire at 54.
Photos: Great American Style
Aerin Lauder, Michael Kors, Alina Cho, and Harold Koda. Courtesy of The Metropolitan Museum of Art/BFAnyc.com/Joe Schildhorn
Brooke Neidich. Courtesy of The Metropolitan Museum of Art/BFAnyc.com/Joe Schildhorn
Anne Beauford, Nathalie Kaplan, Sarah Fiszel, and Lauren Dupont. Courtesy of The Metropolitan Museum of Art/BFAnyc.com/Joe Schildhorn
Brooke Neidich. Courtesy of The Metropolitan Museum of Art/BFAnyc.com/Joe Schildhorn